How does Bambu Indah
Combine Luxury & Circularity?
Bambu Indah prides itself on combining the best of antique architecture and design, innovative bamboo architecture with modern and sustainable practices in a luxury environment. They named this collection of antique teak homes Bambu Indah, which translates to beautiful bamboo.
"From permaculture gardens and water filtration, bamboo buildings and smart cross breeze in the houses, trash walks with guests and staff to stainless steel reusable bottles for the entire team, we at Bambu Indah work tirelessly at not only being sustainably conscious but raising awareness with everyone around us."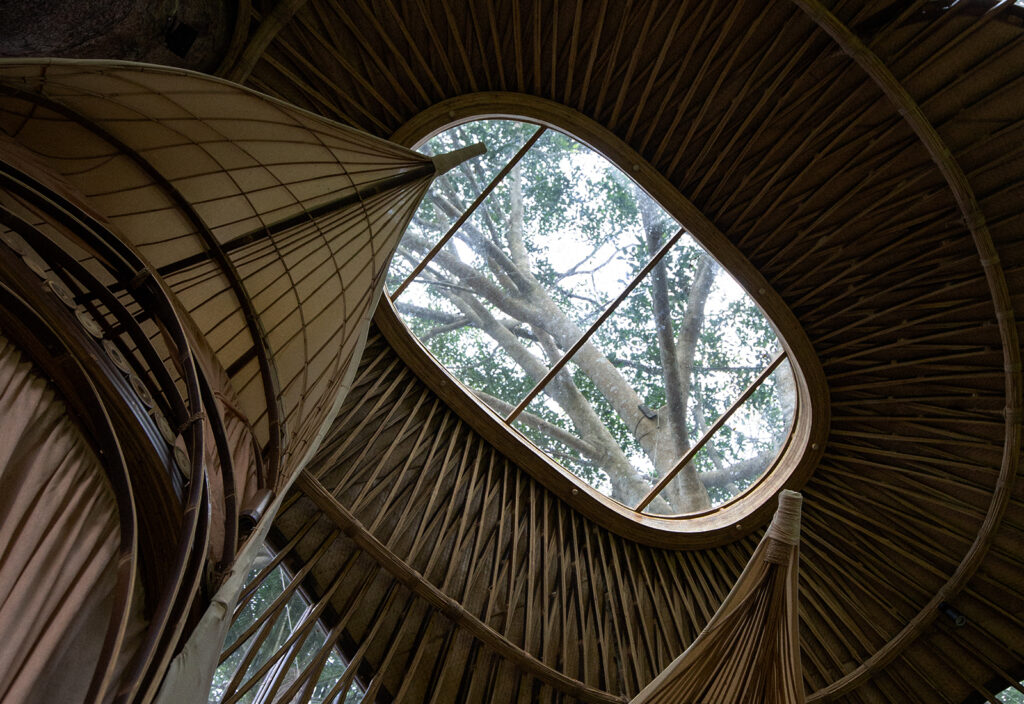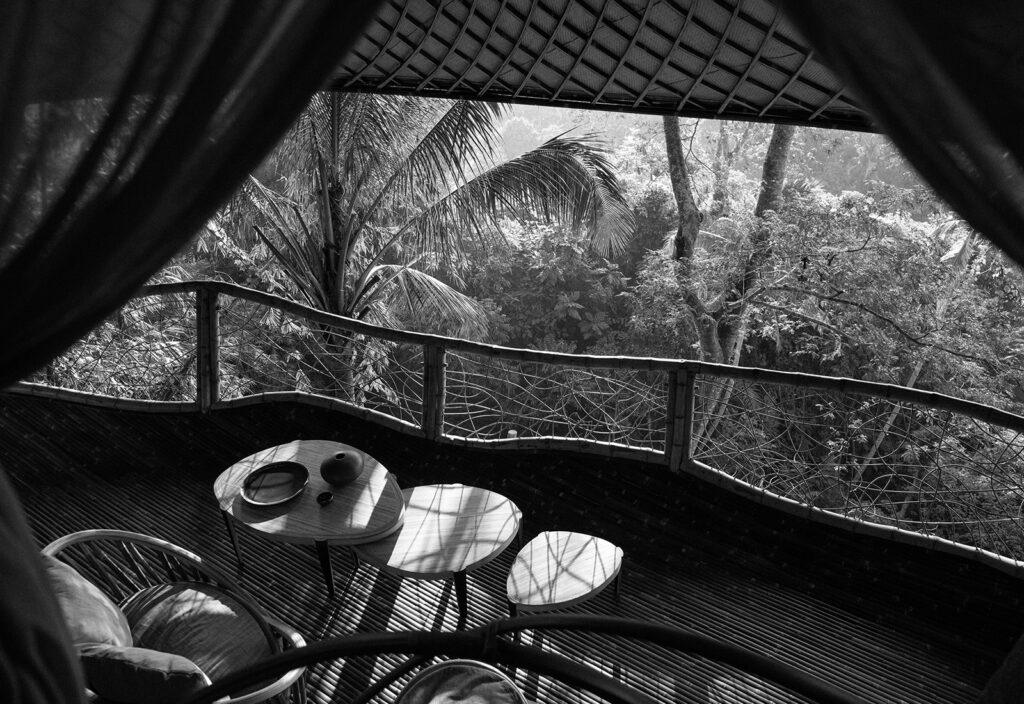 COMMITMENT 1
Sustainable Management
By documenting and implementing a clear sustainability plan, Bambu Indah and its team are demonstrating their commitment to the environment and their communities.
COMMITMENT 2
Sustainable Building & Design
By designing clean and functional buildings & products, Bambu Indah is minimizing the use of resources, unnecessary waste, and harmful emissions.
COMMITMENT 3
Cultural Interaction & Heritage
By incorporating authentic elements of traditional culture in their operations, Bambu Indah is committed to celebrating and preserving Bali's local cultural heritage.
COMMITMENT 4
Sustainable & Local Sourcing
By giving priority to sustainable, local, Fairtrade, organic and/ or recycled produce, Bambu Indah is emitting less carbon emissions while celebrating the local economy.
COMMITMENT 5
Equal & Local Employment
By giving equal opportunities to local residents including management positions, Bambu Indah is promoting diversity and elevating employees engagement.
COMMITMENT 6
Staff Engagement
By engaging their staff in the  implementation of the company's sustainability goals, Bambu Indah is increasing sustainability knowledge, competence and action.
COMMITMENT 7
No Single Use Plastic
By not using single use plastics, Bambu Indah minimizing by millions the amount of plastic ending up in the streets, in the rivers and in the ocean. 
COMMITMENT 8
Waste Management
By having a clear waste management plan in place with actions to reduce, separate and reuse / recycle waste, Bambu Indah is not only minimizing the amount of waste in Bali; the brand is also leading the example to their employees and customers.
COMMITMENT 9
Sustainable Packaging
By using sustainable, natural, recycled and/or biodegradable packaging, Bambu Indah is significantly reducing their environmental impact.
COMMITMENT 10
Energy Conservation
By using equipment and practices to conserve energy, Bambu Indah is contributing to reduce the demand for carbon-intensive power plants which in turn benefits the environment by reducing carbon dioxide emissions.
COMMITMENT 11
Water Conservation
By using equipment and practices to conserve water, Bambu Indah is contributed to the well-being of the environment and their communities.
COMMITMENT 12
Biodiversity Conservation
By actively supporting, protecting, and promoting biodiversity, Bambu Indah is contributing to ecosystem productivity and improving the life support system for our planet. 
COMMITMENT 13
Community Support
By supporting their local community through various ways, Bambu Indah is offering jobs, providing goods, services, and financial support to their community.
COMMITMENT 14
Guest Awareness
By providing accurate and transparent communication regarding the company's sustainable practices and goals, Bambu Indah is helping guests make better purchase decisions.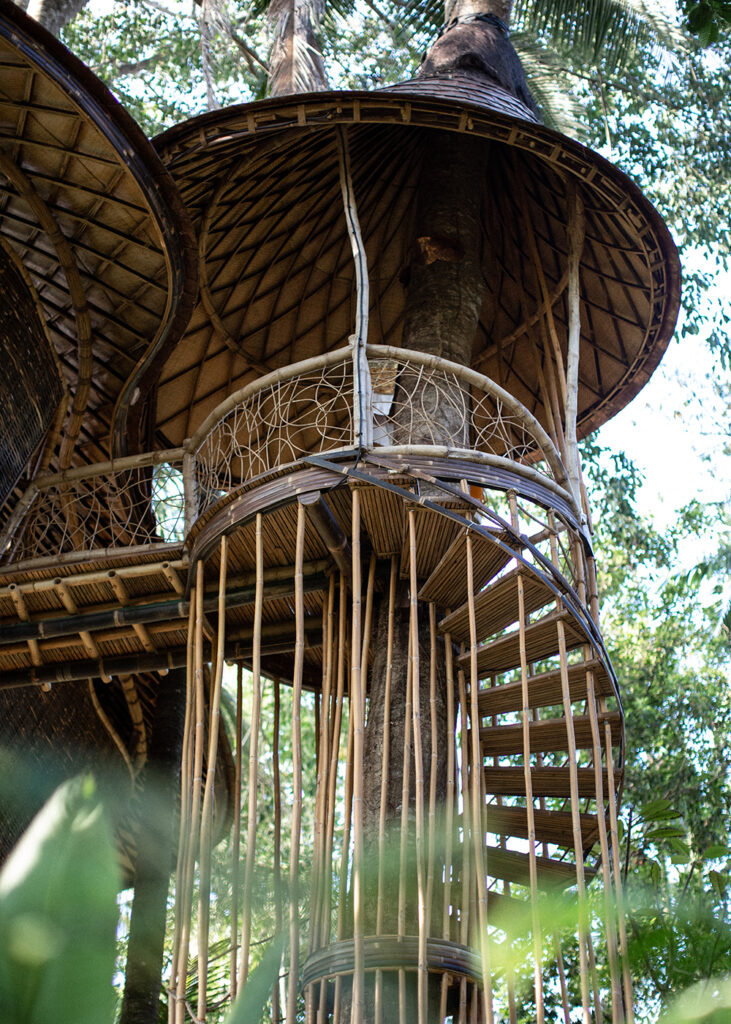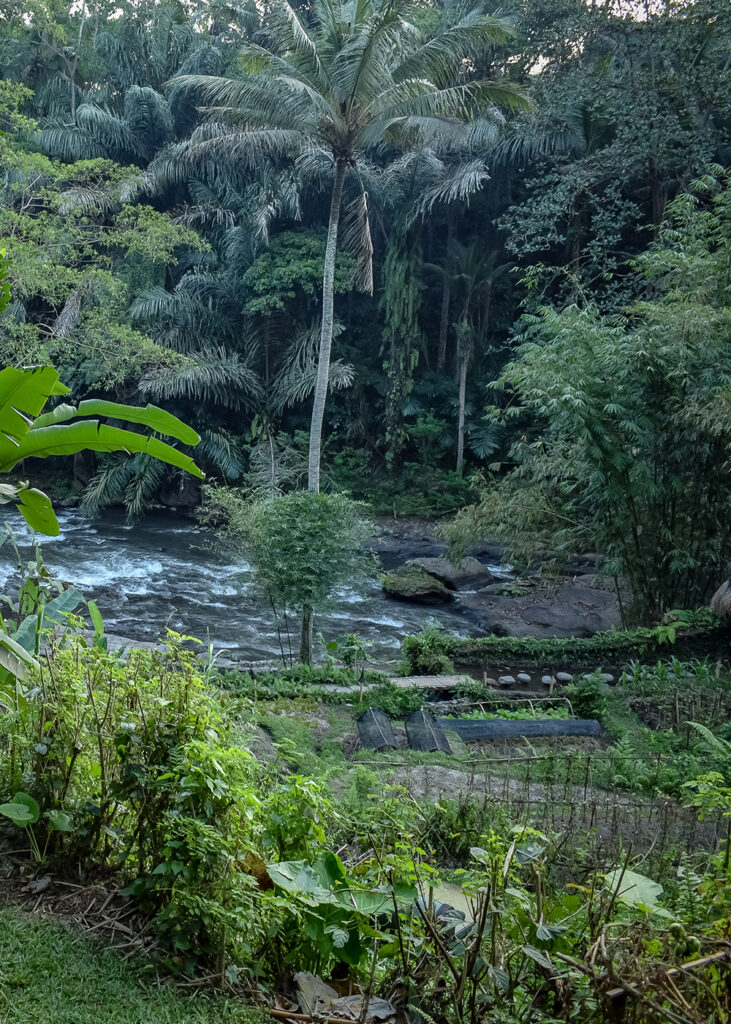 "Bambu Indah believes
that its land should be responsibly cultivated to produce nutritious food."
SUSTAINABLE & LOCAL SOURCING
Bambu indah believes that its land should be responsibly cultivated to produce nutritious food. A promise of a one-of-a-kind Indonesian dining experience true to the roots of the archipelago, in an inspired, innovative environment that offers an authentic relationship with nature. The garden produce is enjoyed by both its customers and staff.
SUSTAINABLE BUILDING & DESIGN 
"While most pools require large amounts of concrete and chemicals, we've built a sustainable pool without either. Instead, we use lava stones and a vegetation regeneration zone, which naturally cleanses, filters and oxygenates the water and nurtures beneficial bacteria."
WASTE MANAGEMENT & WATER CONSERVATION
In an effort to minimize plastic wastage, Bambu Indah does not serve commercially bottled mineral water. The hotel features a hospital standard triple filter water system, which makes its water safe to drink straight from the tap – certainly a rare facility on the island and in the country!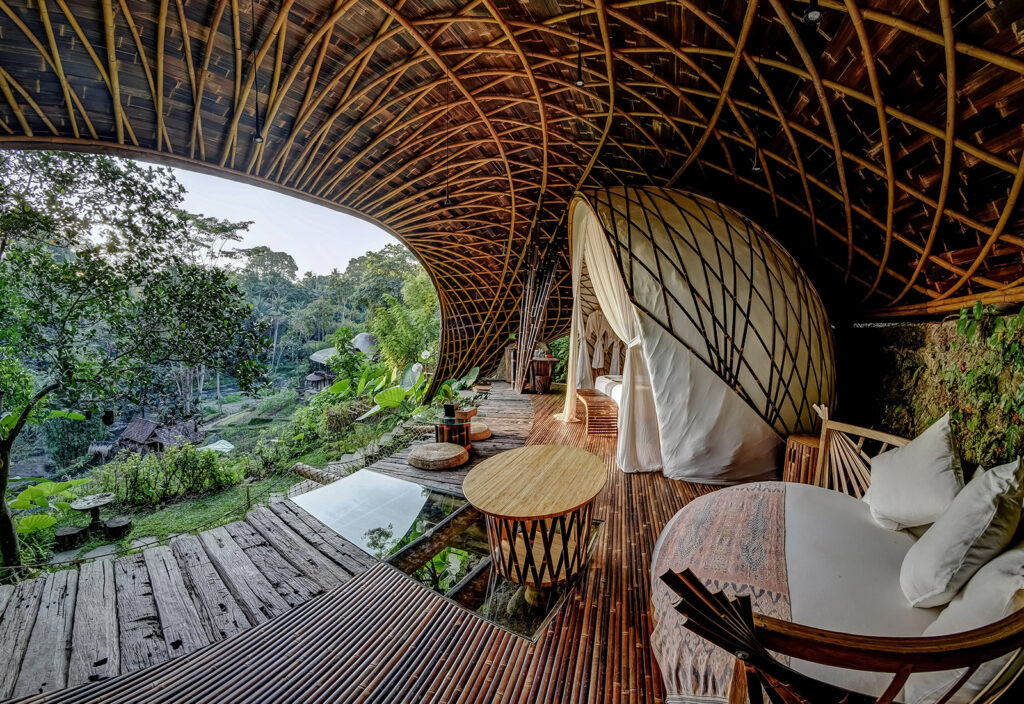 Meet Jorge,
Duty Manager of Bambu Indah
WHAT IS YOUR STORY IN HOSPITALITY
I was born in Mexico and lived there until I was 13 before moving to Hong Kong with my family. Because my family was very conservative with money, I had to get a job in a restaurant.
One of my dad's best friends was working in hospitality and gave me my first job as a runner and helper in a couple of restaurants in Hong Kong; that's when I decided that I wanted to do what he was doing. He became my mentor. He studied in Switzerland and helped me convince my father to send me there and pursue my hospitality career. I spent four years in Switzerland and did a couple of internships in Brussels and Morocco. Following my studies, I decided to get back into operations in Hong Kong where I worked in F&B for several years. I started as a server and grew all the way to operational management.
Later on, my mentor, who gave me my first job when I was 16, was now based in Bali doing hospitality consulting, he invited me for a consulting project for a private yacht. After that project, I was connected with John and Cynthia Hardy who hired me as Bambu Indah's new F&B & Duty Manager.
WHAT IS BAMBU INDAH'S STORY?
Bambu Indah was born almost 20 years ago. The founders John and Cynthia Hardy were building Javanese antique houses for their sons and friends to host. Eventually, that turned into an opportunity to create a beautiful hotel using Javanese teak old houses, natural materials and innovative decor for guests who cherished that kind of hospitality. Over the years, they developed a circular property expanding sustainable practices, farming their own food for their restaurant, and designing natural pools for their guests.
The property closed for three years during the Covid pandemic and the founders took this opportunity to renovate almost everything. Today, Bambu Indah is offering new bamboo-built houses as well as an elevated riverside area with a new restaurant.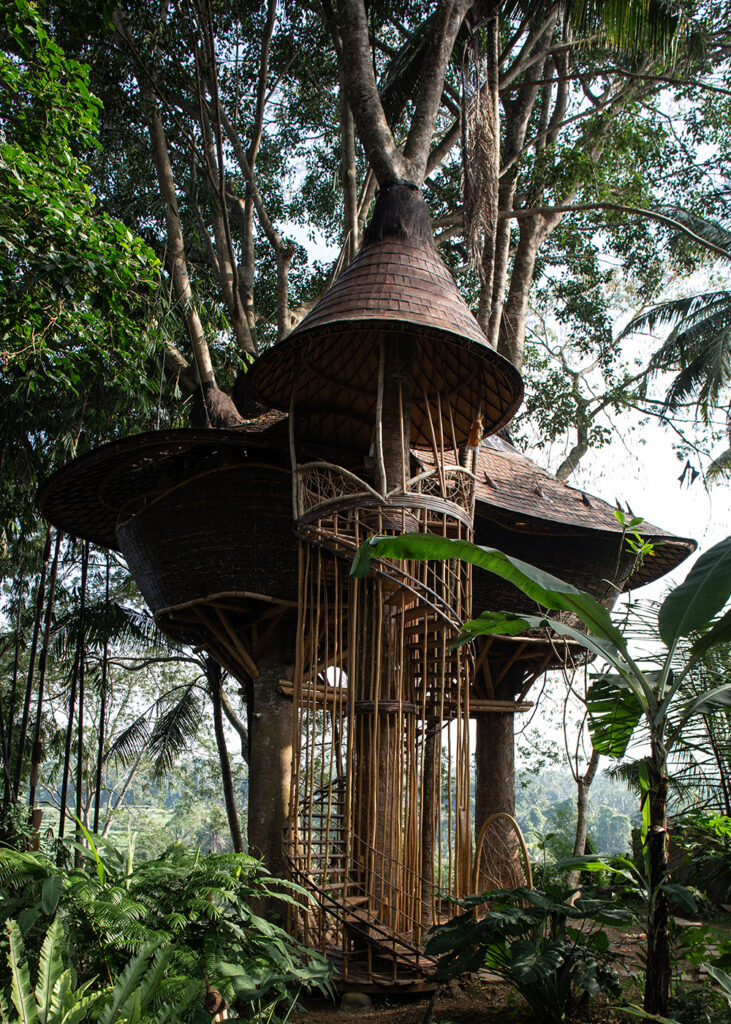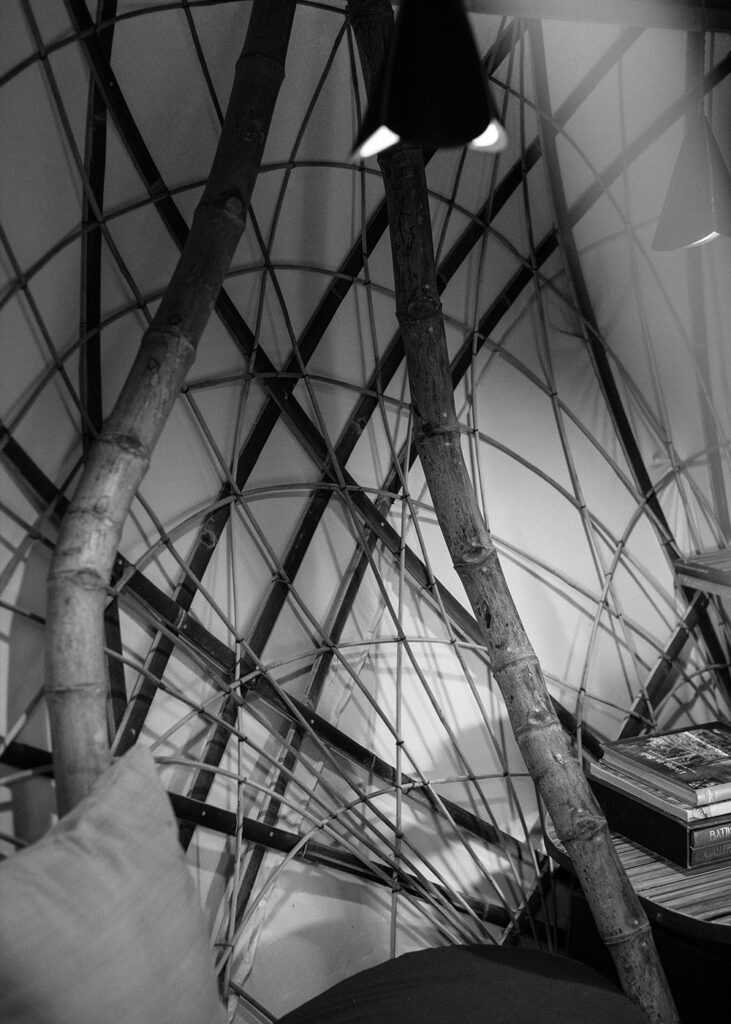 "Achieving luxury & circularity
mostly comes from how you
build the place and the kind of experience that you offer."
HOW DO YOU ACHIEVE LUXURY & CIRCULARITY?
To me, achieving luxury and circularity mostly comes from how you build the place and the kind of experience that you offer starting by using the right materials. At Bamboo Indah, we are mostly using bamboo which is extremely sustainable and with the help of amazing designers, we are being creative with our architecture, innovative bamboo-built structures and the finishes which give our guests a sense of luxury as soon as they come in.
Customer service, amazing hospitality, circular features such as our natural pools, incredible locally sourced food and involving guests in sustainable practices are also key elements in achieving luxury and circularity.
HOW BAMBU INDAH'S OPERATIONS ENSURE MINIMUM IMPACT?
Everything we do, from the building to the operations have minimal impact.
If you look at our restaurant menu for example, most of our ingredients are either locally sourced from ethical local farms or grown onsite. Most of the things we build are from materials we found in our property. For example, instead of using or making cement, we use on-site rocks. We use old pieces of wood, we harvest our grass and use coconut tree leaves to cover everything.
In our rooms, we use LED light bulbs and remind our guests to be mindful about their energy and AC consumption. Throughout the property, we don't use a lot of lights, instead we use oil-based candles which create a great natural ambiance at night.
We have a big waste management program in which we separate our glass, aluminum, and paper and we barely have any single plastic use. Instead, we offer creative alternatives such as wrapping take away foods in banana leaves and offering papaya straws. We also provide natural filtered spring water to our guests and use natural fibers for our pillows and sheets.
HOW DO YOU HELP YOUR STAFF UNDERSTAND THE IMPORTANCE OF WORKING & LIVING SUSTAINABLY?
We try our best to educate our staff on the daily operations by showing the example and being very strict about what we stand for. When people come to Bambu Indah, it is very clear that we do not operate the same way as other resorts operate.
It is part of our leadership to constantly explain what we can do and what we cannot do and why. In every little thing that we do, we are showing the impact of our actions and making sure they everyone who works with us understand the importance of being responsible and working sustainably.