Top Responsible Restaurants
& Bars driving positive change in Bali
Discover our unique curation of the best places to Eat & Drink in Bali in 2023. The Punch cafés, restaurants and bars are selected for their quality, sustainable values and commitments. 
As Bali's cultural capital, Ubud is home to some of the best gastronomy, vegan, and zero-waste food. Discover our selection of responsible places to eat and drink in Ubud. 
From Jimbaran, Sanur, Nusa Dua to Uluwatu, South Bali is all about magnificent white sand and breathtaking views. Discover our selection of responsible places to eat and drink in South Bali.
CAFÉ
Times Beach Warung
"As we are committed to keeping the collaboration with the community, we ensure taking actions toward the people, the neighborhood, and the environment. Providing a space for the surf community to gather and hang out, also a space for keeping their board by signing up for monthly membership and keeping the river and the beach clean."
RESTAURANT
Milk & Madu 
"Milk & Madu is at the heart of our family where sustainability runs deep within our values and is practised by all of our team. Aluminium, plastic, cardboard and paper is collected by staff and recycled everyday, as well as an in-house compost system which reduces food waste. Ingredients are sourced as locally as possible with all seafood being sustainably sourced and entirely traceable."
CAFÉ & STORE
Bokashi
"We value sustainability in our brand as much as we do in our daily lives. We incorporate sustainability and being organic into our cafe, foods, grocer, kitchen and management to be as environmentally conscious as we can. We source and purchase most of our products from trusted local suppliers to decrease carbon emission and footprints as well as use products that contains recycle materials e.g. Toilet napkins, paper napkins and packaging and also manage our waste."
CAFÉ
Suka Espresso
"Suka employs all local staff and has created a culture of inclusiveness and growth. As both locations get very busy during the first shift, founders noticed that some of their staff didn't have time to have their breakfast. So they have been providing breakfast delivered to the venue early morning to make sure all their staff has eaten before the breakfast peak hours. The team also receives 2% bonus when they achieve breaking point sale."
RESTAURANT & BAR
Apéritif
"Restaurants play a pivotal role in influencing community sustainability decisions and food production processes. Apéritif undertakes a more encompassing approach to management of kitchen and operations, promoting tools and techniques that align with a responsible industry approach. By using the freshest, finest-quality ingredients and products sourced from outstanding local suppliers wherever possible, Apéritif aims to deliver an unprecedented dining experience in Bali."
CAFÉ
Baked 
"Our bakers hand-make nearly every item on our menu - constantly pushing the boundaries of flavour without ever compromising on quality or taste. Where we can, we use locally-sourced, organic ingredients to minimise our impact on the environment. We might not be perfect, but we're doing what we can to blend sustainability with the food industry."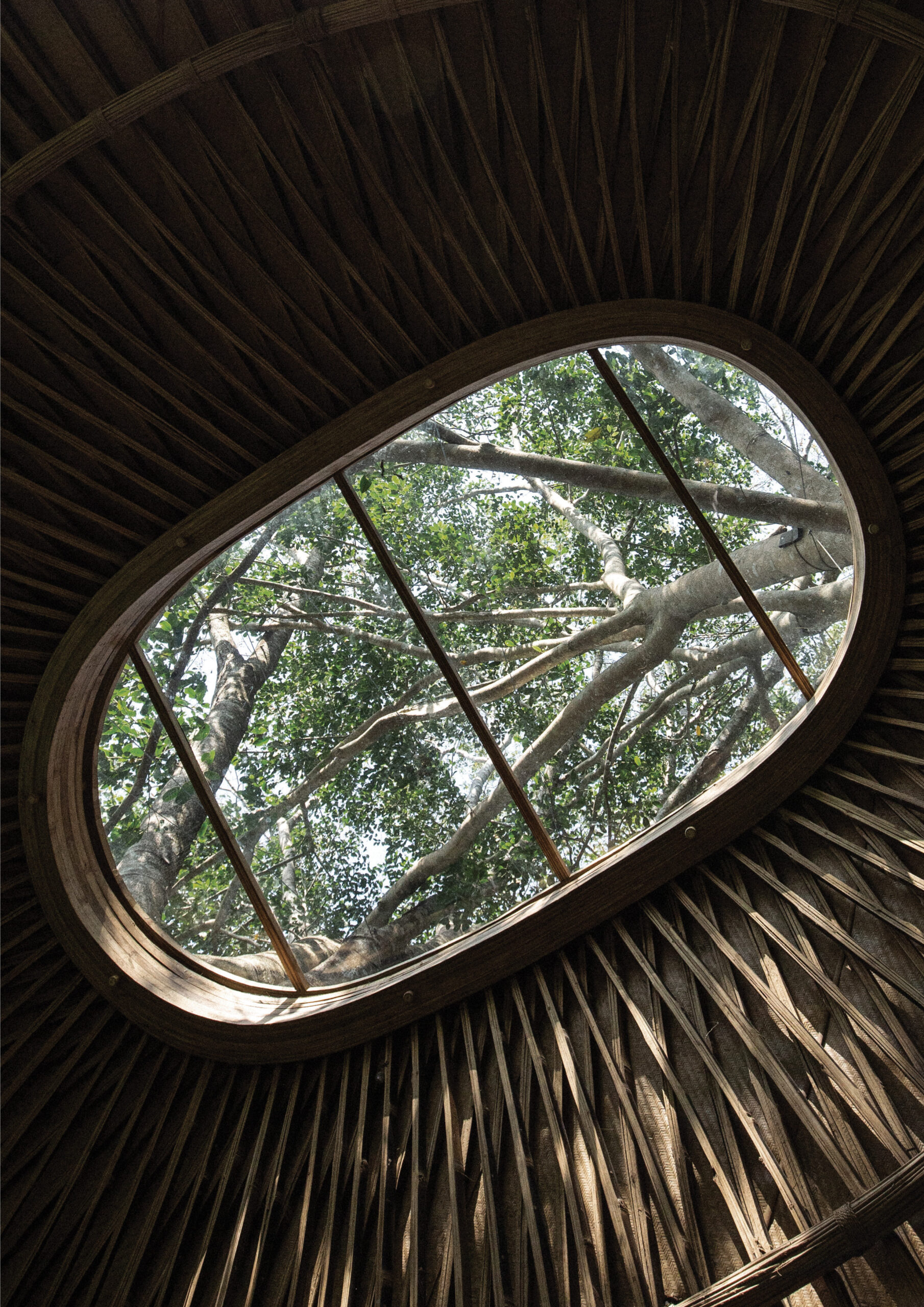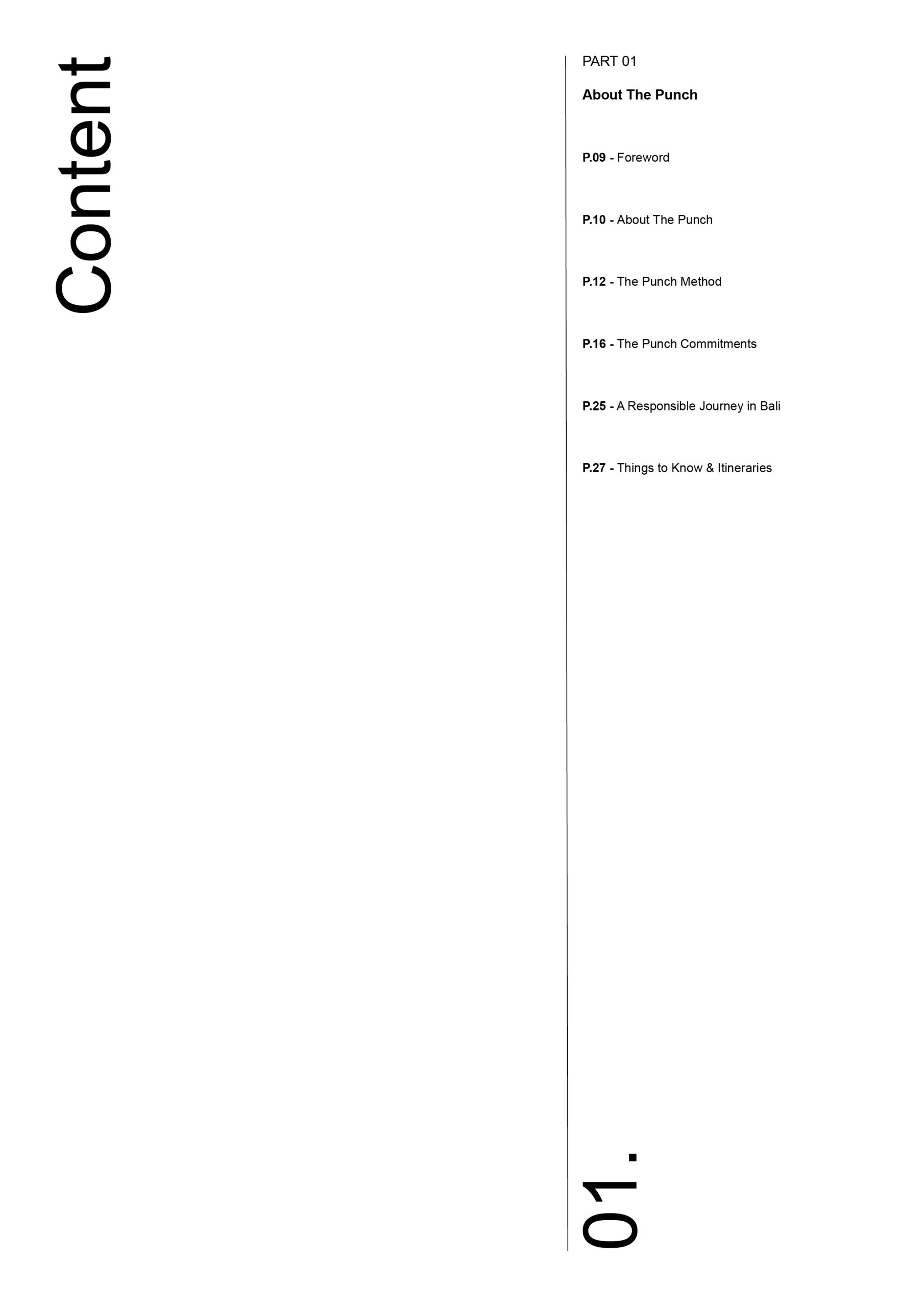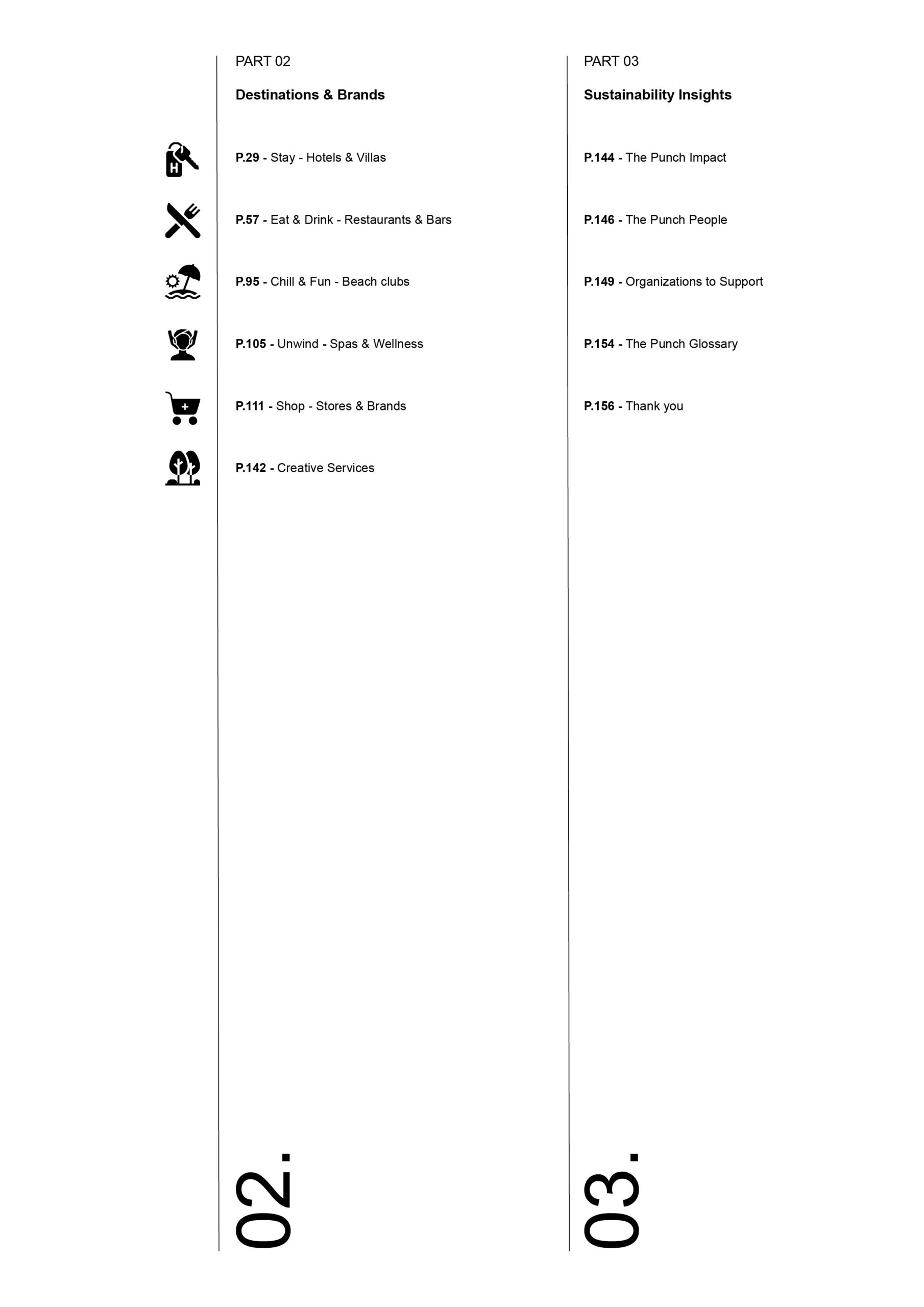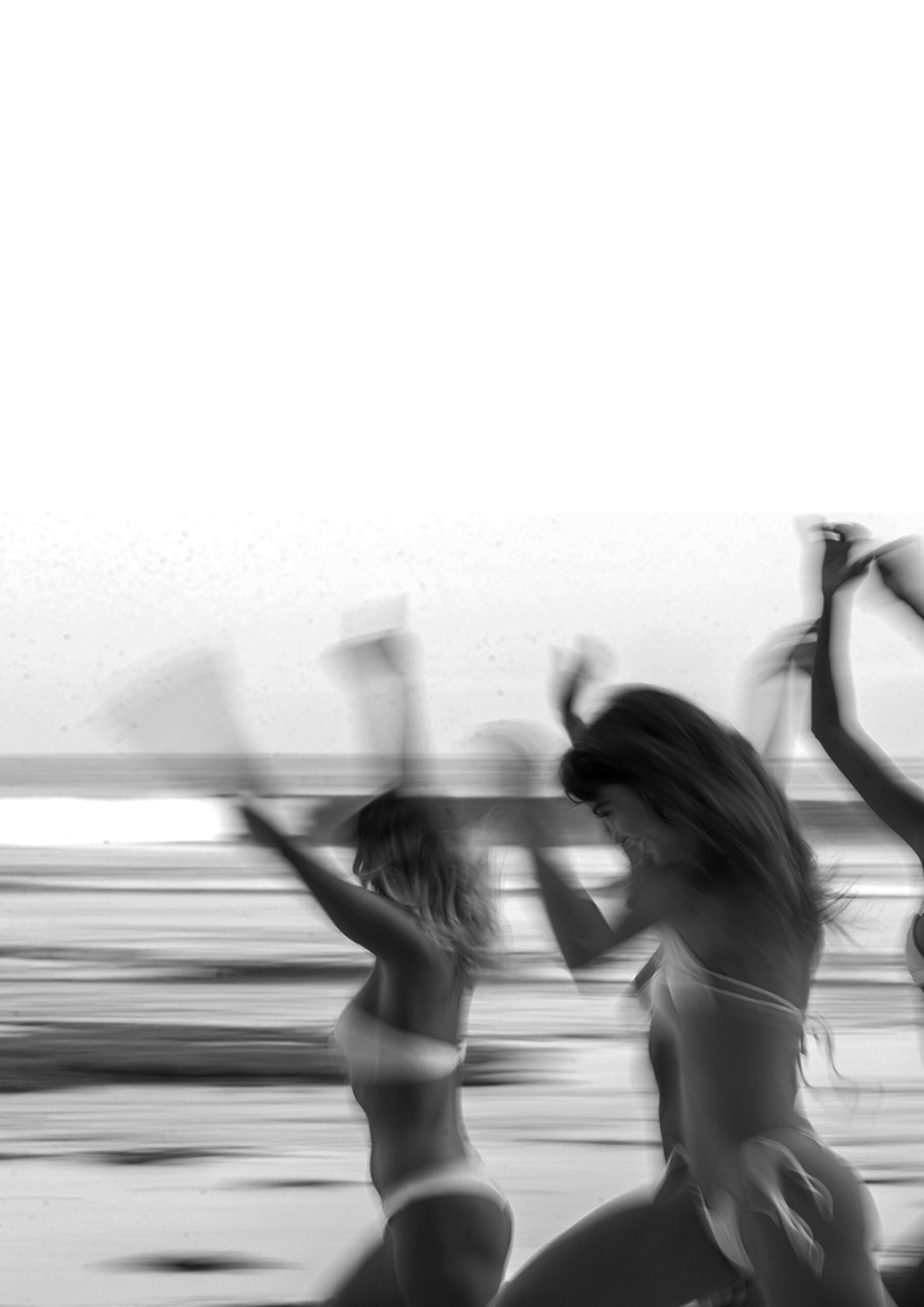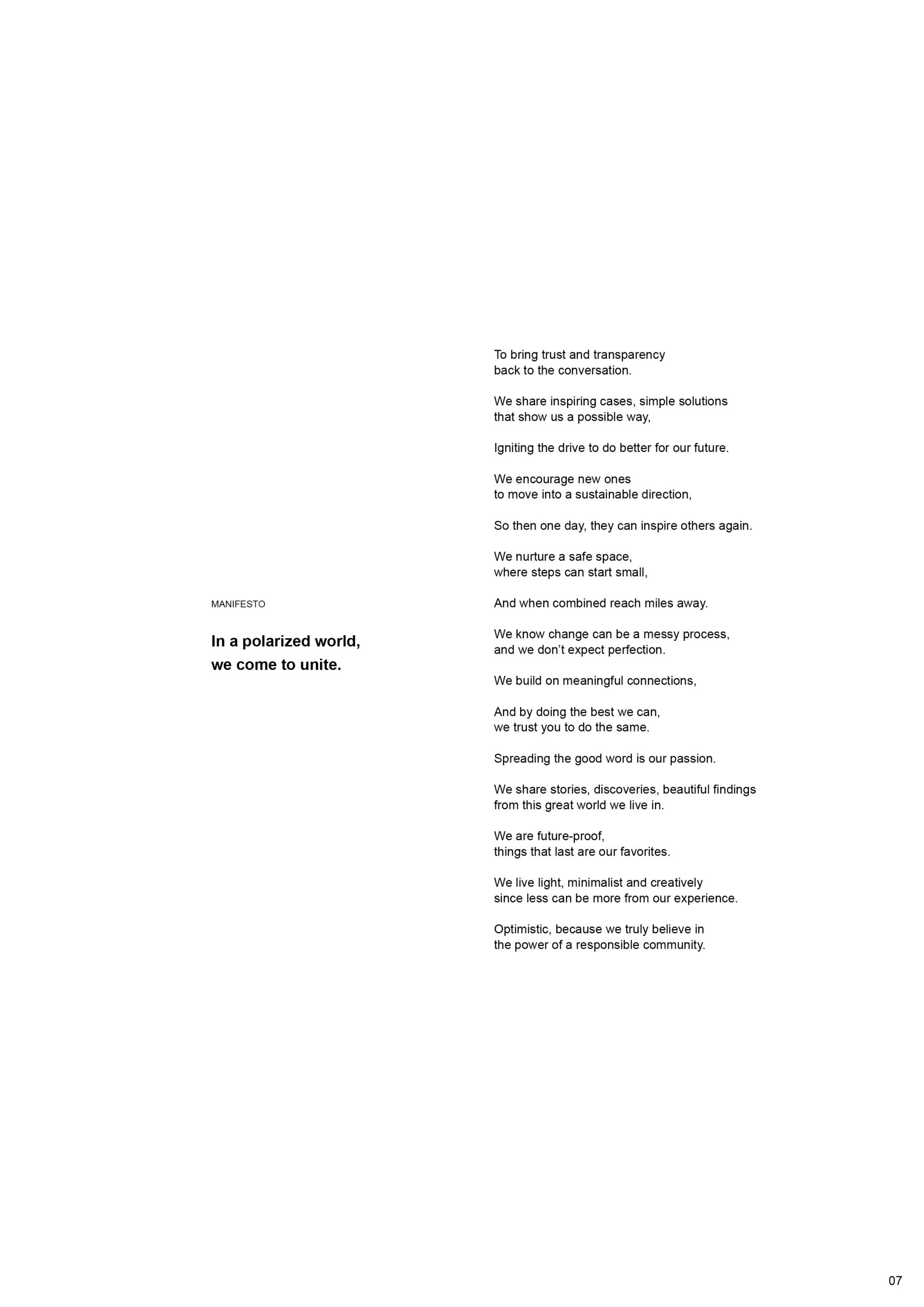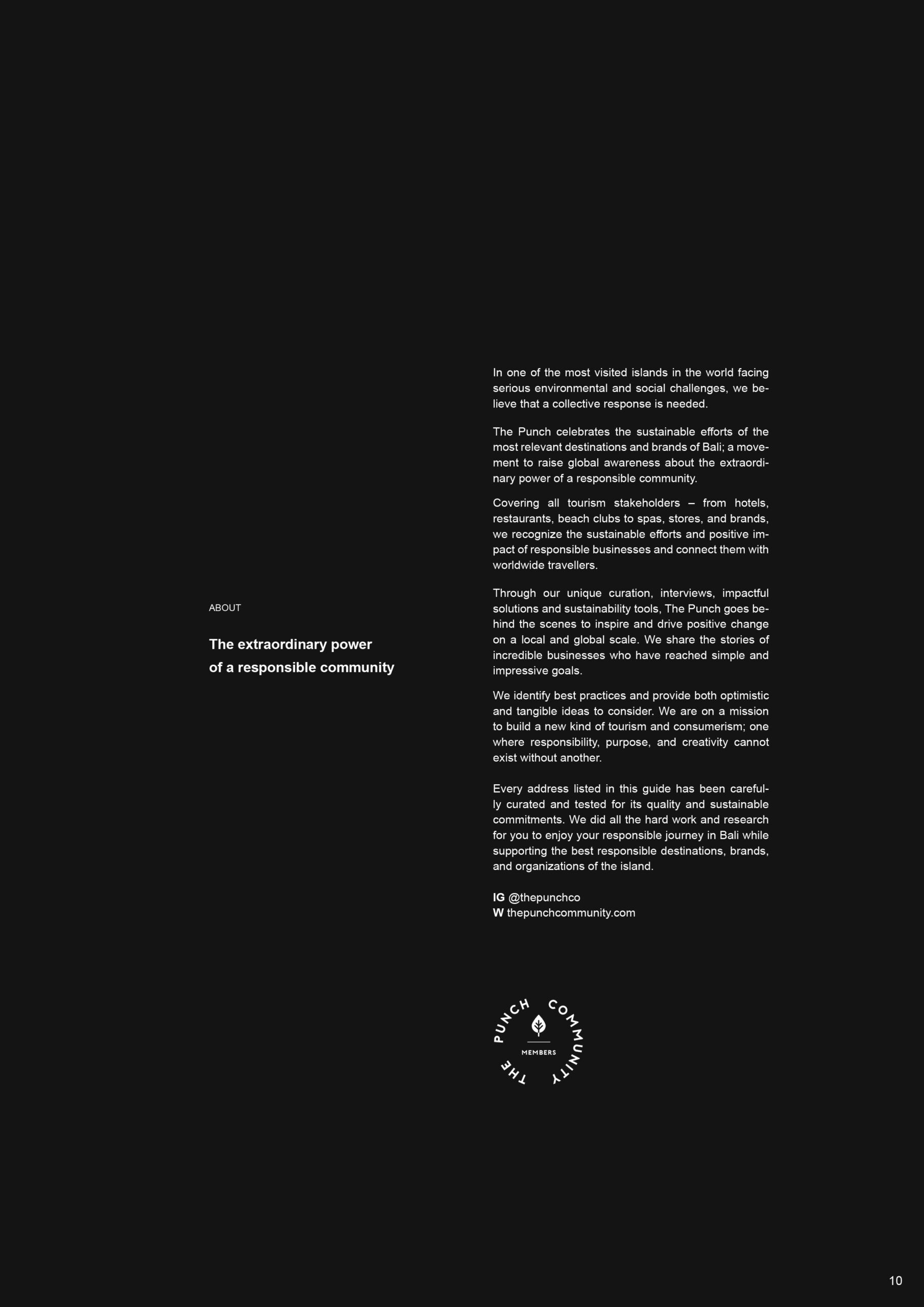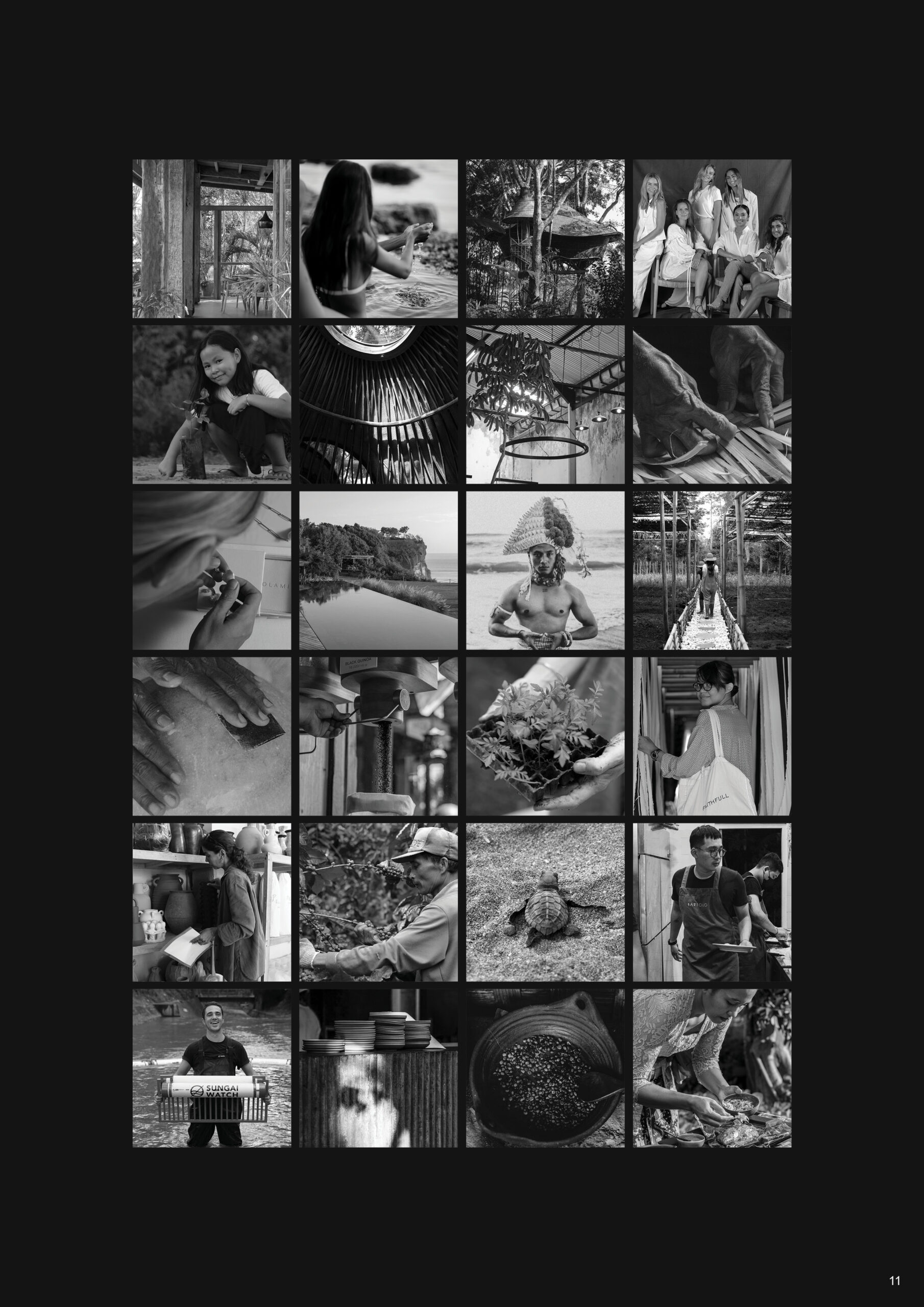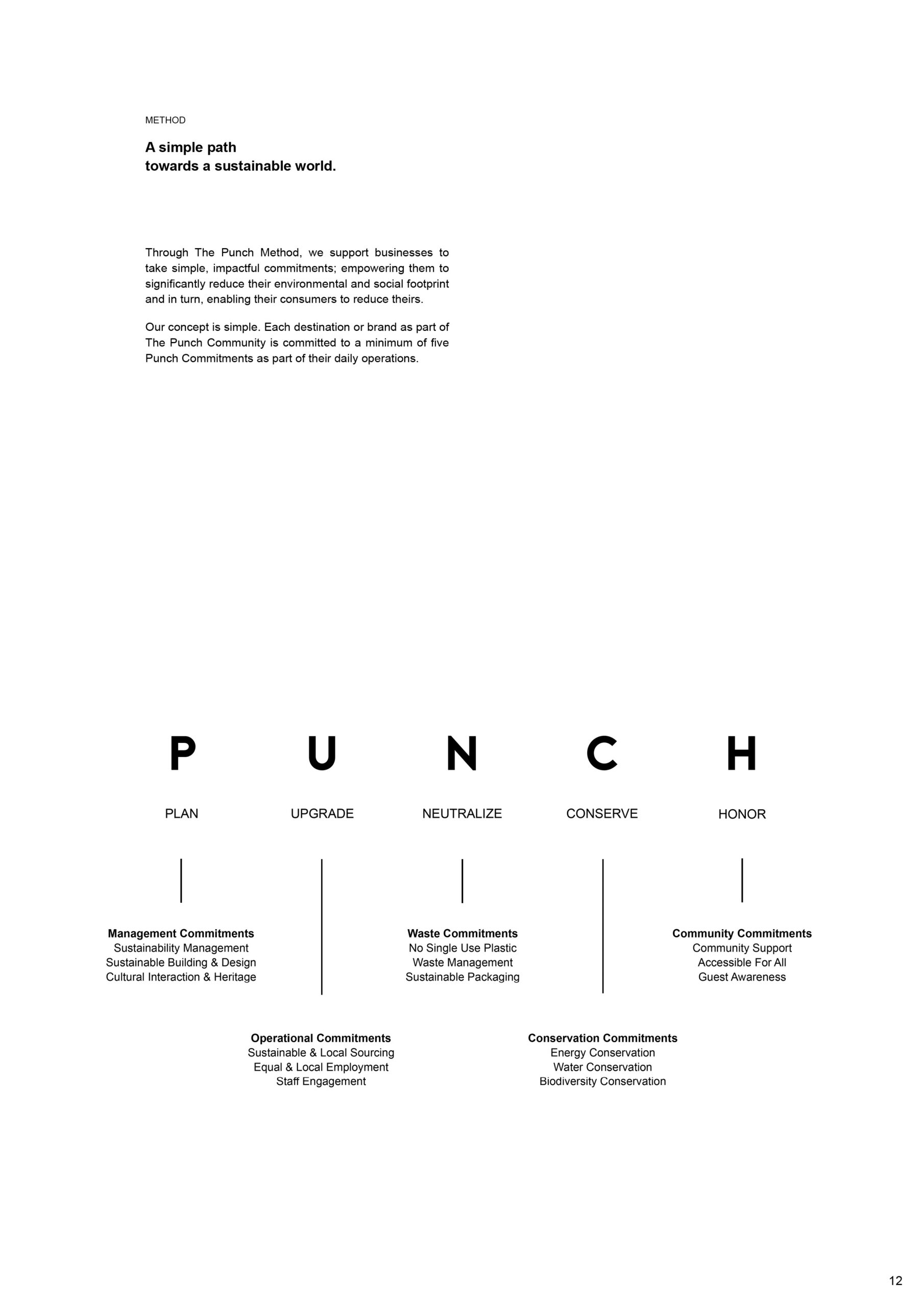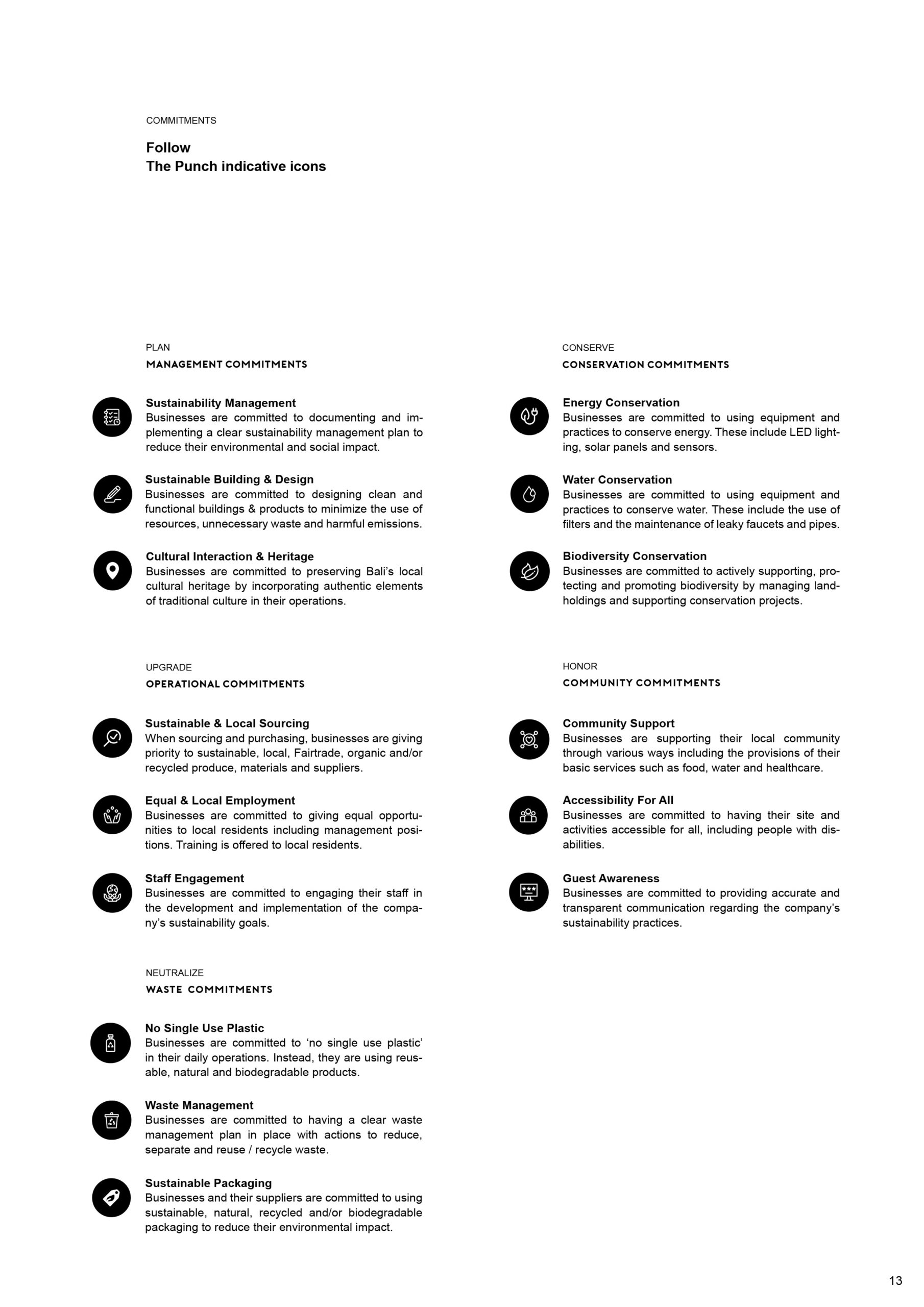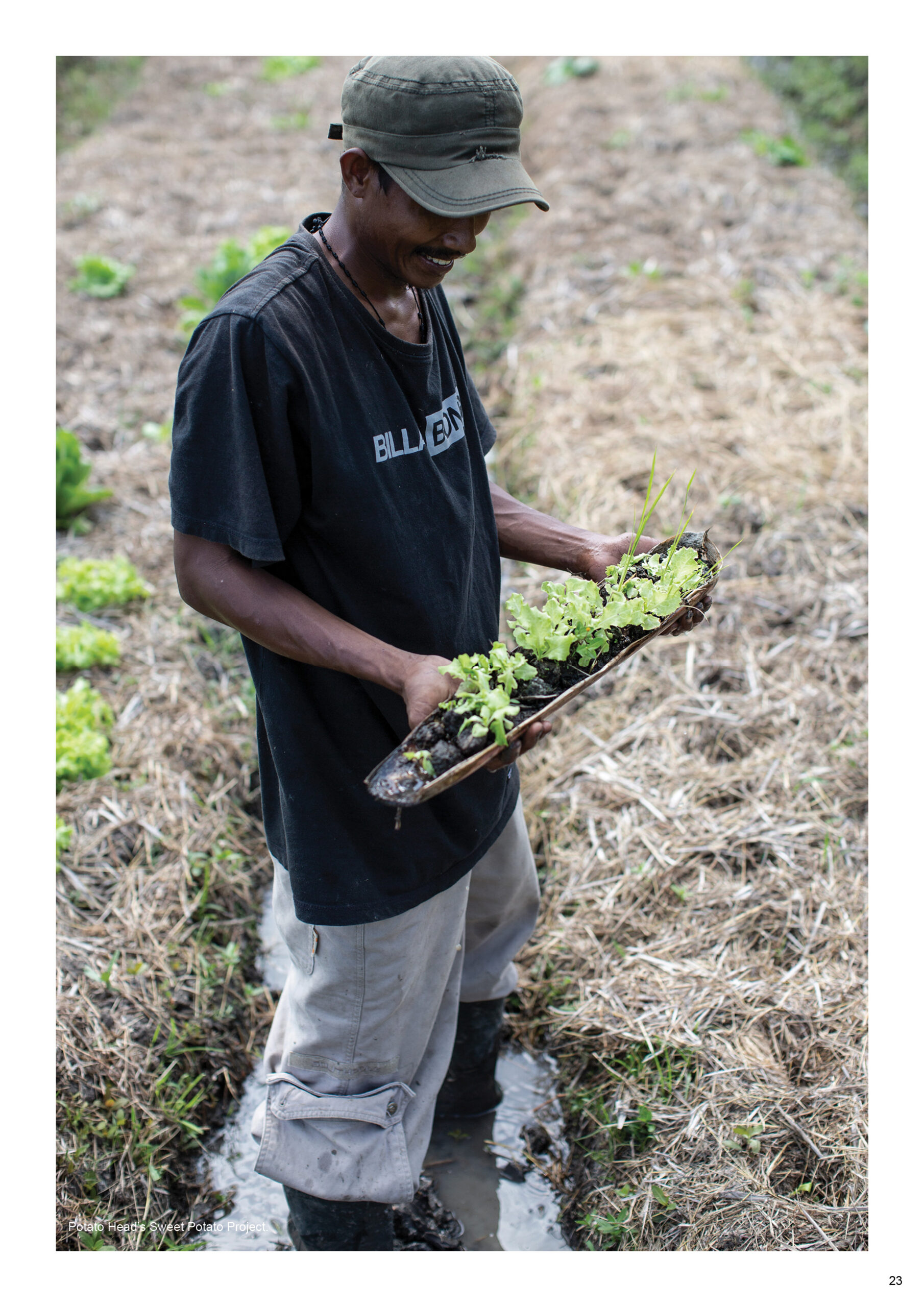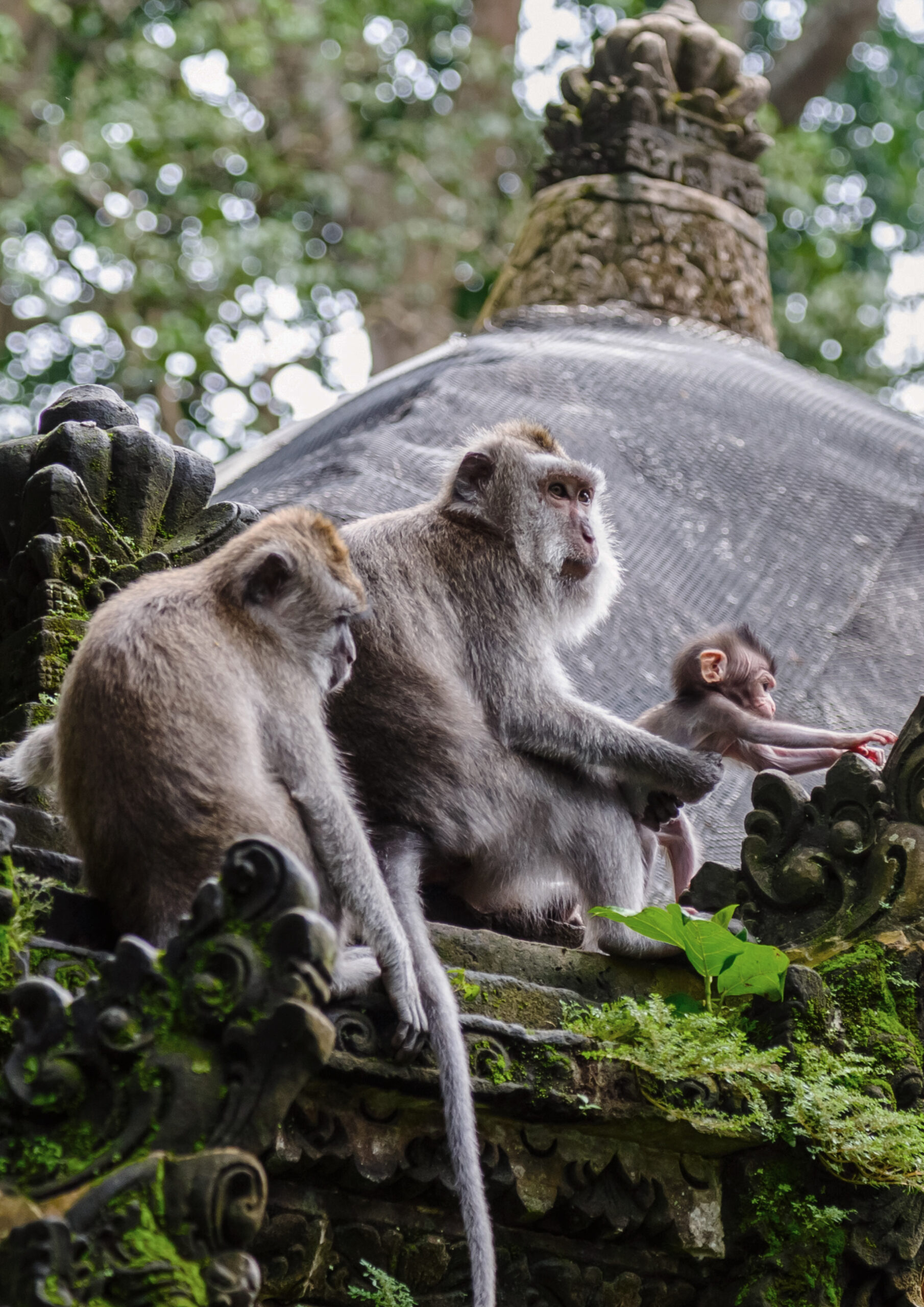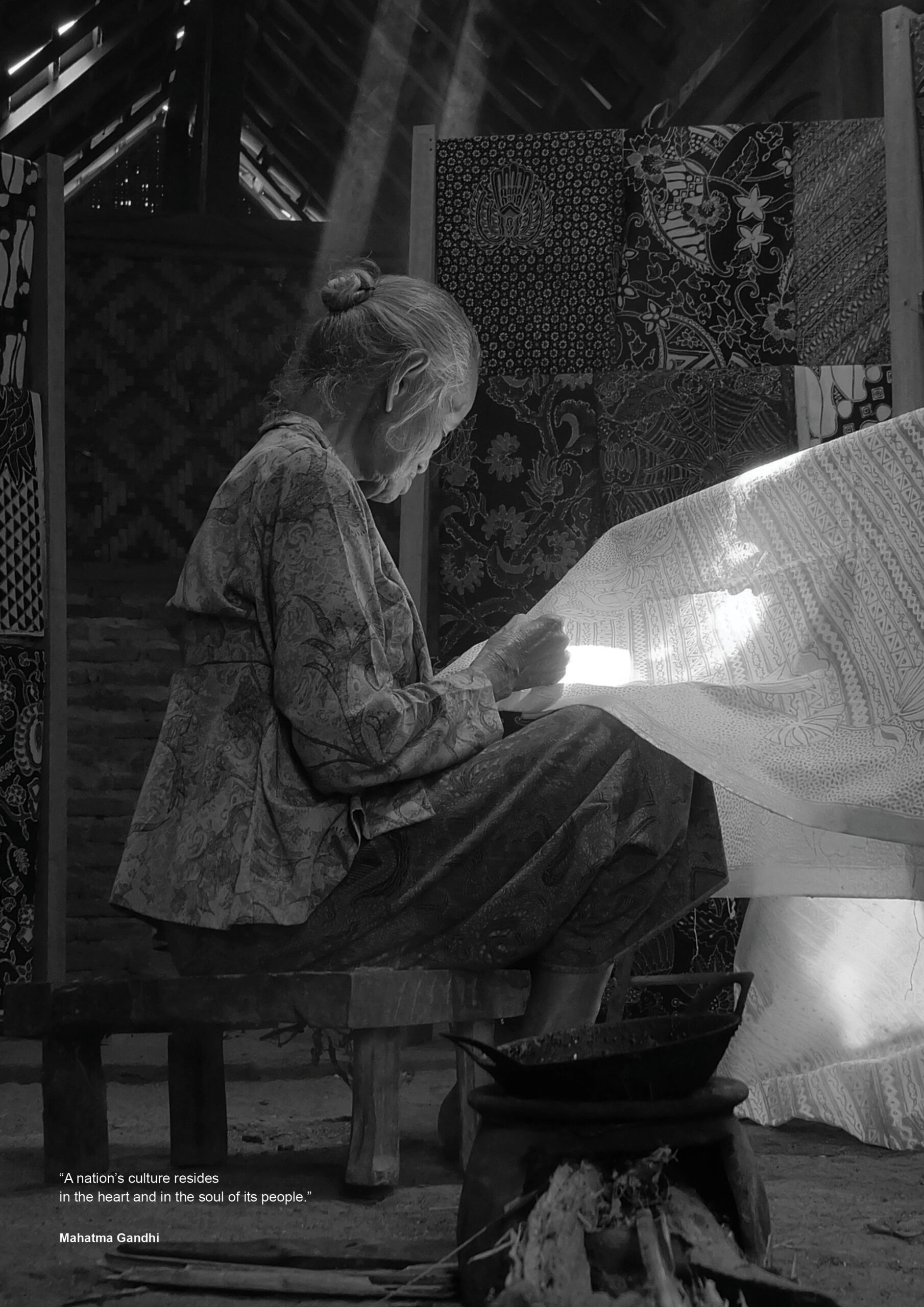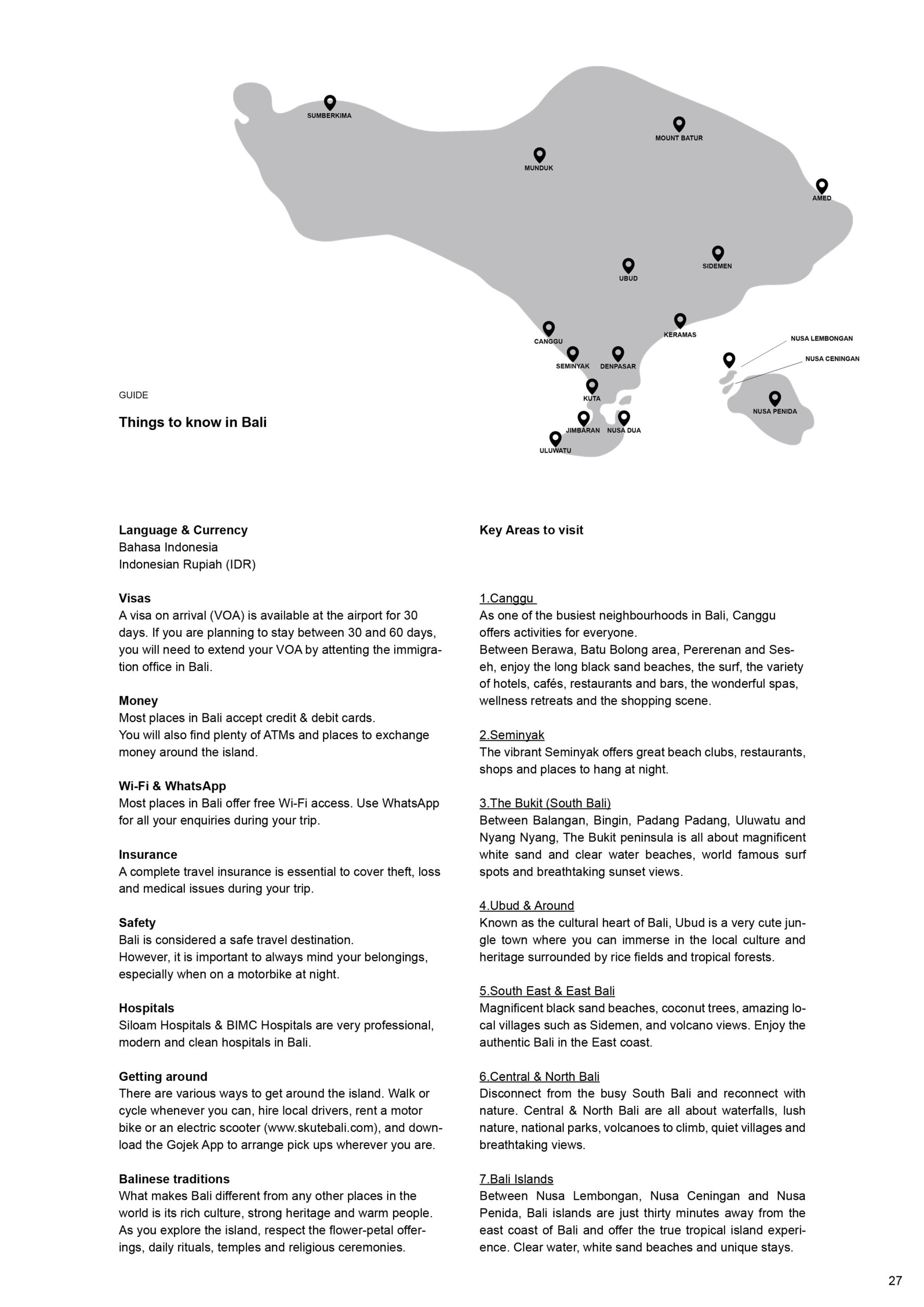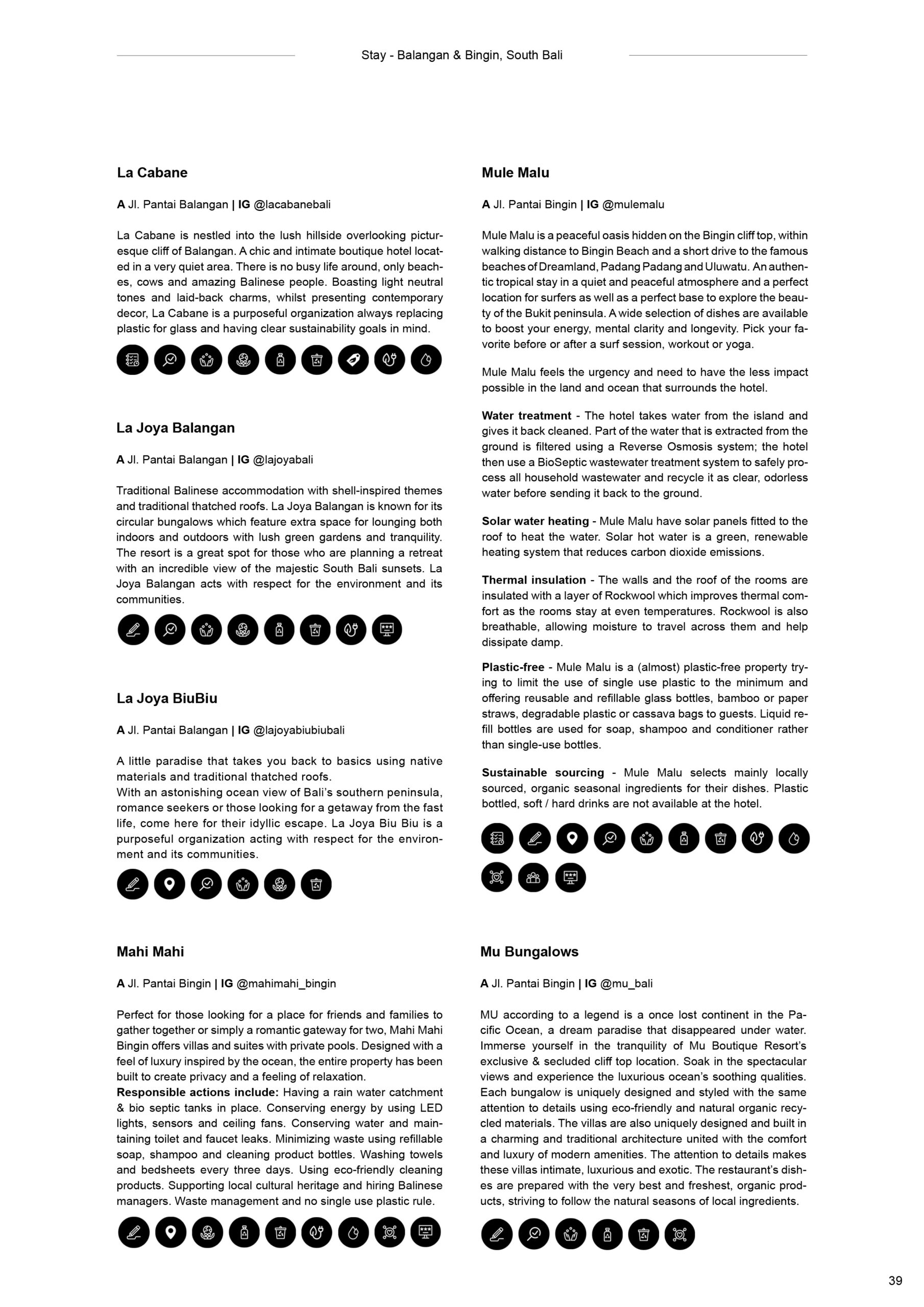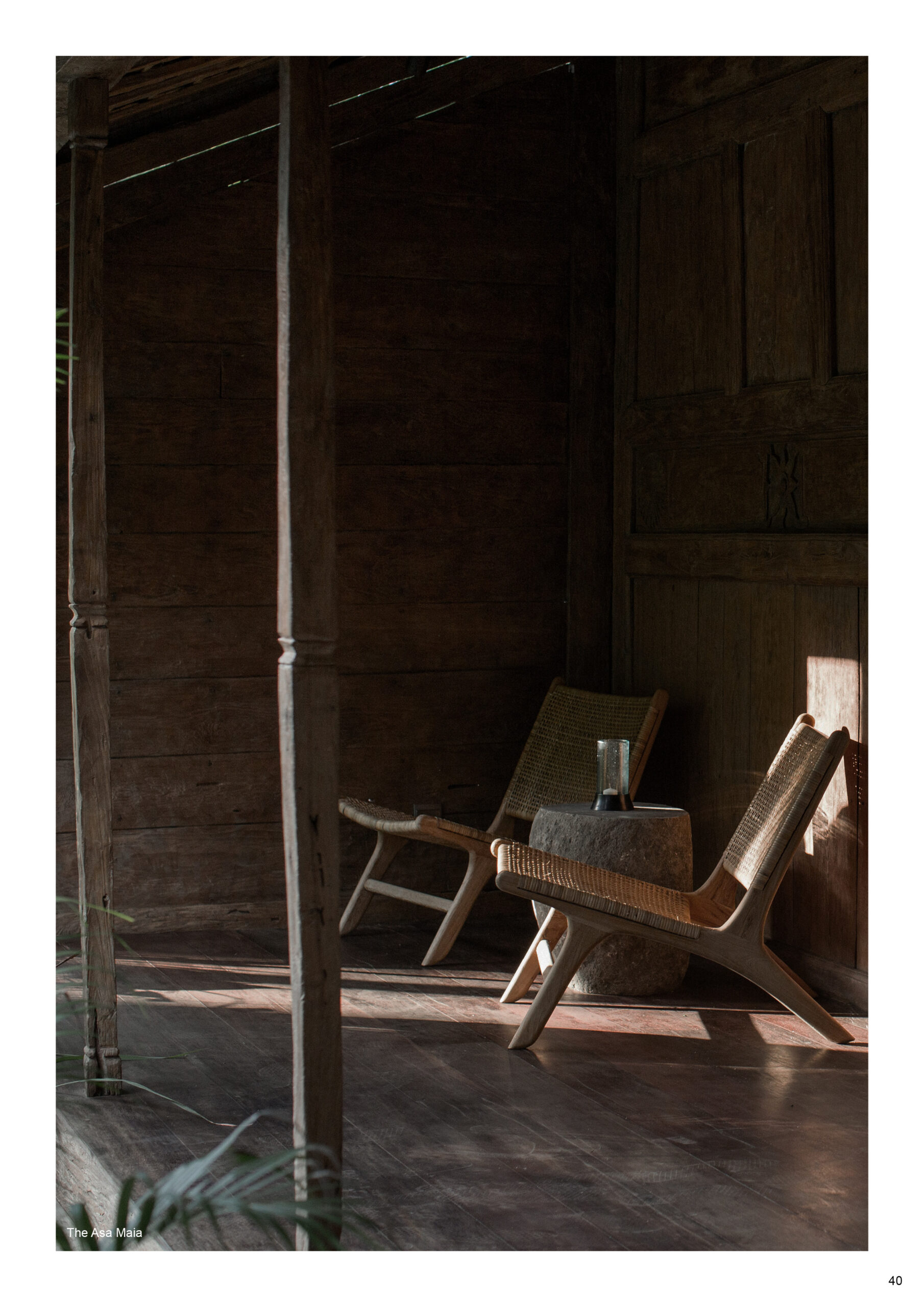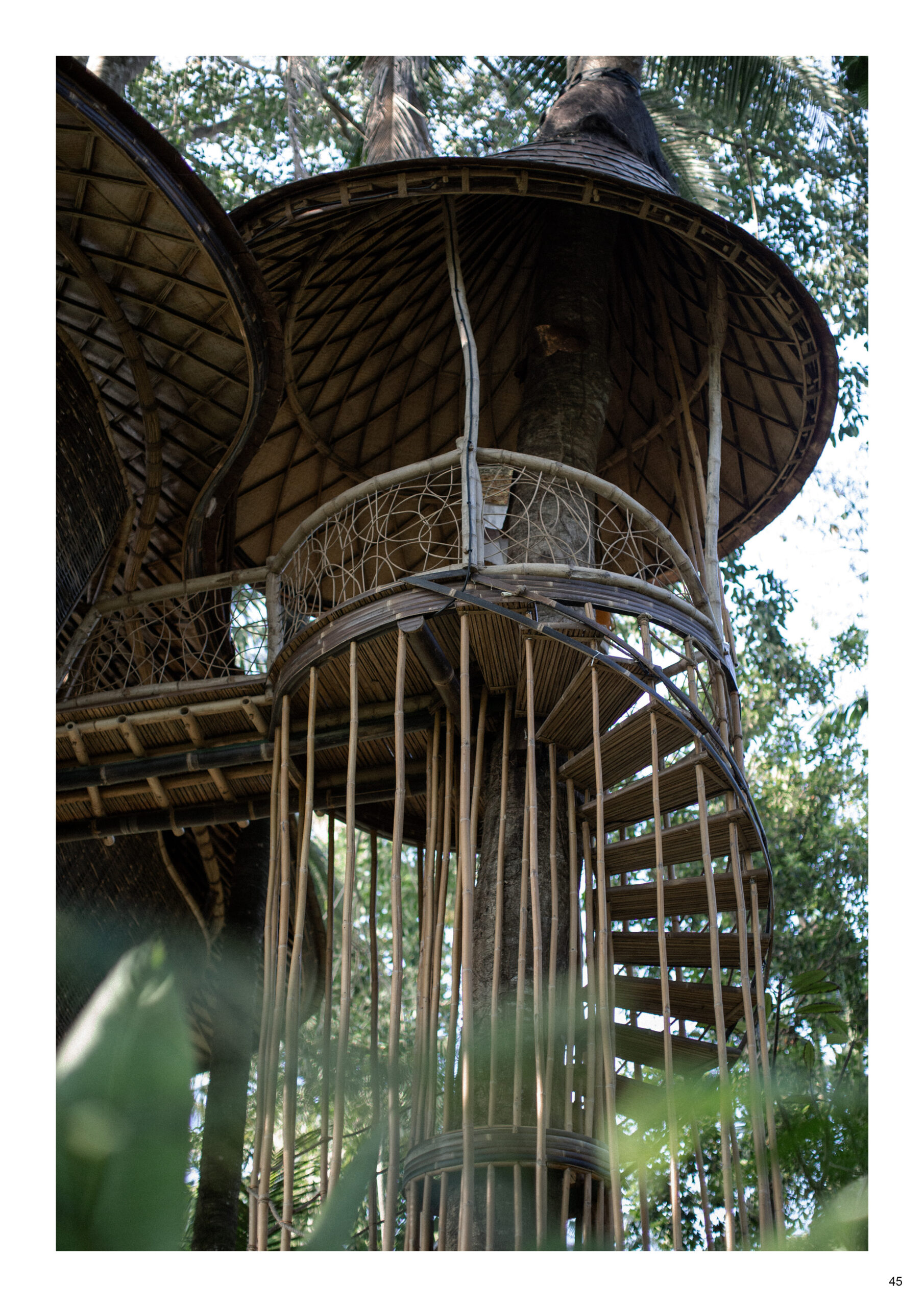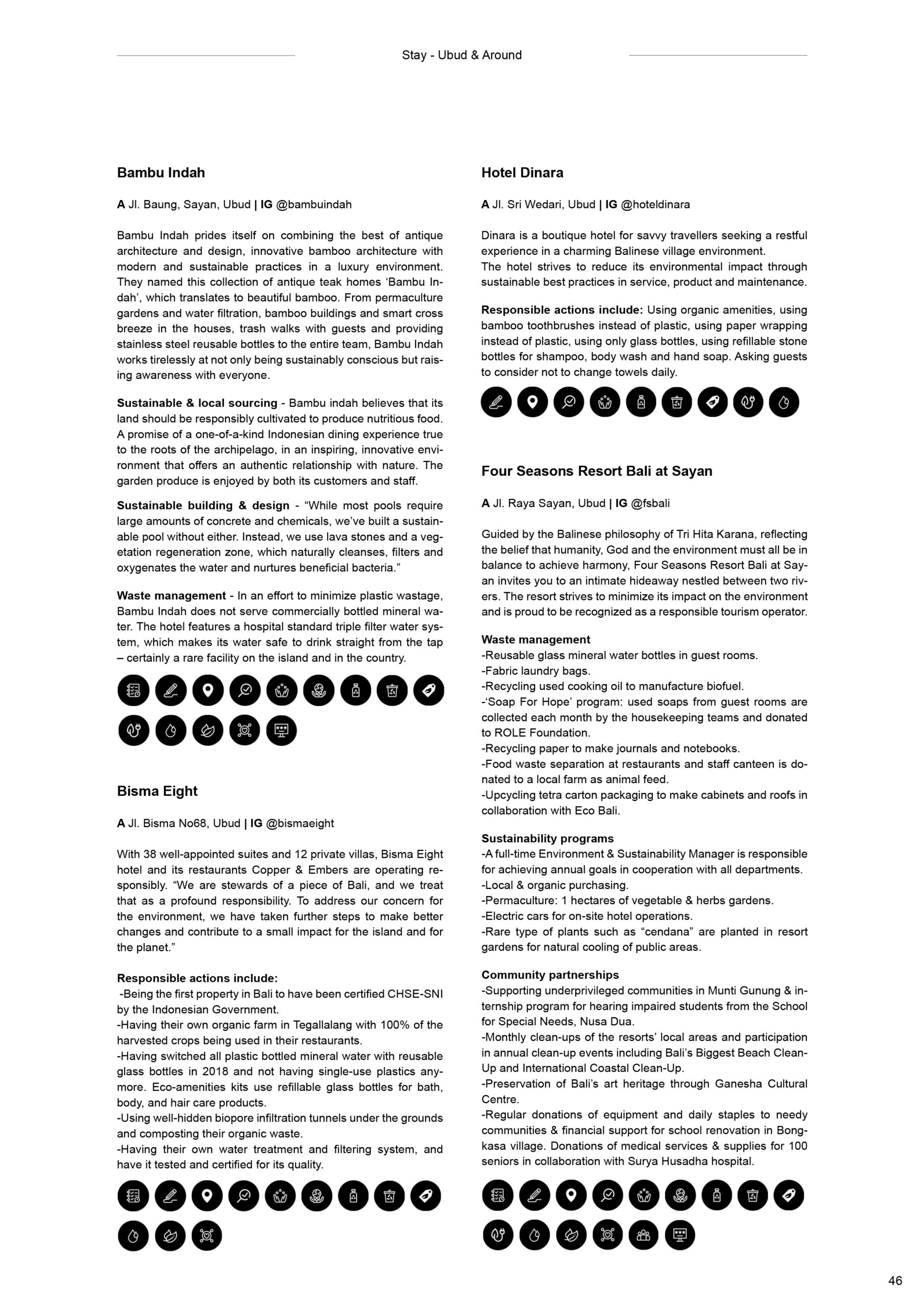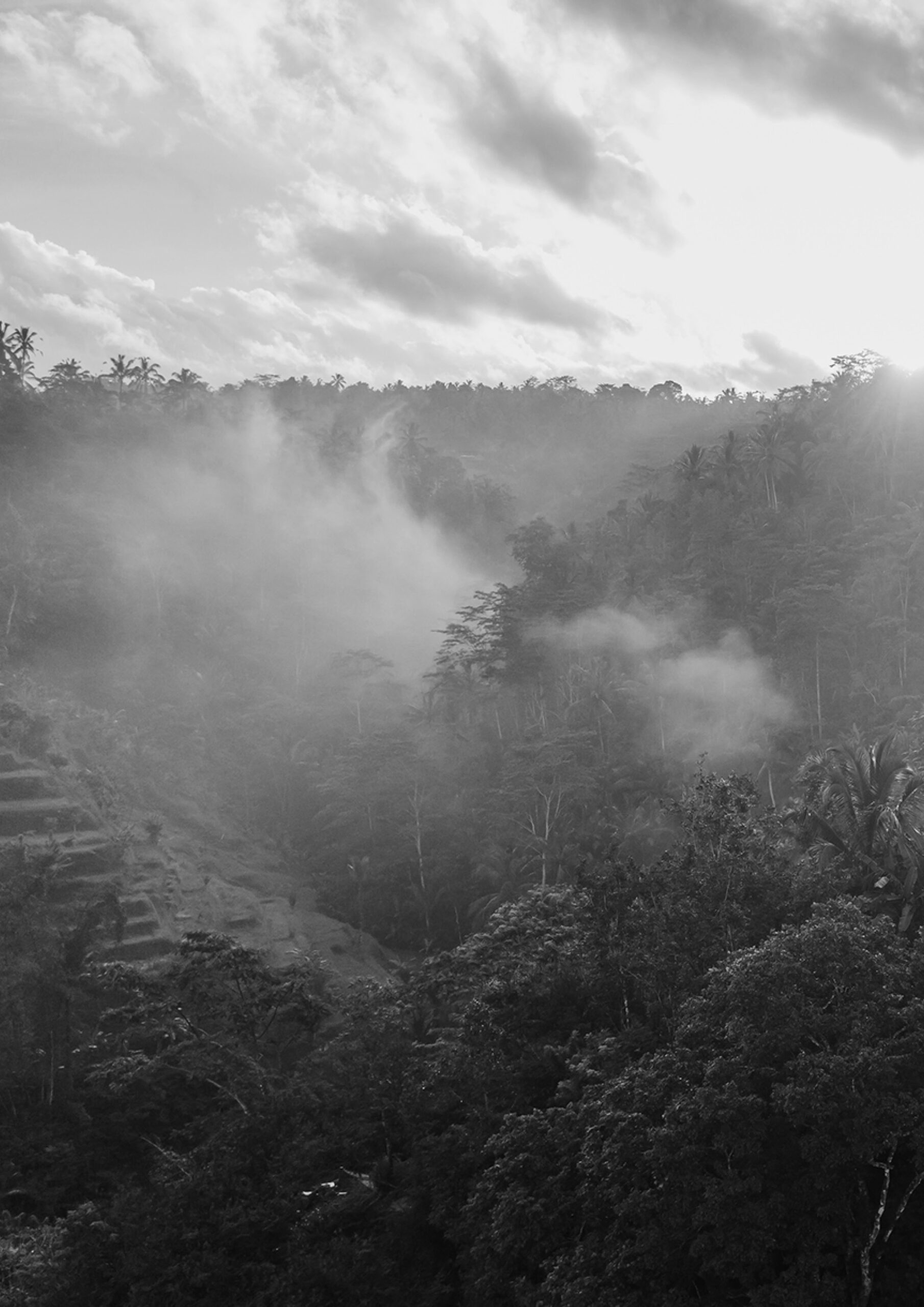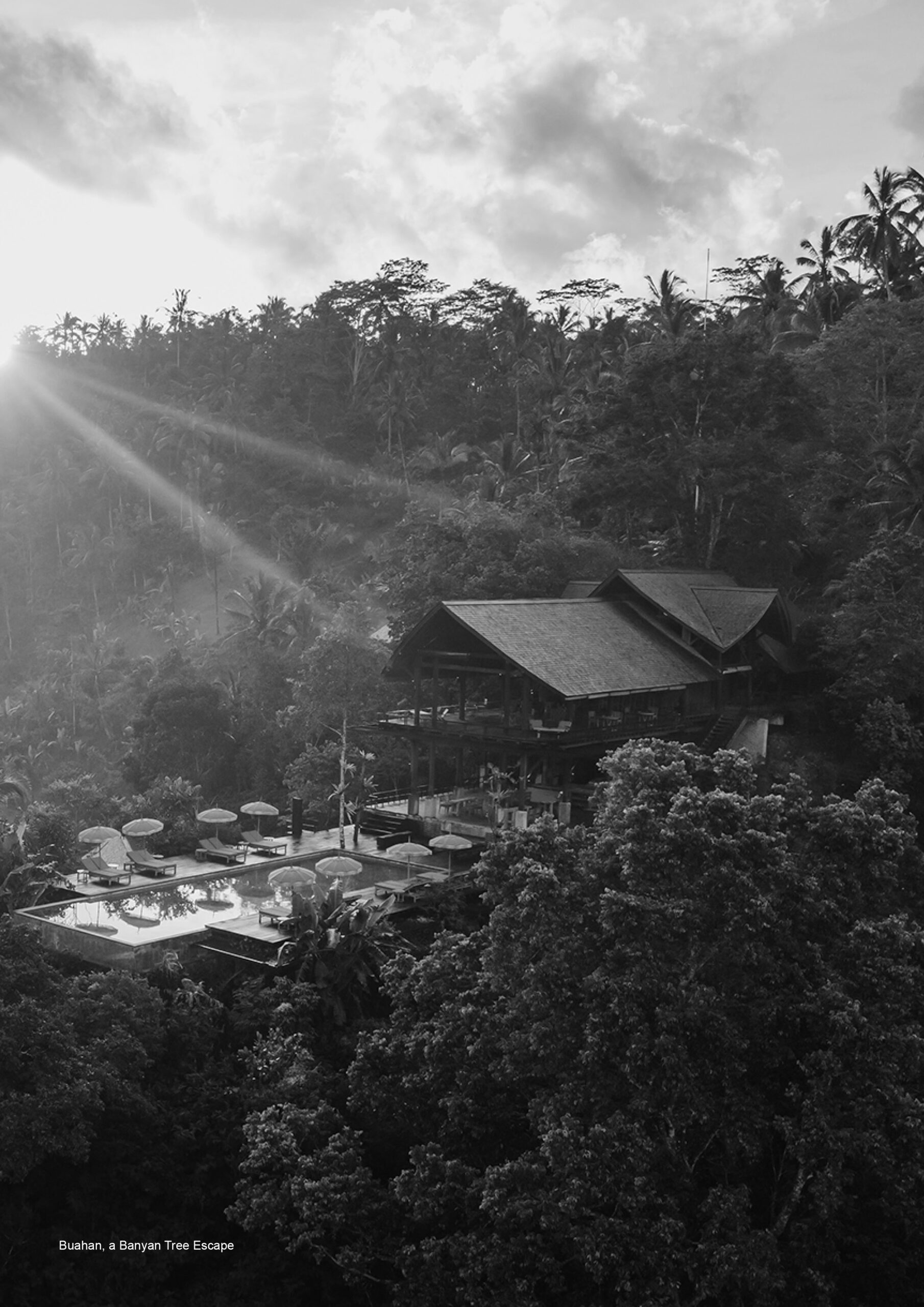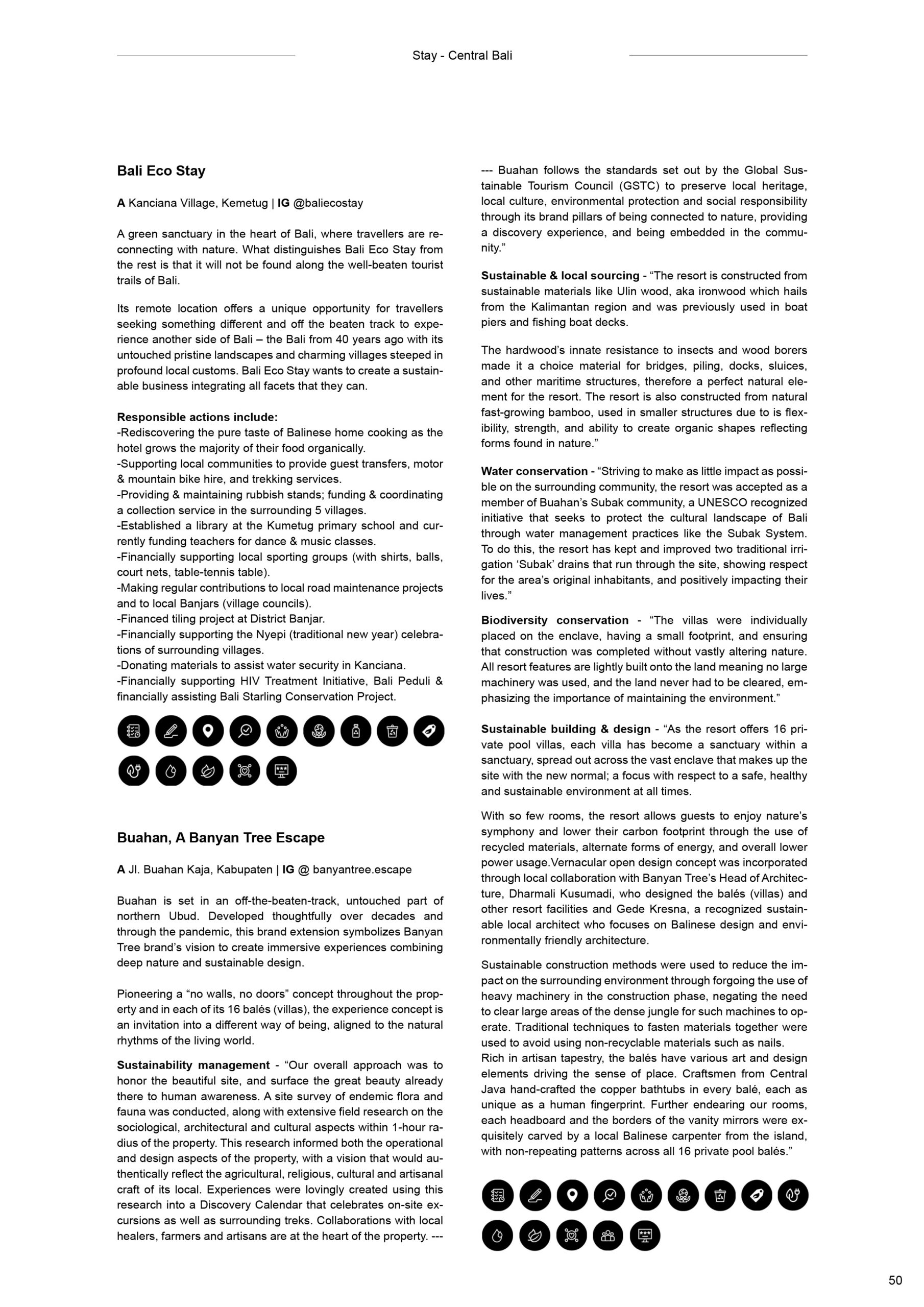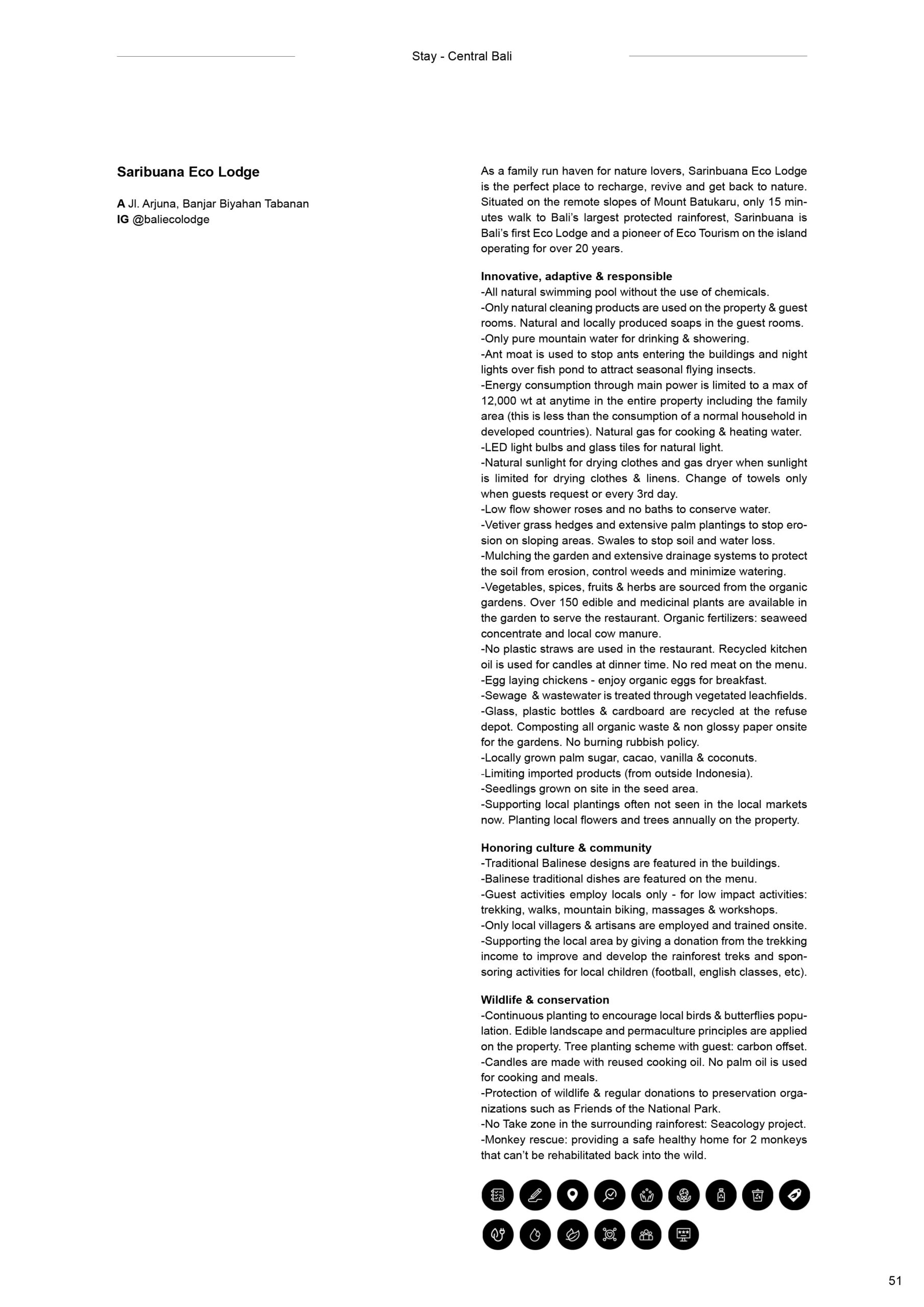 "A Fascinating Publication
for the Future of Tourism."
200+ Businesses Committed to Minimizing their Footprint.
Covering all tourism stakeholders of Bali, Indonesia – from hotels, restaurants and bars, beach clubs to spas and stores, The Punch Guide highlights the sustainable efforts and positive impact of the most relevant places to visit and shop.
Through a unique curation, extraordinary stories, interviews and sustainability insights, The Punch takes you behind the scenes to experience a new kind of travel and celebrate incredible businesses that are achieving sustainability through creativity and innovation in Bali.
Explore
The Punch Community