Meet Wendy, founder of Kevala Ceramics
Kevala produces ceramic tableware entirely handmade in Bali and champions over a hundred artisans who specialise in hand carving moulds, wheel throwing and surface decoration. Each unique item of tableware is worked on by at least 12 pairs of hands before it makes its way to the clients.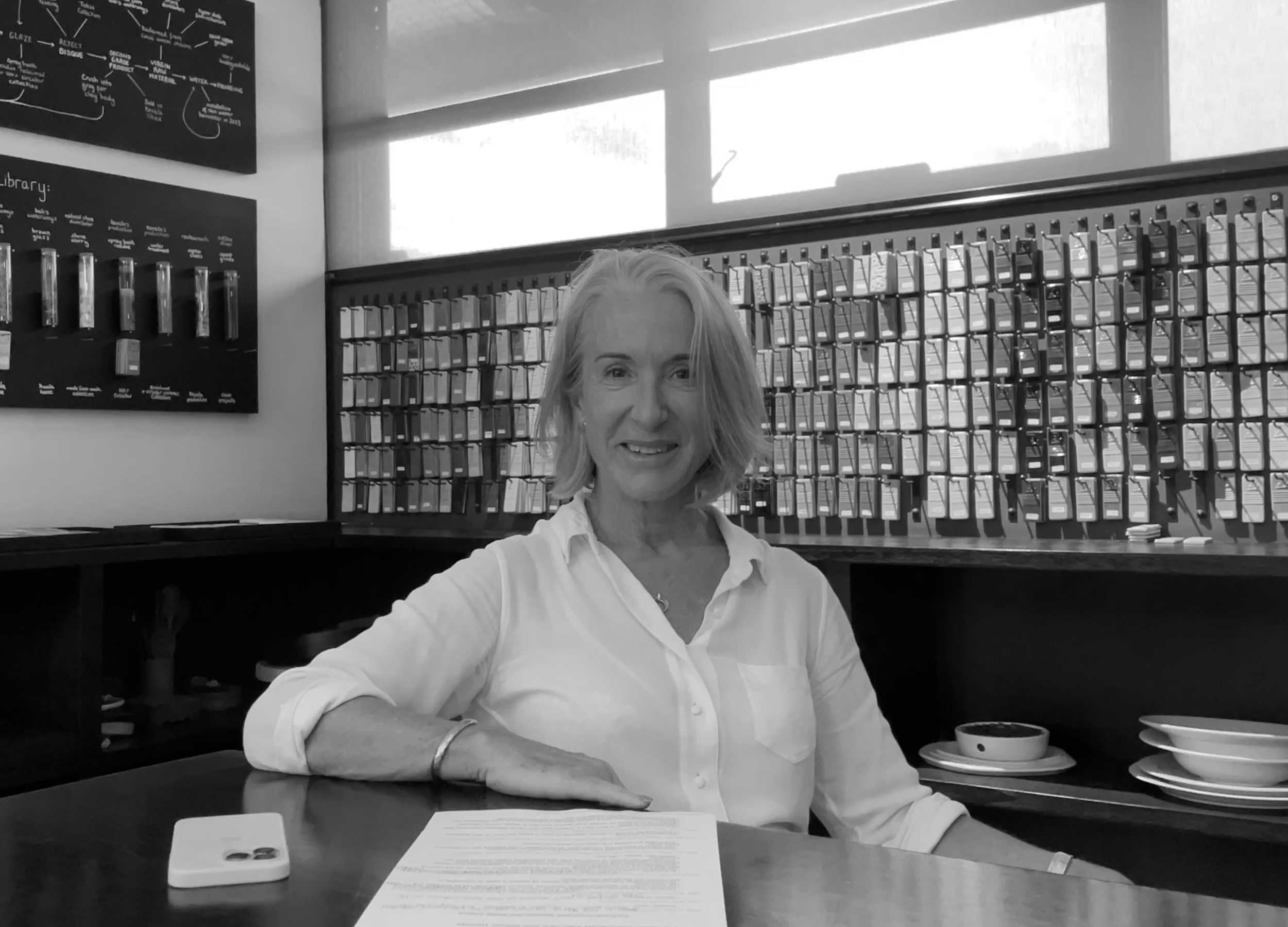 What is your story?
My name is Wendy and I am from the North of the UK. I first came to Indonesia around 30 years ago in 1994.
I worked in the electronic industry for many years in the south of England before accepting a new job in Australia. On my way to Australia, I stopped in Bali for three months and the three months have now turned into 30 years.
In those days, as I used to do a lot of triathlons and running, I met a group of link-minded people who led me to get involved in a business here in Bali. This business was also doing ceramics, and this was the start of my ceramic knowledge 30 years ago.
How was Kevala born?
In my previous company, we were producing a local drink that was housed into a ceramic bottle and with the hospitality industry growing, my partner and I decided to move forward in the ceramic and table wear world.
After a few years working together on that project, we had different ideas in how to move forward. I was much more passionate about the ceramics and especially custom-made ceramics for hotels and restaurants which was not part of his vision.
So in 2007, we decided to go in separate ways and that's when Kevala was born.
Why is it important for you to grow a sustainable brand?
I believe that concentrating on sustainability makes the environment a better place and allows people to have a better life. Through my business, I want to be part of the solution, not the problem.
Producing ceramics relies on depleting natural resources as the clay is from the ground and that clay is not going to be available forever. In my 30 years in the field, I have seen many of our suppliers not being able to provide the materials anymore and for me, it is important to take responsibility for the issue we are creating in the industry.
At Kevala, we acknowledge the need to reduce our impact in order to meet Indonesia's global climate goals. Everybody doing its part is what is going to make the change.
Can you tell us more about Sara Howard? 
I met Sara Howard a couple of years ago. I have built  a relationship with a University in England called Central St Marteens – an art school offering a degree in ceramics and Sara was a graduate from that school. Sara had already written her own book about the sustainability aspects of of producing ceramics and she approached me as a fresh graduate.
Her passion and knowledge about sustainable ceramic is phenomenal. She was looking for an opportunity to continue her work and make a true difference in a bigger ceramic factory. I offered her to come over for a year without much plan; I just knew that it was going to be a long-term journey that we would work on together.
How are you closing the loop at Kevala?
At Kevala, we are working on designing, producing, and distributing a ceramic line entirely made from waste.
From reusing clear, green, and brown glass waste from Bali's waterways, stone slurry from natural stone distributors, oyster shells waste from restaurants to our own production's spray booth residue and water treatment waste, we are proud to introduce our new 100% circular collection "Made from Waste" designed by Sara.
The clay that is used for this production is from our own waste streams mixed with stone slurry waste and the glaze is made from glass waste. This collection is about to be launched, we actually just took our first order and I'm very excited.
Another thing that Sara has achieved over the past year is sustainable packaging. I have been working on sustainable packaging for quite some time and I am happy that we are now using 100% sustainable packaging made from recycled materials.
Is Kevala a 'No Single Use Plastic' factory?
Yes, we have completely eliminated single use plastic in our production.
What we need to eliminate now is the single use plastic coming from our staff. We are looking to provide reusable options for their lunches and  refreshments. Internally, we already have that in place and we are educating them about what they bring from home. 
Can you tell us more about your coral initiative?
In April 2022, I was invited to the Maldives to work with a sustainable resort and take look at how we could improve their coral propagation. Sara has done researches on this topic in the past.
Originally, for their coral propagation, they were using metal tripods with plastic clips. They would put these on the ocean bed and the coral would attached to it and grow. Sara created a guests experience where the guests were invited to make clay sculptures, display coral fragrances in these clay sculptures and place them on the sea bed. 
Within three weeks, the results were amazing. The coral started growing without the need of metal and plastic. This project is still ongoing and we will have an update within 2 months.