Ong Cen Kuang: Empowering
People by Empowering Craft.
Brand founder Budiman Ong has always been drawn to lighting — the irreplaceable element in any home. Keen to follow his passion in exploring different materials unique characters, signatures and his passion for modern designs, created Ong Cen Kuang in 2008, designing and building lighting fixtures by hand, one at a time, in his studio in Bali, Indonesia.
Trained in Gray's School of Art, Robert Gordon University in Scotland, Ong's Asian heritage fuels his inspiration and his western education shapes his aesthetics and knowledge in design.
"At Ong Cen Kuang, we create original, hand-crafted pieces that let the unique materials characters to speak for themselves. Our creations are timeless and innovative, using traditional craft with modern elements, resulting in pieces filled with stories and soul."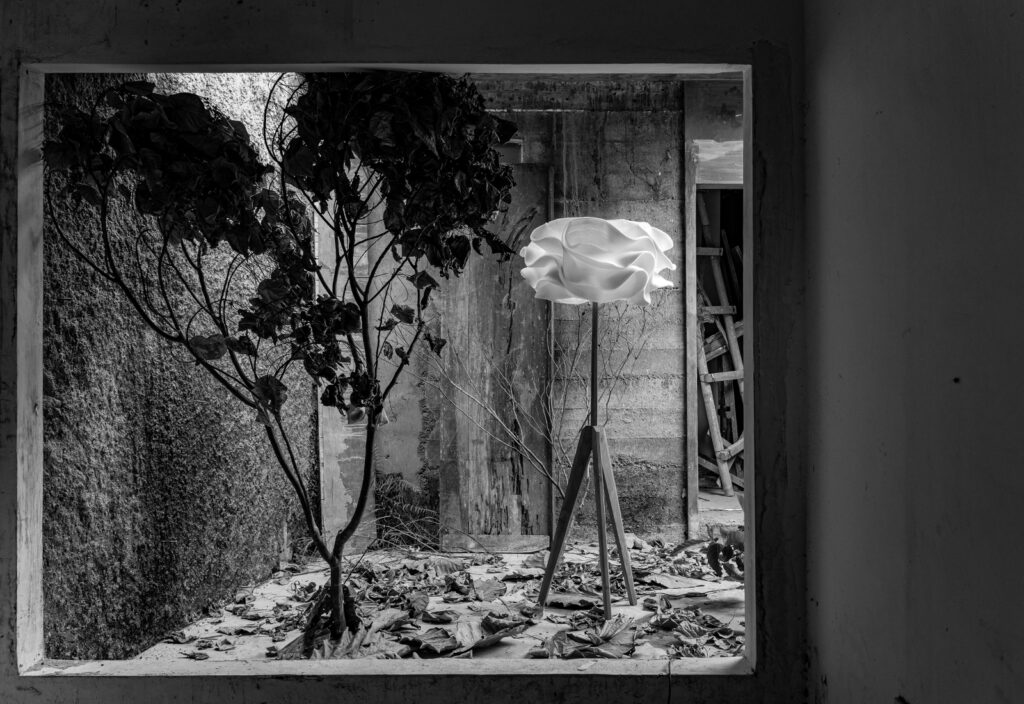 COMMITMENT 1
Sustainable Management
By documenting and implementing a clear sustainability plan, Ong Cen Kuang and its team are demonstrating their commitment to the environment and their communities.
COMMITMENT 2
Sustainable Building & Design
By designing clean and functional buildings & products, Ong Cen Kuang is minimizing the use of resources, unnecessary waste, and harmful emissions.
COMMITMENT 3
Cultural Interaction & Heritage
By incorporating authentic elements of traditional culture in their operations, Ong Cen Kuang is committed to celebrating and preserving Bali's local cultural heritage.
COMMITMENT 4
Sustainable & Local Sourcing
By giving priority to sustainable, local, Fairtrade, organic and/ or recycled produce, Ong Cen Kuang is emitting less carbon emissions while celebrating the local economy.
COMMITMENT 5
Equal & Local Employment
By giving equal opportunities to local residents including management positions, Ong Cen Kuang is promoting diversity and elevating employees engagement.
COMMITMENT 6
Staff Engagement
By engaging their staff in the  implementation of the company's sustainability goals, Ong Cen Kuang is increasing sustainability knowledge, competence and action.
COMMITMENT 7
No Single Use Plastic
By not using single use plastics, Ong Cen Kuang is minimizing by millions the amount of plastic ending up in the streets, in the rivers and in the ocean. 
COMMITMENT 8
Waste Management
By having a clear waste management plan in place with actions to reduce, separate and reuse / recycle waste, Ong Cen Kuang is not only minimizing the amount of waste in Bali; the brand is also leading the example to their employees and customers.
COMMITMENT 9
Sustainable Packaging
By using sustainable, natural, recycled and/or biodegradable packaging, Ong Cen Kuang is significantly reducing their environmental impact.
COMMITMENT 10
Energy Conservation
By using equipment and practices to conserve energy, Ong Cen Kuang is contributing to reduce the demand for carbon-intensive power plants which in turn benefits the environment by reducing carbon dioxide emissions.
COMMITMENT 11
Water Conservation
By using equipment and practices to conserve water, Ong Cen Kuang is contributed to the well-being of the environment and their communities.
COMMITMENT 12
Community Support
By supporting their local community through various ways, Ong Cen Kuang is offering jobs, providing goods, services, and financial support to their community.
COMMITMENT 13
Guest Awareness
By providing accurate and transparent communication regarding the company's sustainable practices and goals, Ong Cen Kuang is helping guests make better purchase decisions.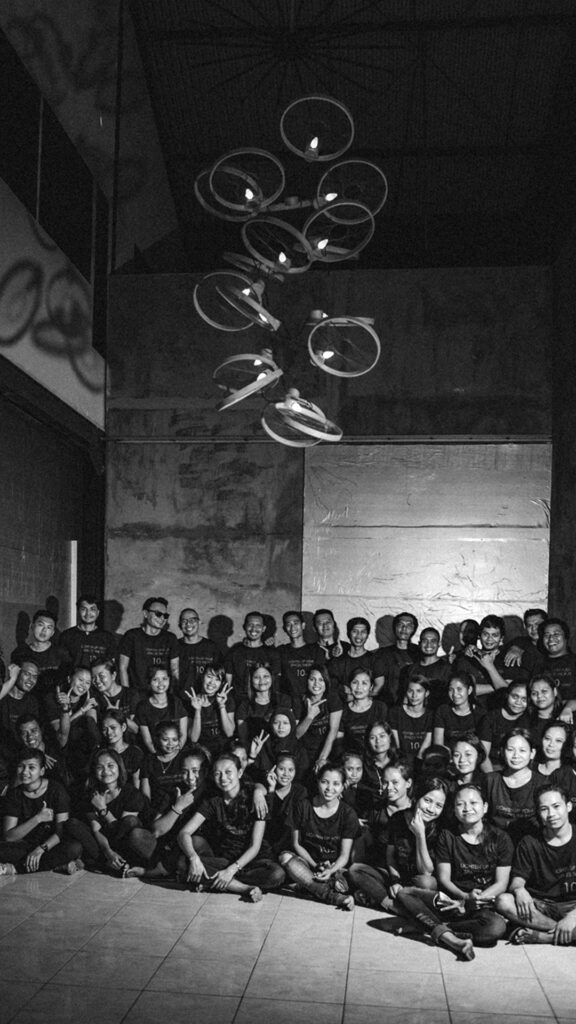 Meet Budiman Ong,
Founder of Ong Cen Kuang
WHAT IS YOUR STORY?
I am fascinated by working with my hands and always have been.  My work is all about that. I am curious about the possibilities and potential of a successful collaboration between materials and handmade processes.
As a Chinese descent, I remember when I was little during the Dragon Boat Festival, the euphoria of playing with an animal-shaped paper lantern lid by a single candle stick, I still vividly remember one of mine which was a red rabbit lantern. I did not know it then, but I believe this was the beginning of my fascination with lighting and my drive to replicate and capture the emotion of the moment through my lighting designs."
WHEN AND WHY DID YOU LAUNCH ONG CEN KUANG?
"We launch Ong Cen Kuang in May 2008. I understand that I have a distinct design point of view and design processes, my main focus then was to get satisfaction from experimenting and creating our lighting and slowly building a cohesive collection. These were two of my drives. Our business grew from word of mouth and it has taken us five years to get ourselves ready to showcase our products to the international stage. We chose to first exhibit out lighting at Maison et Objet Asia in Singapore and then Paris. I am really happy that we are able to build and sustain a business out of my beliefs."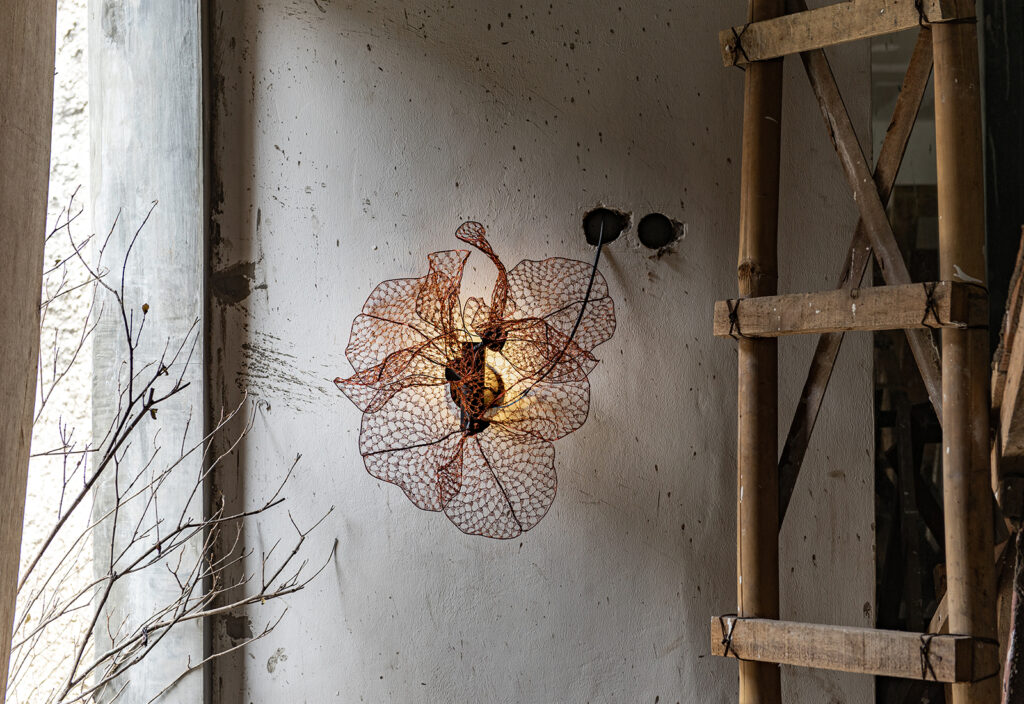 "Our latest collection, the 'Kentang' collection is made out of handmade paper. This particular paper is made out of banana fibers, planted locally. We source it from a local paper artisan who only produces limited quantities of paper."
HOW ARE YOU PRODUCING YOUR PRODUCT RESPONSIBLY? 
""We are not a manufacturer. We produce by hand in batches. We only keep a very small stock
and more than 95 percent of our sales are produced by request with a production lead time of 8 weeks, which means that in more than a decade running the business, we only produce as we need to and never do discounts out of the need to get rid of the overstock."
"We value our design and products, we educate our clients about our design, concepts, and the value of handmade goods, and how our items aged, which we believe will increase the life expectancy of our products. Again, we appreciate hand-made over machine-made items and in small batches so our waste is minimal"
HOW DO YOU CHOOSE YOUR MATERIALS AND PACKAGING?
"Material choices are the most important for us. We always make sure that our materials are available continuously or produced locally. At the end of the day, the supply has to make sense for continuous production requests.
The second thing I consider is the uniqueness of the materials for lighting as they create an element of surprise. At the same time, I am also drawn to common/basic materials that we can pair with unique intricate handmade processes.
Now, I am more and more interested in natural materials, if we can source it locally even better, then we know exactly the origin of the materials.  Our latest collection, the 'Kentang' collection is made out of handmade paper. This particular paper is made out of banana fibers, planted locally. We source it from a local paper artisan who only produces limited quantities of paper.
As for packaging, it has been many years since we do not use any plastic as part of the packaging.  We proudly produce our own packaging using brown board and paper, we hope it can be reused as storage, not to be thrown away.
Our packaging is our direct contact with our client.  It is of utmost importance at it represents our stories and love and care, especially the pride of our artisans making the lighting.  Each box comes with a note stating who made that particular item and signed by the artisan.  We like this gesture as it breaks barriers and right away creates a closer connection between our client and our artisan.  It is one of the ways we say thank you to our artisans for making the items."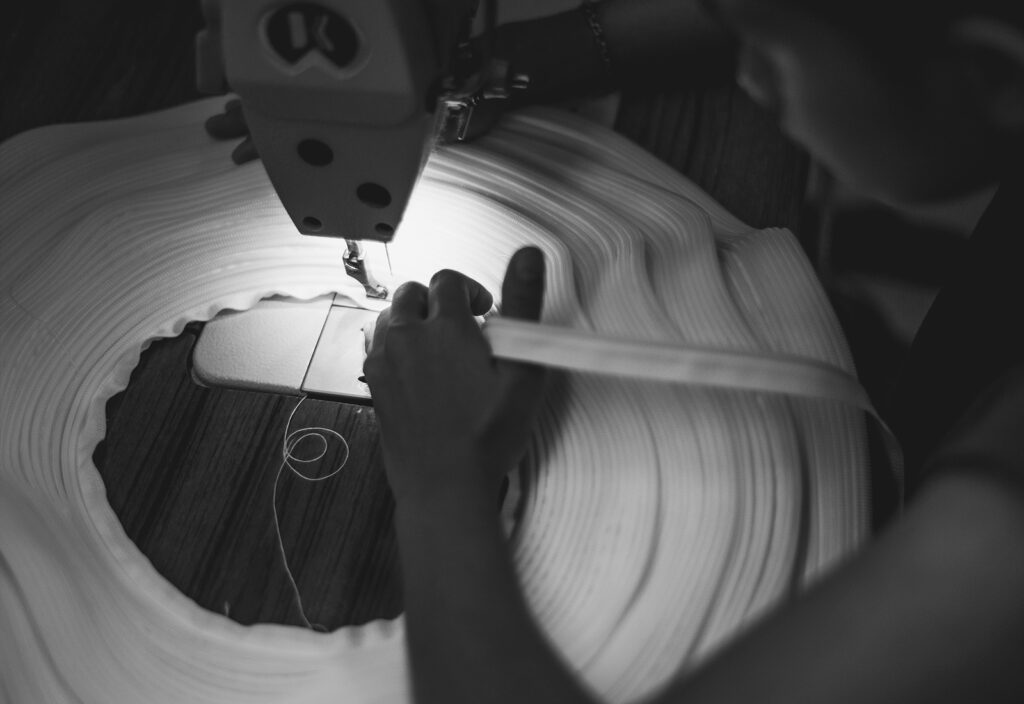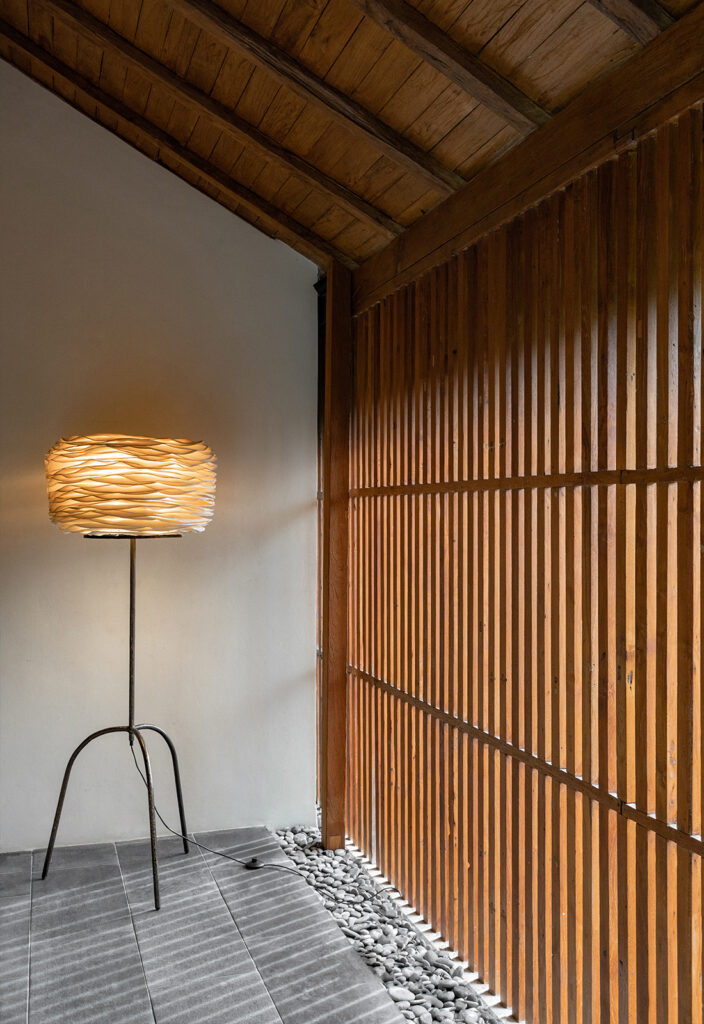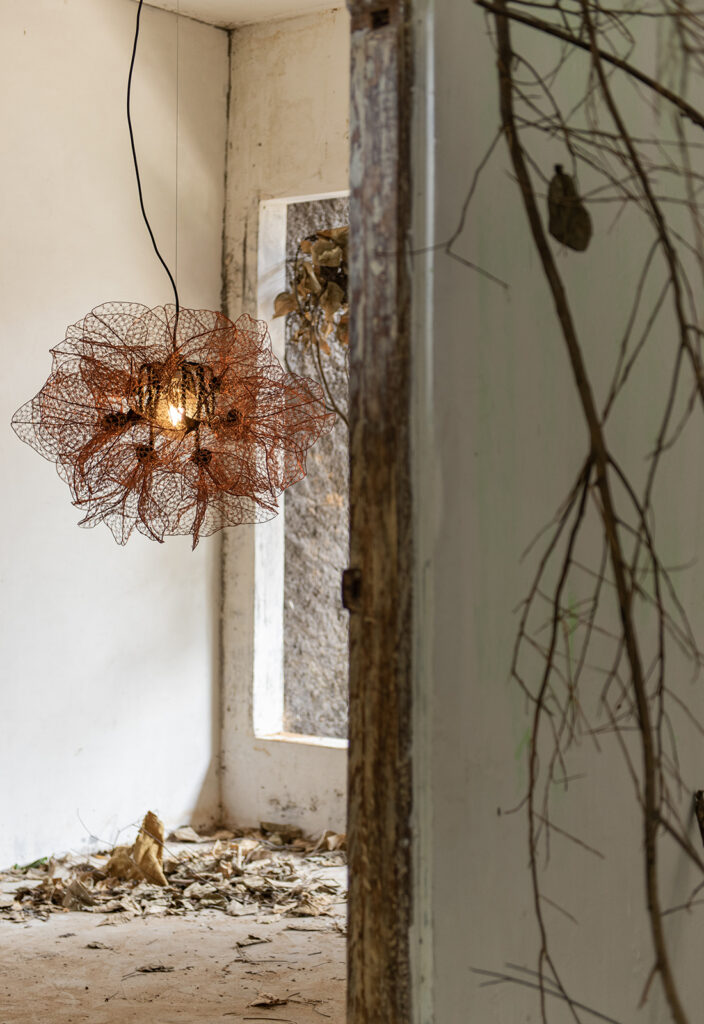 "We empower people by empowering craft, by teaching handcraft to our artisans, and by instilling pride in them and in their work. This is the most important thing for us."
HOW DO YOU MANAGE YOUR WASTE?
"Our waste is minimal as we produce in batches.  We also strive not to waste the materials as we can.  In 2019, we launch a mini version of our zipper collection as we can use the shorter offcuts from the bigger pieces. With our sister brands, Jia by OCK, we now can use offcuts from Ong Cen Kuang to make other items other than lamps.  There are so many creative ways to use waste. Recently we are starting to collect scraps of offcut sewing threads for future uses.
We use the local Banjar waste management to collect our waste as we are categorized as a home industry, not a manufacturer."
HOW DO YOU EMPOWER YOUR PEOPLE?
"First, we love craft. We empower people by empowering craft, by teaching handcraft to our artisans, and by instilling pride in them and in their work. This is the most important thing for us. When we recruit, our artisans' skill level is not the priority, our focus has always been on their willingness to learn new craft.
We see growth in our team, not just in their skills but also in their frame of mind, their mindset. Giving people a set of skills can do wonders.  This is why I really believe in craft."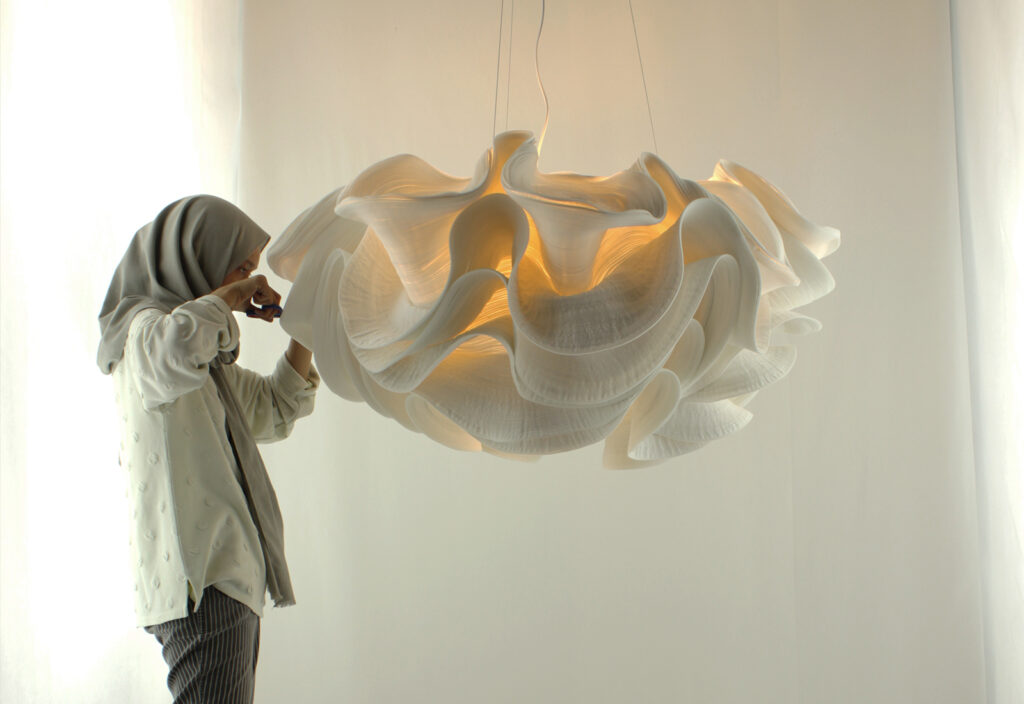 WHAT WOULD YOU LIKE TO IMPROVE IN YOUR SUSTAINABILITY JOURNEY?
"I would love to work with recycled materials. My challenge as a designer is to bring recycled materials way beyond being pigeonholed as recycled materials.  It has to be relevant aesthetically."
WHAT ARE YOU LOOKING FORWARD TO IN THE NEAR FUTURE?
"We are in the middle of acquiring land and building our own space.  Our space of work as well as a space where we welcome the public to experience our stories. I cannot wait to interweave both Ong Cen Kuang and Jia by OCK at the same place, having our philosophies and stories under one roof is exciting."