Luxury, Reimagined at Four Seasons Resort, Jimbaran Bay.
Four Seasons Resort is guided by the Balinese philosophy of Tri Hita Karana.
Tri Hita Karana, meaning 'the three causes of happiness', reflects the belief that humanity, God and the environment must all be in balance to achieve harmony. The iconic all-villa beach retreat of Four Seasons Jimbaran Bay cascades down 14 hectares of hilly headland and tropical water gardens adorned with hundreds of statues and shrines, to the sparkling Indian Ocean.
Four Seasons Resorts Bali strives to minimize its impact on the environment and is proud to be recognised as a responsible tourism operator. Guests are invited to join sustainability activities such as Zero Waste Cocktail Classes where the resort's bartenders share eco-tips, walking tours of the on-site gardens, self-driving tours with a new Toyota eco-car, Ocean-to-Table fishing adventures and the cultural and artist outreach programme.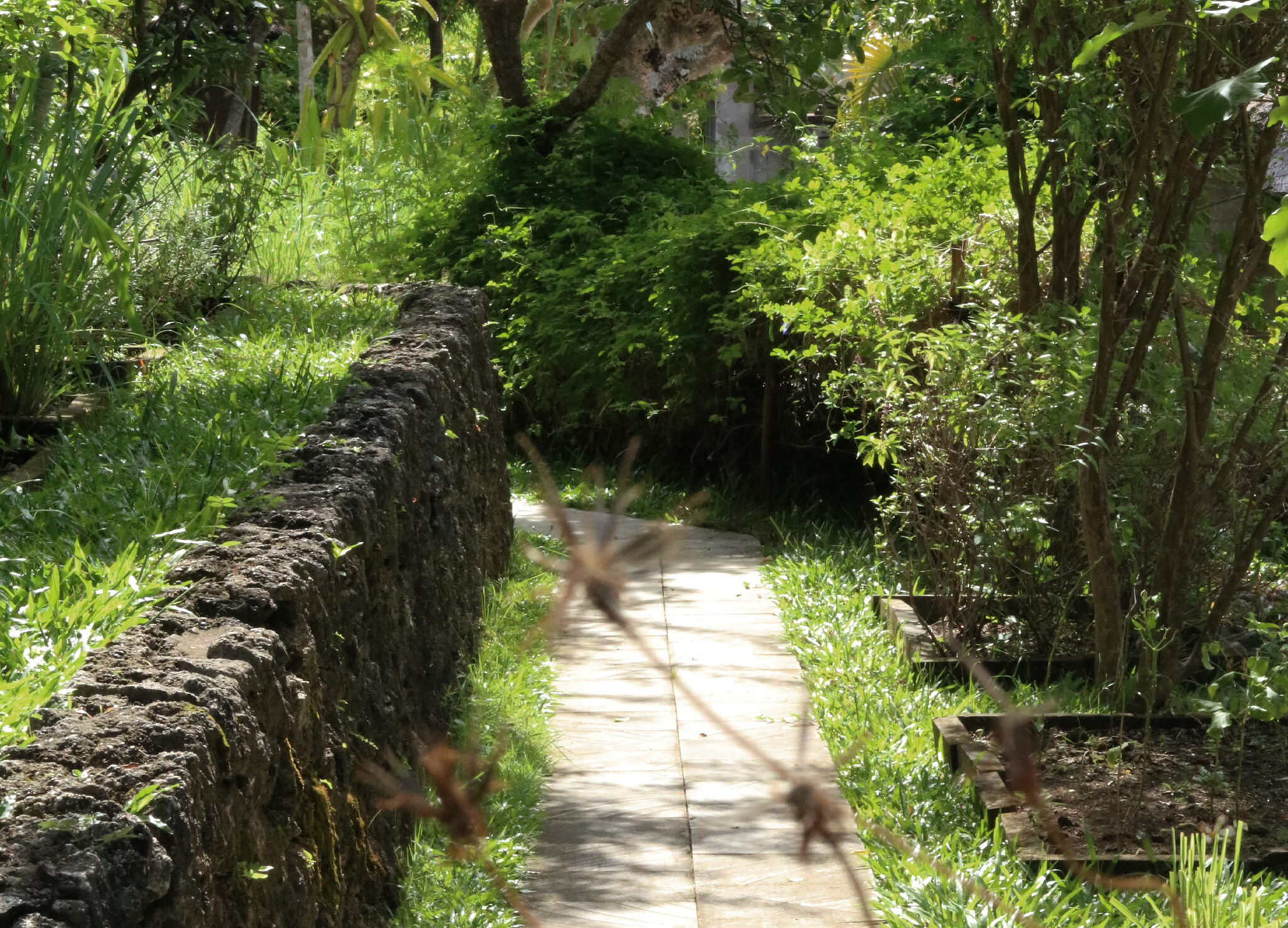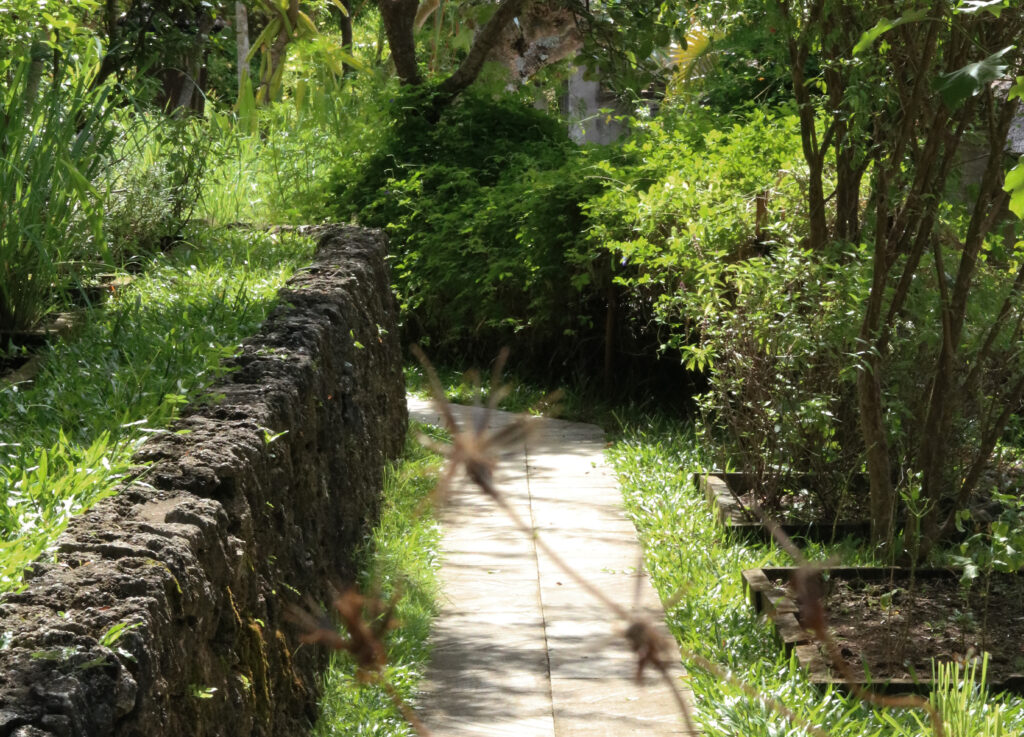 COMMITMENT 1
Sustainable Management
By documenting and implementing a clear sustainability plan, Four Seasons Bali and its team are demonstrating their commitment to the environment and their communities.
COMMITMENT 2
Sustainable Building & Design
By designing clean and functional buildings & products, Four Seasons Bali is minimizing the use of resources, unnecessary waste, and harmful emissions.
COMMITMENT 3
Cultural Interaction & Heritage
By incorporating authentic elements of traditional culture in their operations, Four Seasons Bali is committed to celebrating and preserving Bali's local cultural heritage.
COMMITMENT 4
Sustainable & Local Sourcing
By giving priority to sustainable, local, Fairtrade, organic and/ or recycled produce, Four Seasons Bali is emitting less carbon emissions while celebrating the local economy.
COMMITMENT 5
Equal & Local Employment
By giving equal opportunities to local residents including management positions, Four Seasons Bali is promoting diversity and elevating employees engagement.
COMMITMENT 6
Staff Engagement
By engaging their staff in the  implementation of the company's sustainability goals, Four Seasons Bali is increasing sustainability knowledge, competence and action.
COMMITMENT 7
No Single Use Plastic
By not using single use plastics, Four Seasons Bali minimizing by millions the amount of plastic ending up in the streets, in the rivers and in the ocean. 
COMMITMENT 8
Waste Management
By having a clear waste management plan in place with actions to reduce, separate and reuse / recycle waste, Four Seasons Bali is not only minimizing the amount of waste in Bali; the brand is also leading the example to their employees and customers.
COMMITMENT 9
Sustainable Packaging
By using sustainable, natural, recycled and/or biodegradable packaging, Four Seasons Bali is significantly reducing their environmental impact.
COMMITMENT 10
Energy Conservation
By using equipment and practices to conserve energy, Four Seasons Bali is contributing to reduce the demand for carbon-intensive power plants which in turn benefits the environment by reducing carbon dioxide emissions.
COMMITMENT 11
Water Conservation
By using equipment and practices to conserve water, Four Seasons Bali is contributed to the well-being of the environment and their communities.
COMMITMENT 12
Biodiversity Conservation
By actively supporting, protecting, and promoting biodiversity, Four Seasons Bali is contributing to ecosystem productivity and improving the life support system for our planet. 
COMMITMENT 13
Community Support
By supporting their local community through various ways, Four Seasons Bali is offering jobs, providing goods, services, and financial support to their community.
COMMITMENT 14
Guest Awareness
By providing accurate and transparent communication regarding the company's sustainable practices and goals, Four Seasons Bali is helping guests make better purchase decisions.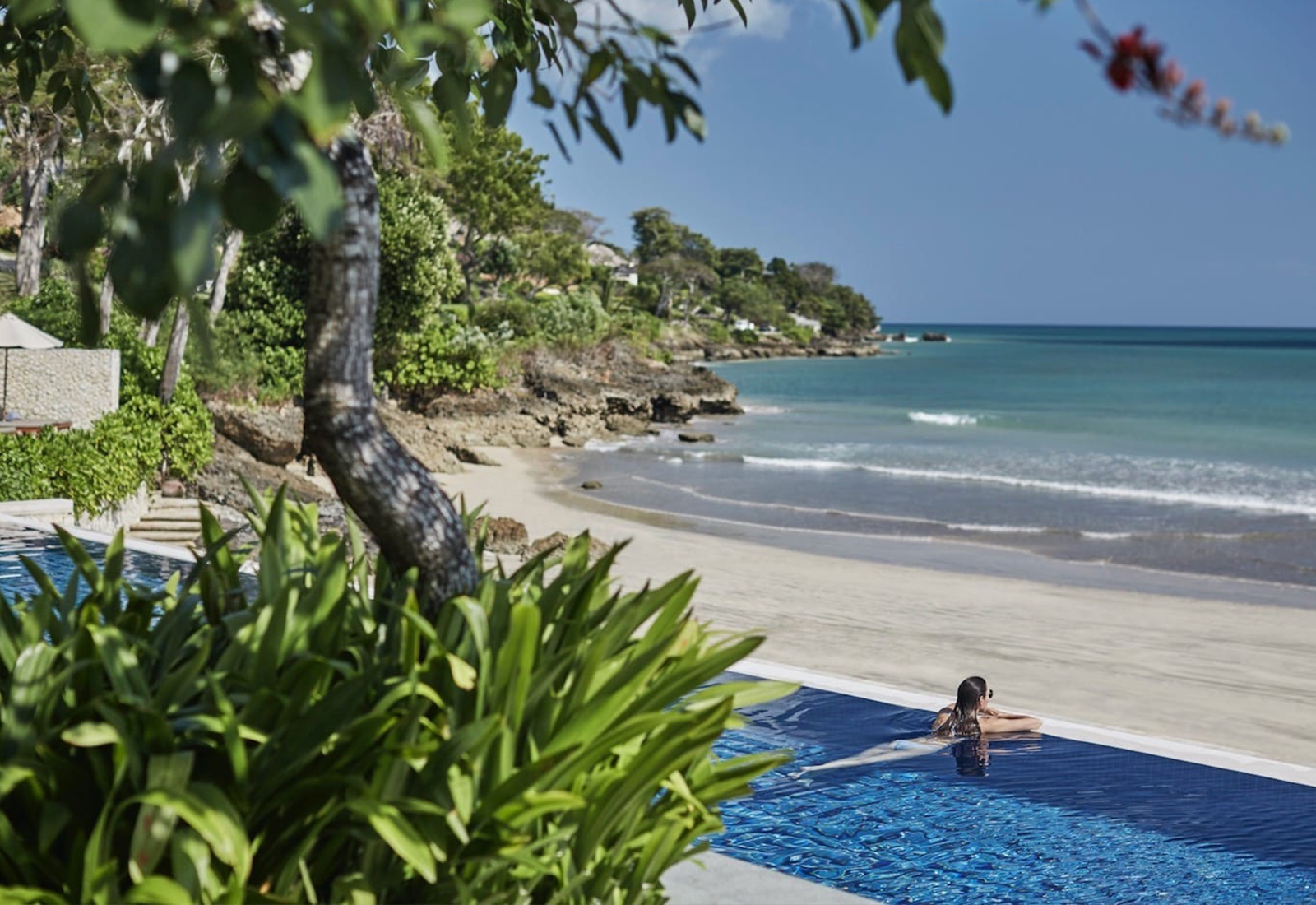 Four Seasons Resorts Bali strives to minimize its impact on the environment and is proud to be recognised as a responsible tourism operator.
Reusable glass mineral water bottles in guest rooms | Banning plastic straws in all dining outlets at both resorts | Fabric laundry bags | Recycling used cooking oil to manufacture biofuel | 'Soap For Hope' program: used soap from guest rooms is collected each month by our Housekeeping teams and donated to ROLE Foundation | Recycling paper to make journals/notebooks | Food waste separation at restaurants and staff canteen is donated to a local farm as animal feed | Upcycling tetra carton packaging to make cabinets and roofs in collaboration with ecoBali.
A full-time Environment & Sustainability Manager is responsible for achieving annual goals in cooperation with all departments | Local & organic purchasing | Permaculture: 3 hectares of vegetable and herb gardens located within Jimbaran Bay resort grounds | Electric cars for on-site hotel operations to reduce emissions | Rare type of plants such as "cendana" are planted in resort gardens for natural cooling of public areas.
Supporting underprivileged communities in Munti Gunung | Internship program for hearing impaired students from the School for Special Needs, Nusa Dua | Internship program for underprivileged women through Bali WISE/ROLE Foundation | Monthly clean-ups of our resorts' local areas – Jimbaran Beach and Ayung River Valley, and participation in annual clean-up events including Bali's Biggest Beach Clean-Up and International Coastal Clean-Up | Preservation of Bali's arts heritage through Ganesha Cultural Centre.
Regular donations of equipment and daily staples to needy communities | Financial support for school renovation in Bongkasa village | Donations to build housing for the needy in remote areas of Bali | Donation of medical services and supplies for 100 seniors in collaboration with Surya Husadha hospital to provide regular health services to remote villages.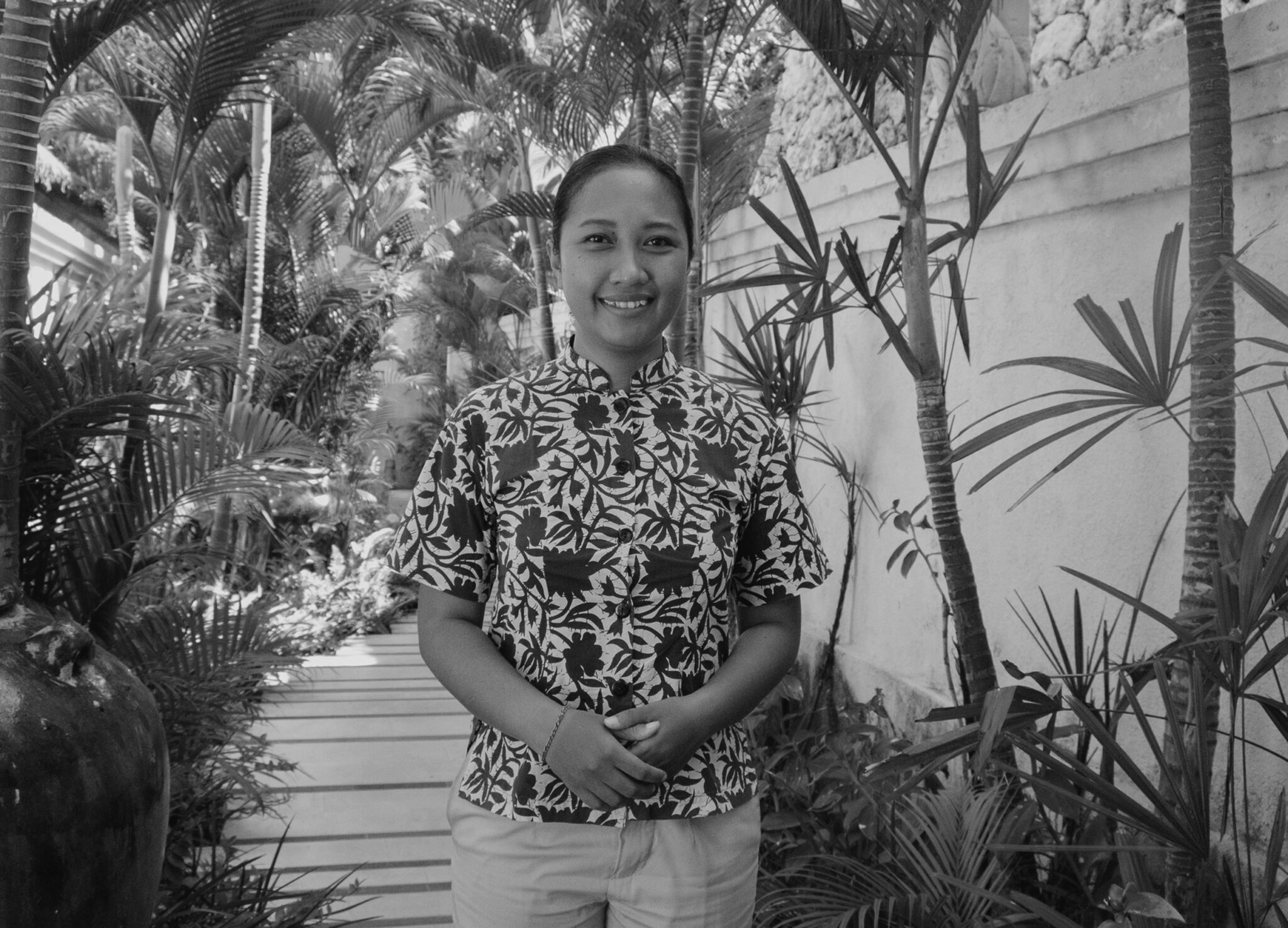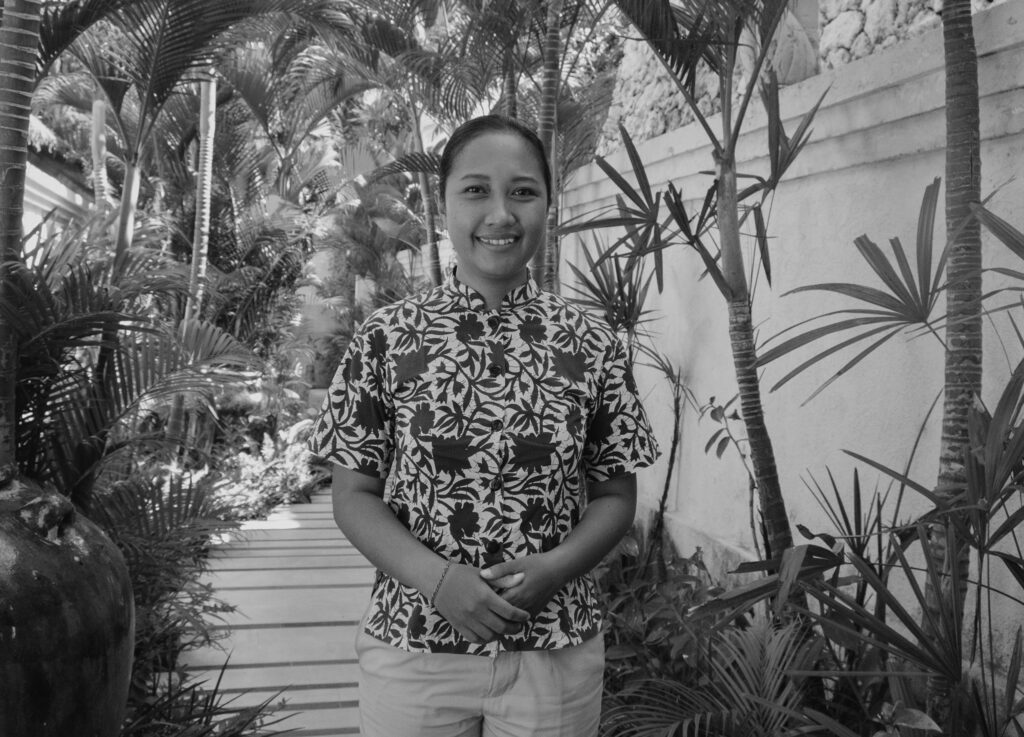 Meet Dinna Safitri
Sustainability Manager of Four Seasons Bali
WHAT IS YOUR STORY IN HOSPITALITY?
My name is Dina and I am from Tabanan. I graduated in 2022 and started to work here at Four Seasons Jimbaran as a front office before moving to butler in the residence. In 2021, I got promoted to Assistant Environment and Sustainability Manager at Four Seasons Jimbaran.
WHAT IS THE TRI HITA KARANA?
"Tri Hita Karana is something that we are really implementing in the resort. It means the "three causes of a good life".
It's our connection to God, our connection human to human, and also to nature. For our connection to God, we have our in-house priest who does the praying every day at the resort. For the human to human connection, we have a lot of community activities. And for the environment, as you can see here, we are really maintaining our environment at Four Seasons Jimbaran."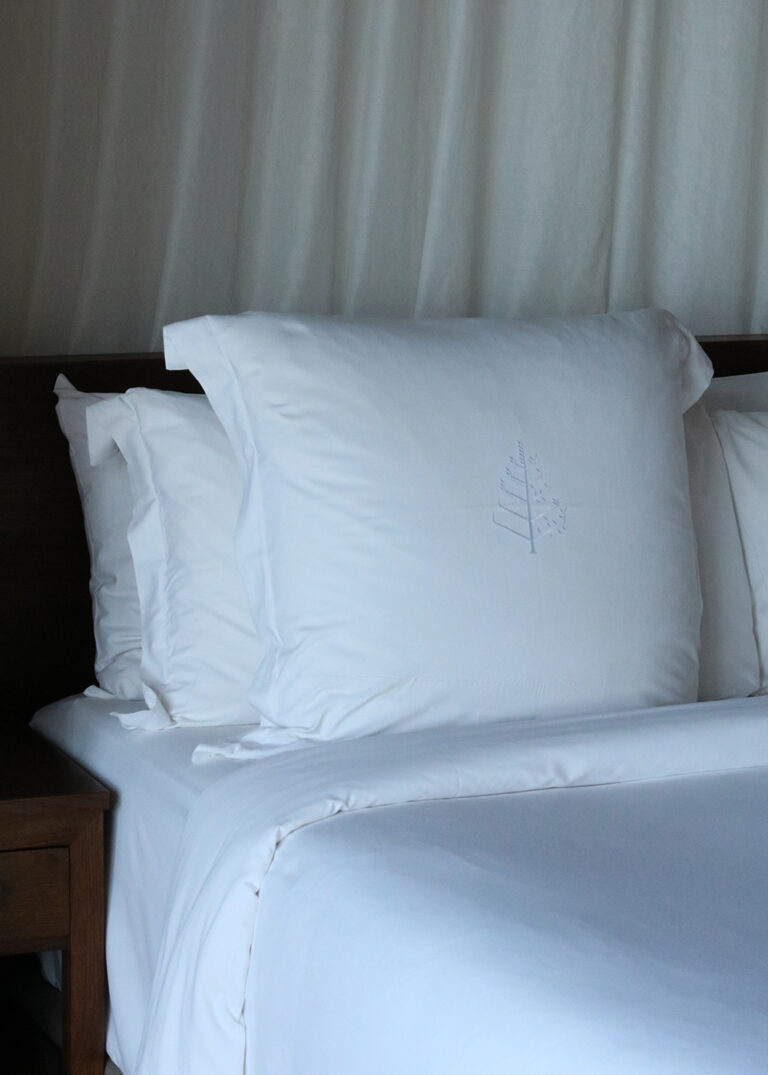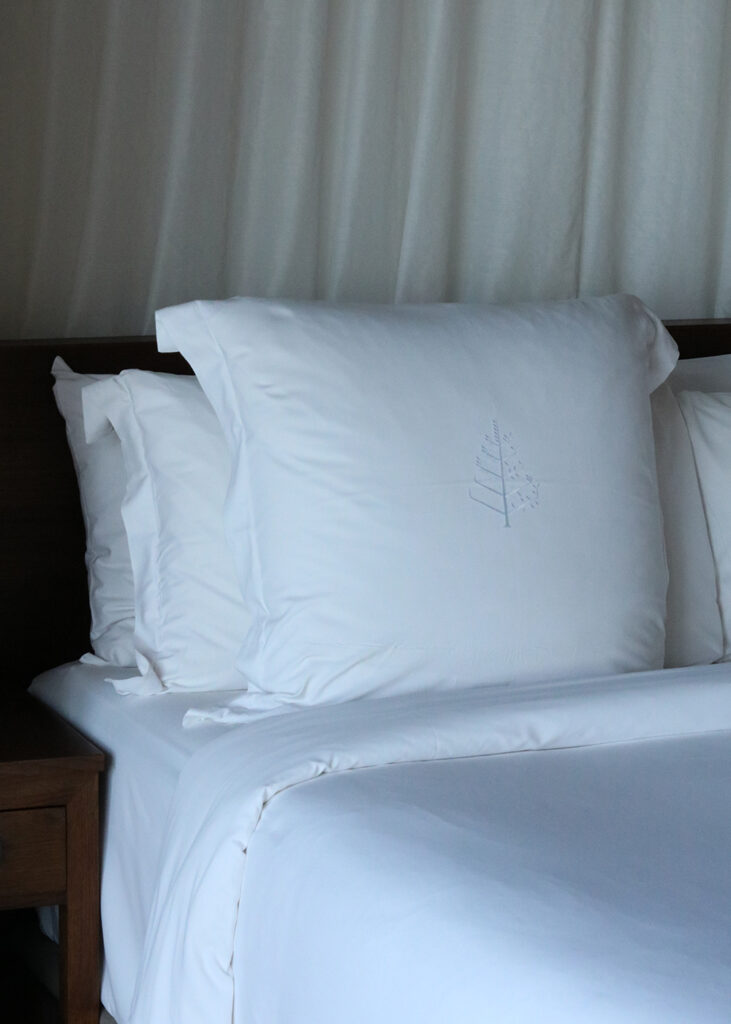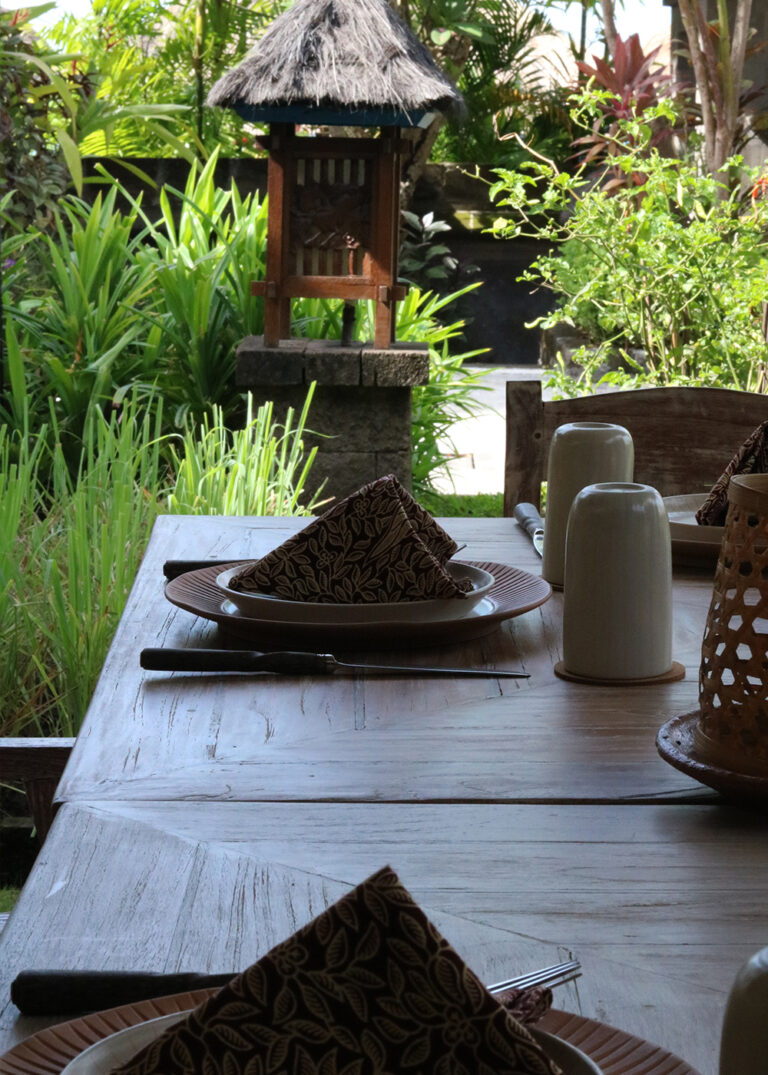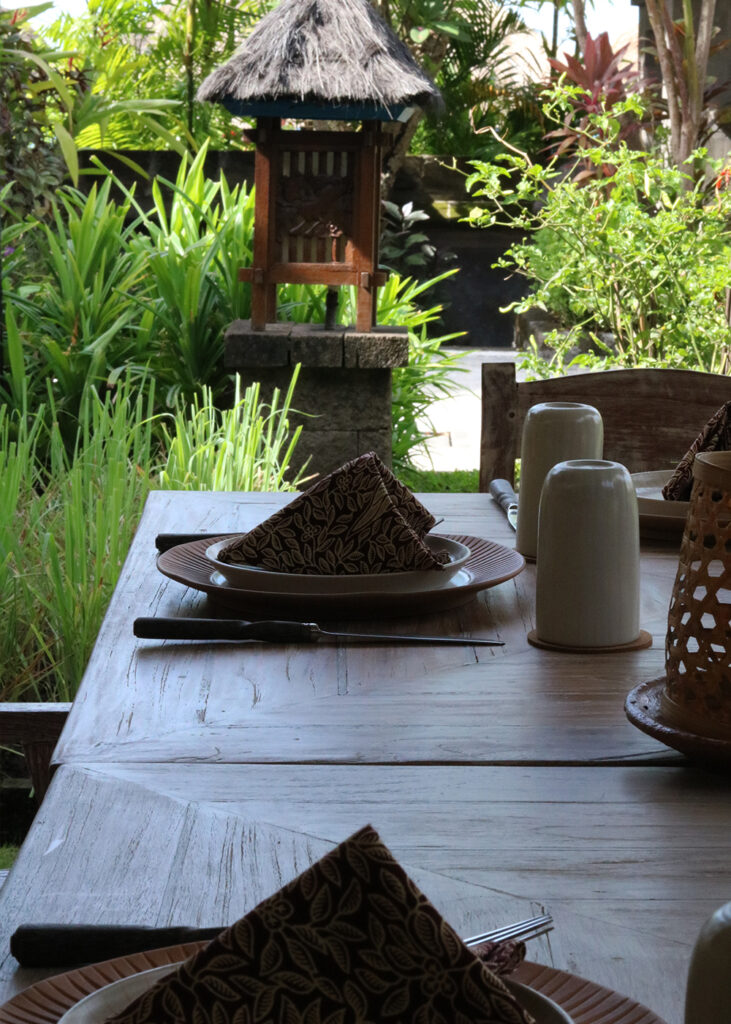 "We have stingless bees
in the resort. They help us with the pollination and they collect the honey from it."
CAN YOU TELL US MORE ABOUR YOUR PERMACULTURE PROGRAM?
"Yes, we have permaculture gardens on-site where we take our guests to collect herbs and vegetables for them to cook during the cooking class. We have around 150 items that have been planted around the resort."
WE HEARD THAT YOU ALSO HAVE A BEE PROGRAM?
"Yes, we have stingless bees in the resort. They help us with the pollination and they collect the honey from it. The type of bees that we have here is Trigona bee, their honey is five times higher in vitamin C compared to the normal honey. It's fairly slow in production, but they're really healthy."
WHAT IS YOUR COLLABORATION WITH WISE & ROLE FOUNDATIONS?
"We are collaborating with Bali WISE to recycle our used soap from the rooms. They process the soaps to remove the part that has been used before donating them to orphanages.
We are also collaborating with ROLE Foundation who send students to our resort to learn how to work in hospitality; most of them are women. We are proud to be able to elevate their knowledge and experience."
IS FOUR SEASONS BALI A 'NO SINGLE USE PLASTIC' RESORT?
"Yes, we have a strict a policy to remove all single-use plastic at the resort. We are still working on just a few items to be replaced before being considered 100% plastic-free."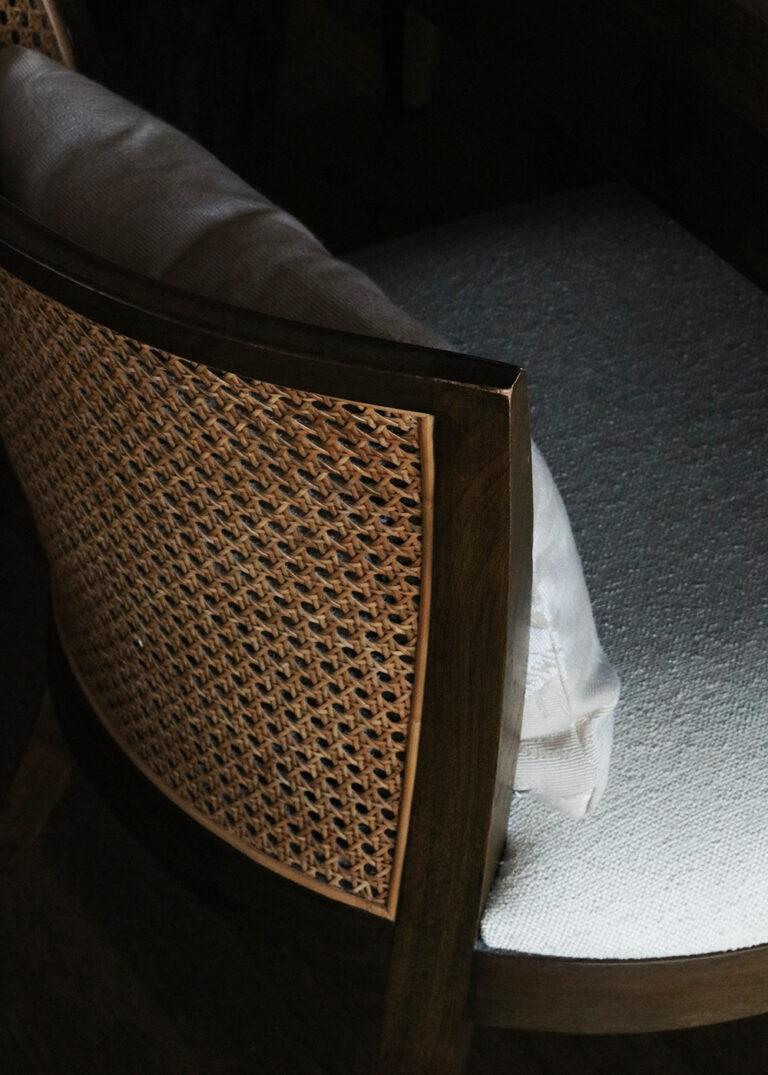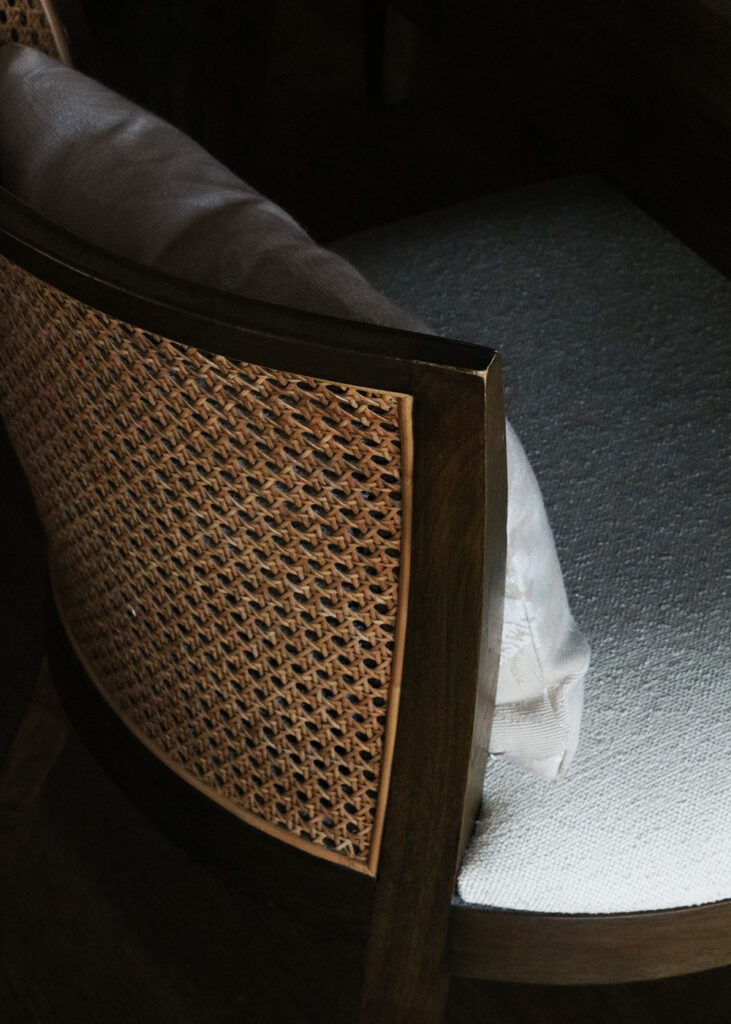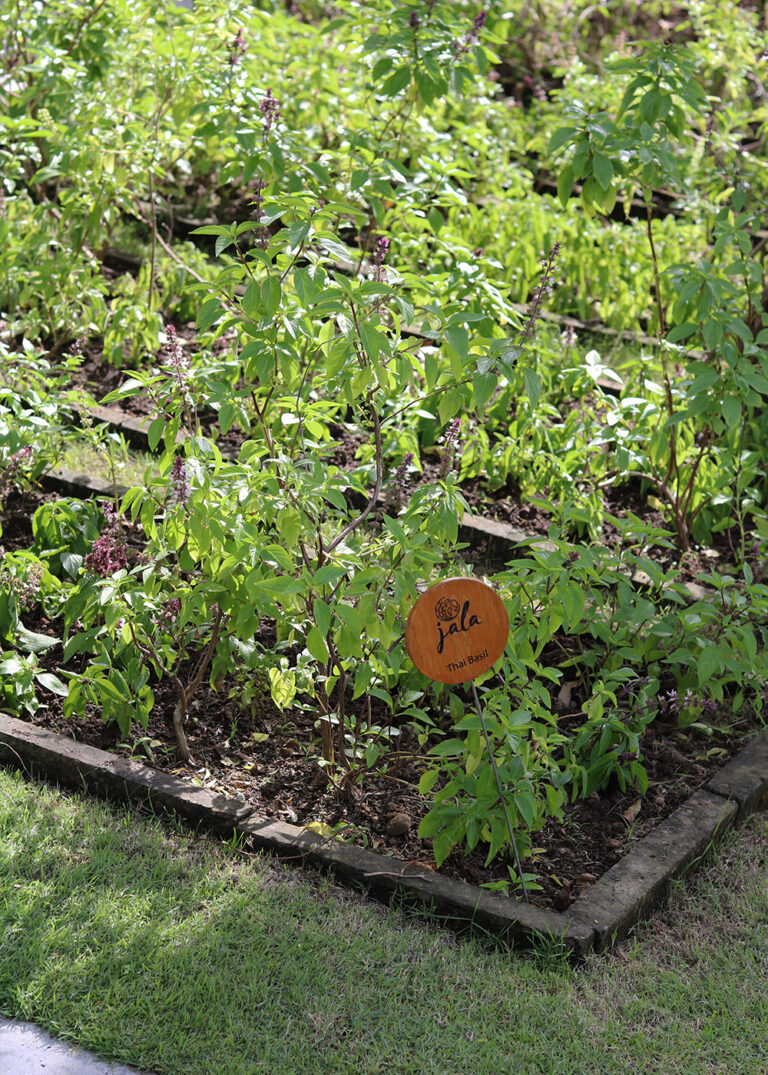 "We invite guests to adopted their own beehive before placing it in the mangrove to help the pollination."
WHAT IS YOUR RELATIONSHIP WITH THE GOVERNMENT ABOUT SUSTAINABILITY?
"We are collaborating with Plastic Exchange and Pak Made Janur to educate the community around Jimbaran. The head of Jimbaran district is supporting us in this initiative. 
Some of the government heads of Bali are focused on the environment and waste and they even have a program called 'Dinas Lingkungan Hidup dan Kehutanan'. We submit our waste management progress to them every six months."
HOW ARE YOU ENGAGING YOUR STAFF IN YOUR INITIATIVES?
"We really focus on education and awareness. We constantly share our initiatives with our team for them to understand how important is it to take care of the environment starting with a good waste management. We have Green Team meetings where we bring awareness of how important it is to segregate our waste."
WHAT IS YOUR NEXT SUSTAINABLE PROJECT?
"We are collaborating with the concierge to promote the beehive adoption. We invite guests to adopted their own beehive before placing it in the mangrove to help the pollination. Recently, we launched a special cocktail 'Mangrove Revival' and for every purchase, we are planting five trees in the mangrove."