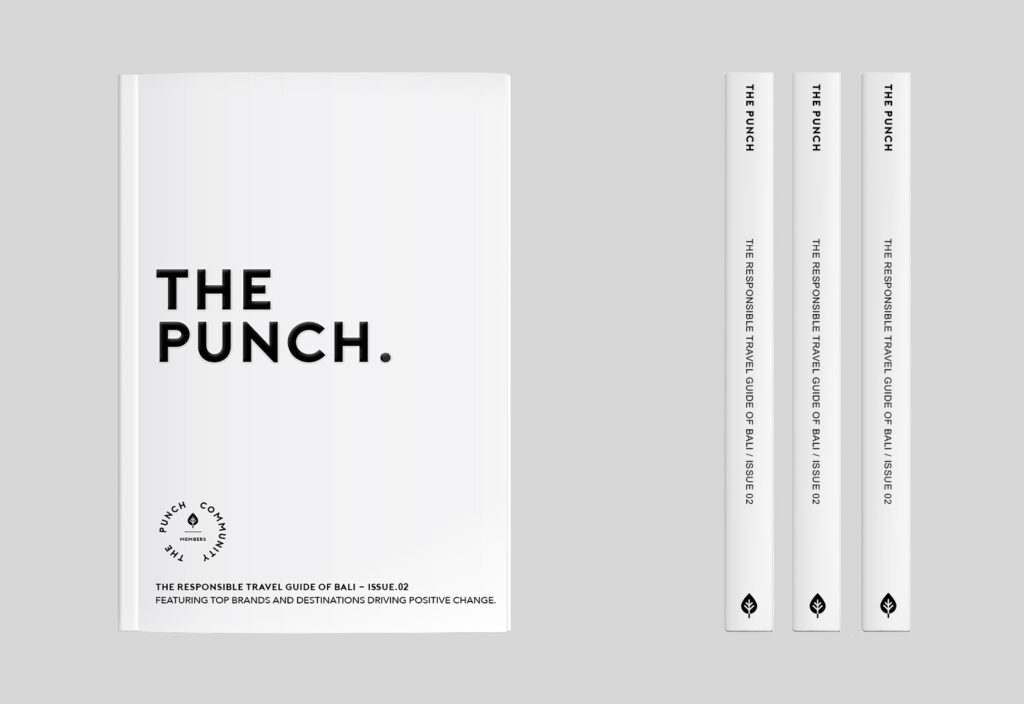 "A fascinating publication giving hope for the future of tourism."
200+ Businesses Committed to Minimizing their Footprint in Bali
Covering all tourism stakeholders of Bali, Indonesia – from hotels, restaurants and bars, beach clubs to spas and stores, The Punch Guide highlights the sustainable efforts and positive impact of the most relevant places to visit and shop.
Through a unique curation, extraordinary stories, interviews and sustainability insights, The Punch takes you behind the scenes to experience a new kind of travel and celebrate incredible businesses that are achieving sustainability through creativity and innovation in Bali, Indonesia.
What's inside the guide
156 Pages of exclusive content 
200+ Best places to visit in Bali 
All practical information needed for your trip
Carefully curated Bali itineraries 
Exclusive behind the scenes stories 
Change-makers interviews
Best organizations to support in Bali 
The Punch sustainability glossary
The Punch Guide Discovery Days May 15 – 31, 2023
In an island facing serious environmental & social challenges, we believe that a collective response is needed. From promoting businesses' commitments, sharing inspiring interviews, hosting impactful events and providing educational tools to businesses, The Punch accelerates the transition towards a sustainable future in Bali. 
All rights reserved. No part of this publication may be reproduced, distributed or transmitted in any form or by any means, including photocopying, scanning or other electronic methods, without the prior written permission of the publisher.  The Punch printed guide is available in Bali, Indonesia. For individual and wholesale orders, please contact us via email hello@punchco.co or complete the form below.