Top Responsible Restaurants
& Bars driving positive change in Seminyak
Discover our unique curation of the best responsible restaurants and bars of Seminyak in 2023. The Punch members are selected for their quality, sustainable values and commitments. 
BAKED
A Berawa, Pererenan & Seminyak | IG @baked.indonesia
The team of bakers, baristas, coffee experts, chefs and designers  are a talented bunch. "Our bakers hand-make nearly every item on our menu – constantly pushing the boundaries of flavour without ever compromising on quality or taste."
CAFE BALI
A Jl. Kayu Aya, Seminyak | IG @cafebaliseminyak
Café Bali Seminyak is inspired by the eclectic and bohemian concepts. Hearty food and warmest smile with a nice ambiance that feels like home,  Café Bali is a perfect choice to have your all-day dining.
COFFEE CARTEL
A Jl. Lebak Sari Petitenget, Seminyak | IG @coffeecartelbali
A charming oasis of good food and an undoubtedly memorable coffee experience. If you're after something gluten-free, high-protein or vegan, Coffee Cartel has the most discerning of diners covered.
DA MARIA
A Jl. Petitenget, Seminyak | IG @damariabali
A modern Italian restaurant in the Osteria style. Every element is made in Bali with extremely talented local craftspeople; these relationships have inspired the team to work with the local community whilst preserving the environment.
EXPAT. ROASTERS
A Jl. Petitenget, Seminyak | IG @expatroasters
Introducing the culture of making a good brew across the island, one cup at a time. Expat. Roasters is working hard to foster the burgeoning coffee and barista community of Bali and consider the immediate and long term impacts on our environment.
KANVAZ PATISSERIE
A Jl. Petitenget, Seminyak | IG @kanvazpatisserievincentnigita
A taste from the world of artisan pastries, artful desserts and confectionaries. Kanvaz Pâtisserie by Vincent Nigita introduces new flavours and standards to the Indonesian market with a Parisian touch, while respecting the culture, tastes and rich lands that have so much to offer.
KAUM
A Berawa, Pererenan & Seminyak | IG @kaumrestaurant
Kaum is an authentic Indonesian restaurant from the Desa Potato Head Family. The team behind Kaum embarked on an exotic culinary expedition, travelling accross the archipelago to learn about the indigenous cooking methods, exotic ingredients, and authentic flavours of Indonesia's tribal communities.
KYND COMMUNITY
A Jl. Petitenget, Seminyak | IG @kyndcommunity
100% plant-based restaurant, bar, pizzeria & ice-creamery located in Seminyak. Kynd's mission is to spread Kyndness as far and wide as possible, as well as show people just how good plant-based food can really taste. As a plant-based establishment, it is their goal to operate in the most sustainable way possible and tread lightly with everything that they do.
LA BARACCA
A Seminyak, Canggu, Ubud & Uluwatu | IG @labaraccabali
La Baracca serves authentic Italian cuisine, creating special dishes that are infused with the local culture. The restaurant is committed to minimizing its environmental impact starting by using exclusively recycled materials in their decor."
MAMASAN
A Jl. Raya Kerobokan, Seminyak | IG @mamasanbali
Step into colonial Britain in Shanghai during the 1920s. With marble top mah-jong tables and oversized tan leather chesterfields, MamaSan is a unique dinning venue in a purpose designed industrial high ceiling warehouse. The restaurant works with local farmers to help them produce consistent cycles of crops and better income.  
MERAH PUTIH
 A Gg. Jalak VIB, Tibubeneng | IG @merahputihbali
A perfect balance between visual design, eco sustainability and functional spaces. Celebrating Indonesia's finest cuisine, culture, craftsmanship & people, Merah Putih's Indonesian classics are served along side creative dishes that experiment with traditional spices & flavours from across the archipelago.
MOTEL MEXICOLA
A Jl. Kayu Jati, Seminyak | IG @motelmexicola
A tropical oasis in the heart of Seminyak. Nestled amongst the coco palms and glassy swells of Bali, lives the tropical oasis known as Motel Mexicola. Serving authentic style Mexican specialities and drinks in a unique space. Motel Mexicola practices sustainability in every day decision making with the future in mind.
NEON PALMS
A Jl Kayu Aya, Seminyak | IG @neonpalmsbali
Located on the 2nd floor above the super cute Bali Boat Shed boutique, Neon Palms boasts a long list of delicious cocktails, tacos & delectable tapas style food. The venue uses eco friendly packaging / containers and works with local farms for their food and beverage.
REVOLVER
A Seminyak & Canggu | IG @revolver.bali
Established in 2011, Revolver was geared towards serving Australian style coffee, accidentally revolutionizing the caffeine scene in Bali. From Seminyak to Canggu, Revolver's offering has expanded to a multifaceted food and beverage business that stays true to their original ethos. 
SEA CIRCUS
A Jl. Kayu Aya no 22, Seminyak | IG @seacircus
Sea Circus has been been a fave of locals and tourists alike since it opened in 2010. Brightly coloured, fresh flavoured and full of quirky details, it is an emporium of joy. Whether it's a vegan scramble tofu a passionfruit margarita and tacos, Sea Circus has got you covered any time of the day or night.
SUSHIMI
A Seminyak & Canggu | IG @sushimibali
With 2 locations across Bali (and soon to be 3), Sushimi could easily be considered the mecca of sushi train restaurants in Bali. "We attempt to source all our fish from local sustainable seafood suppliers through environmentally friendly methods."
WATERCRESS
A Seminyak & Ubud | IG @watercressbali
One of the proud pioneers in the new wave cafe culture of Bali, Watercress is health food driven with a Mediterranean and Middle Eastern a twist. A showcase of daily salads and satisfying sides is perfect for those who like to mix and match.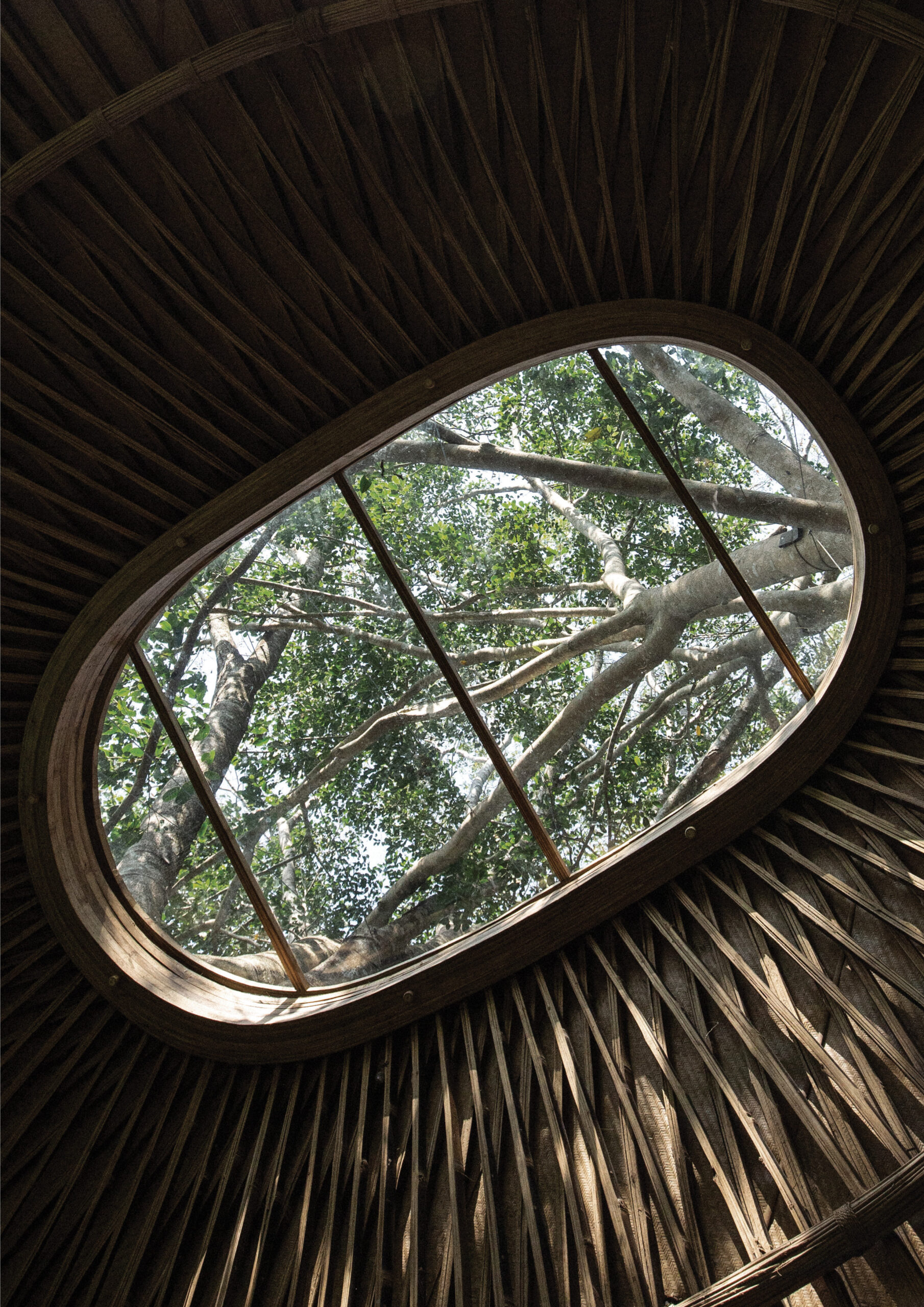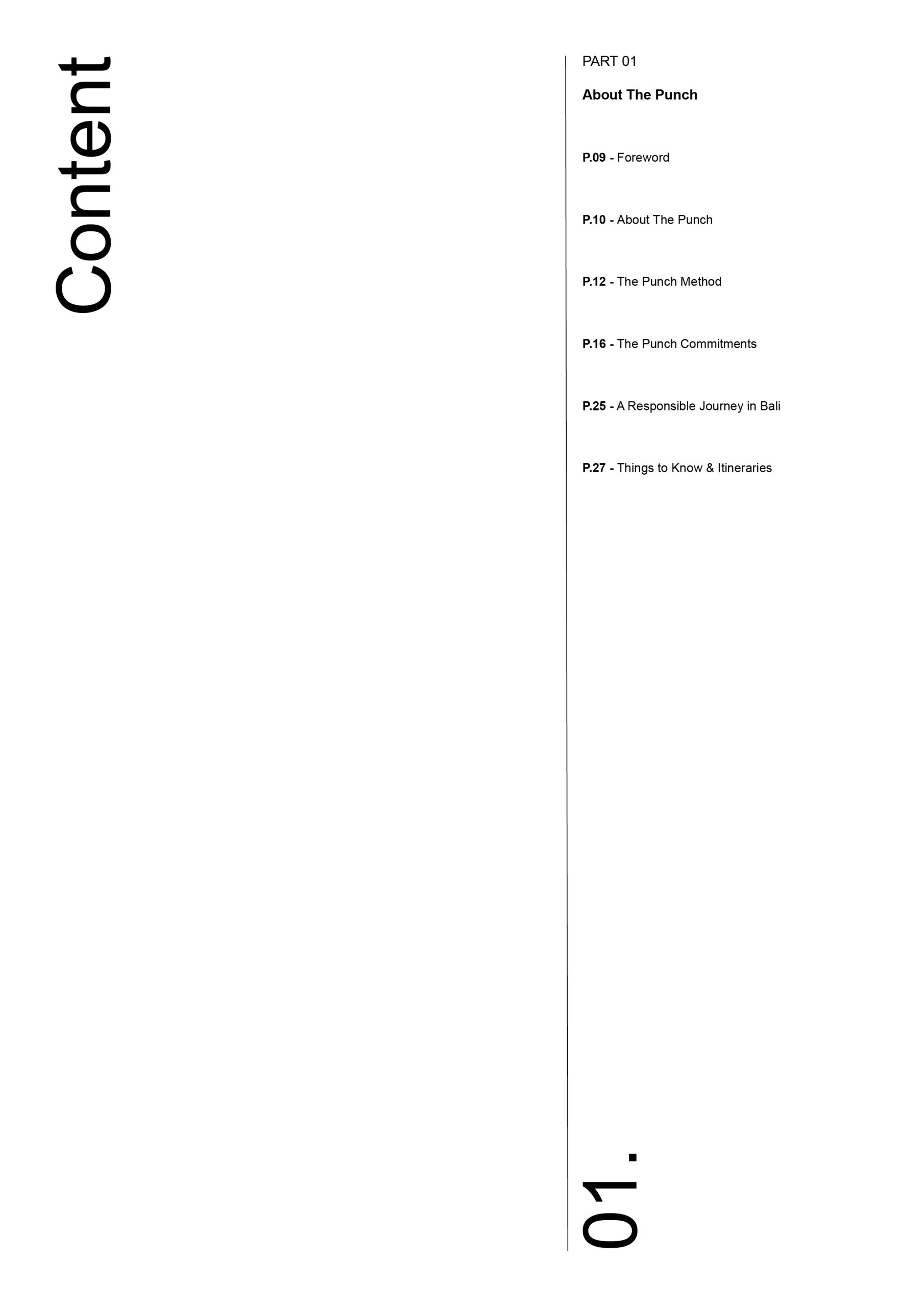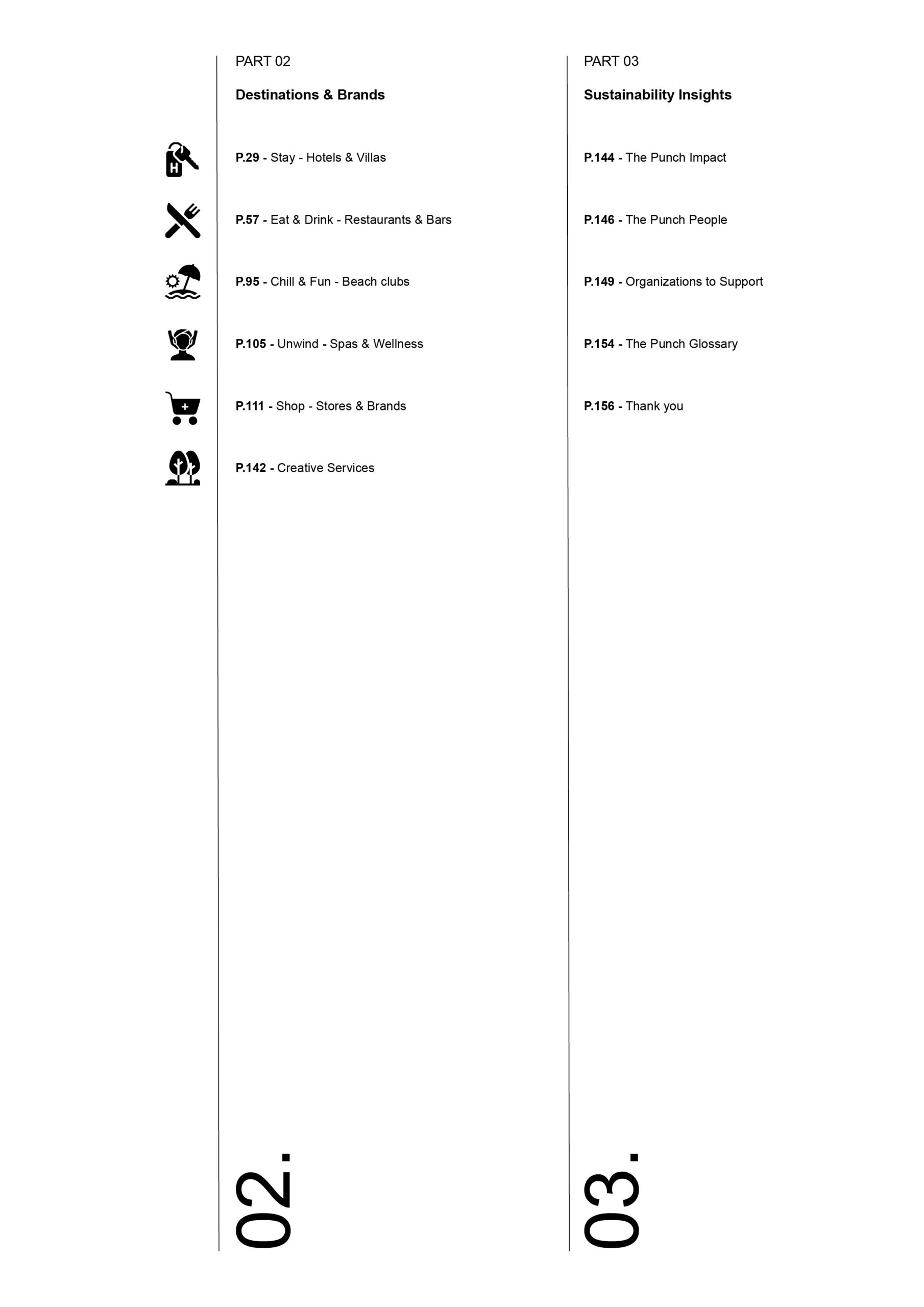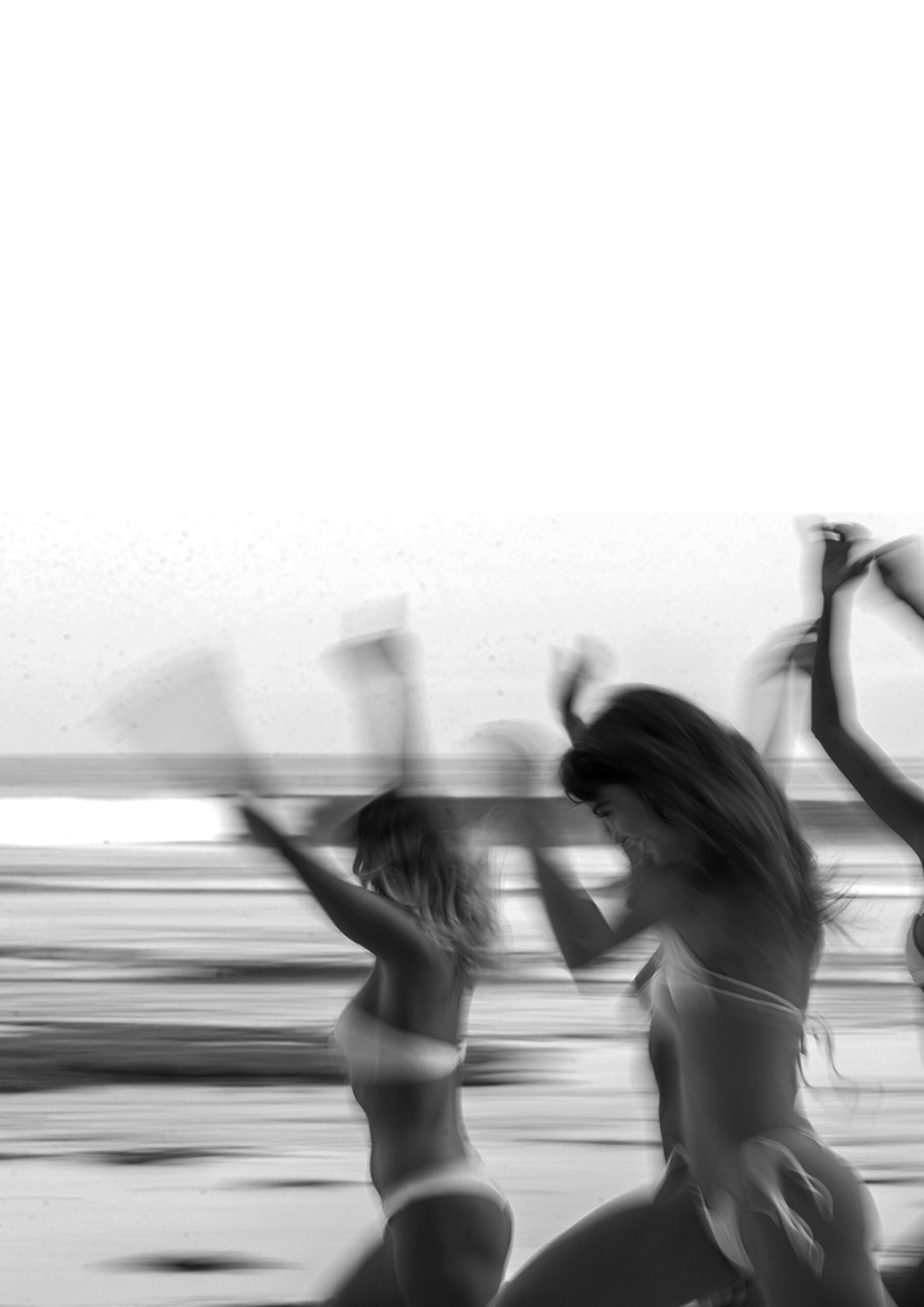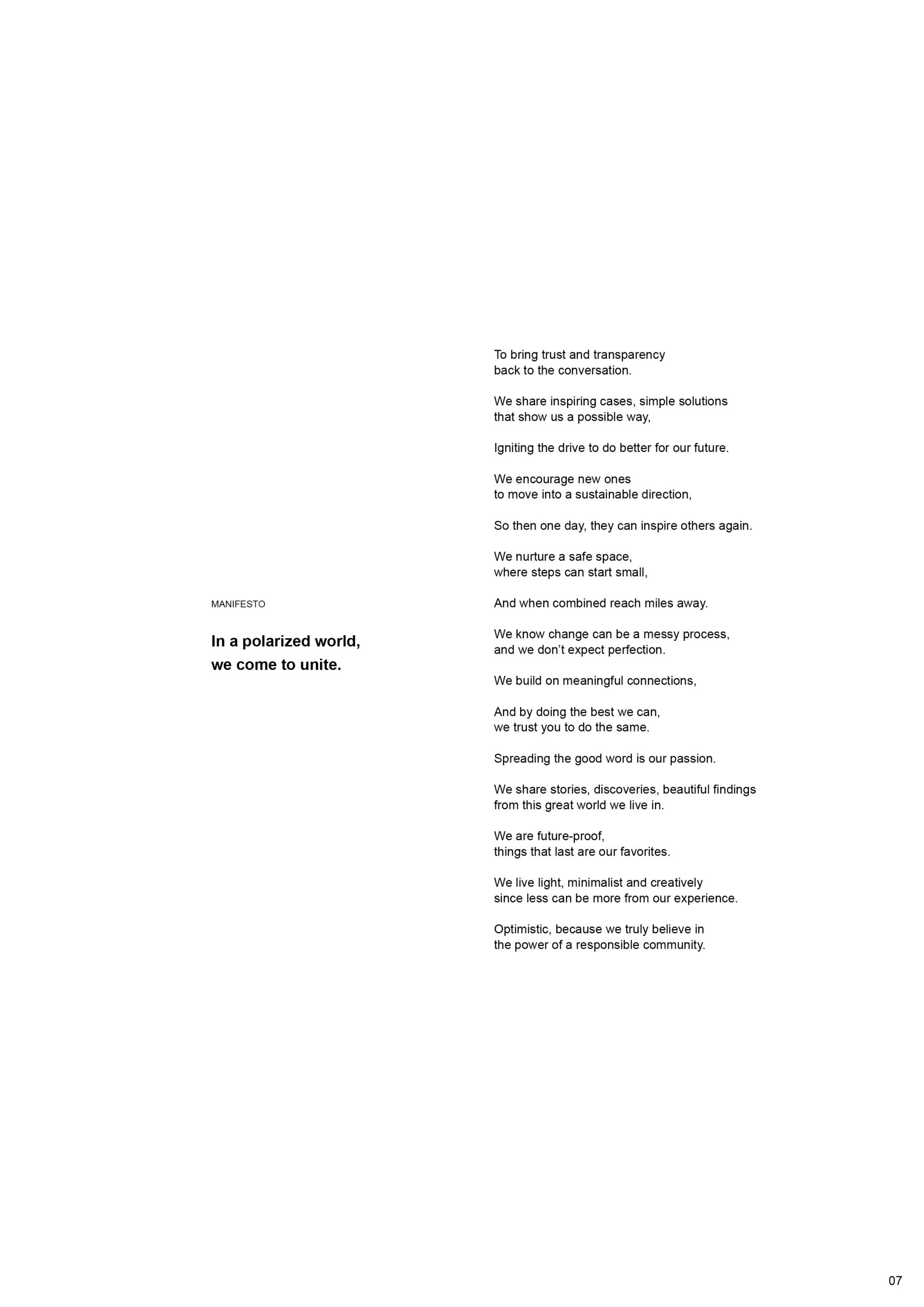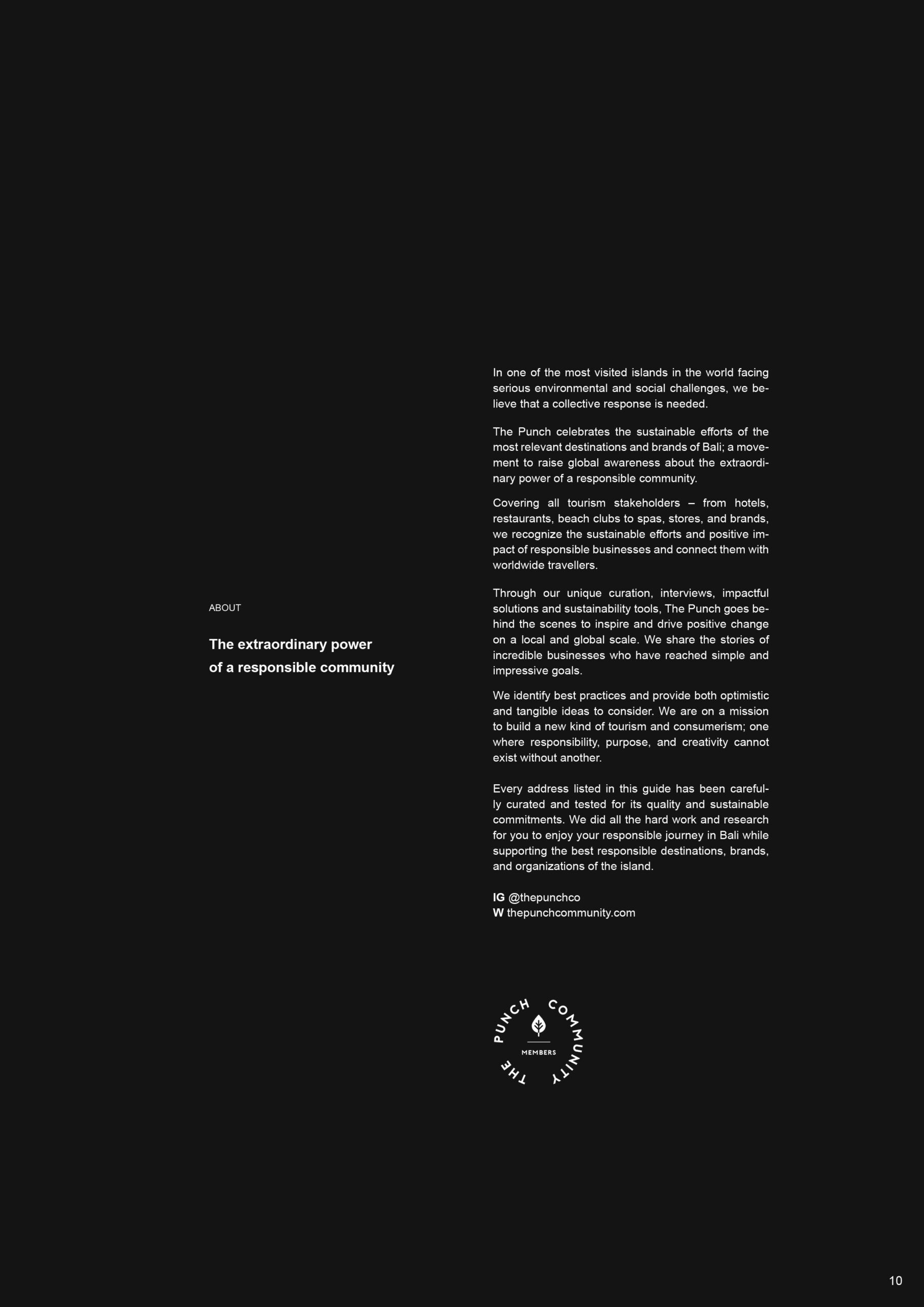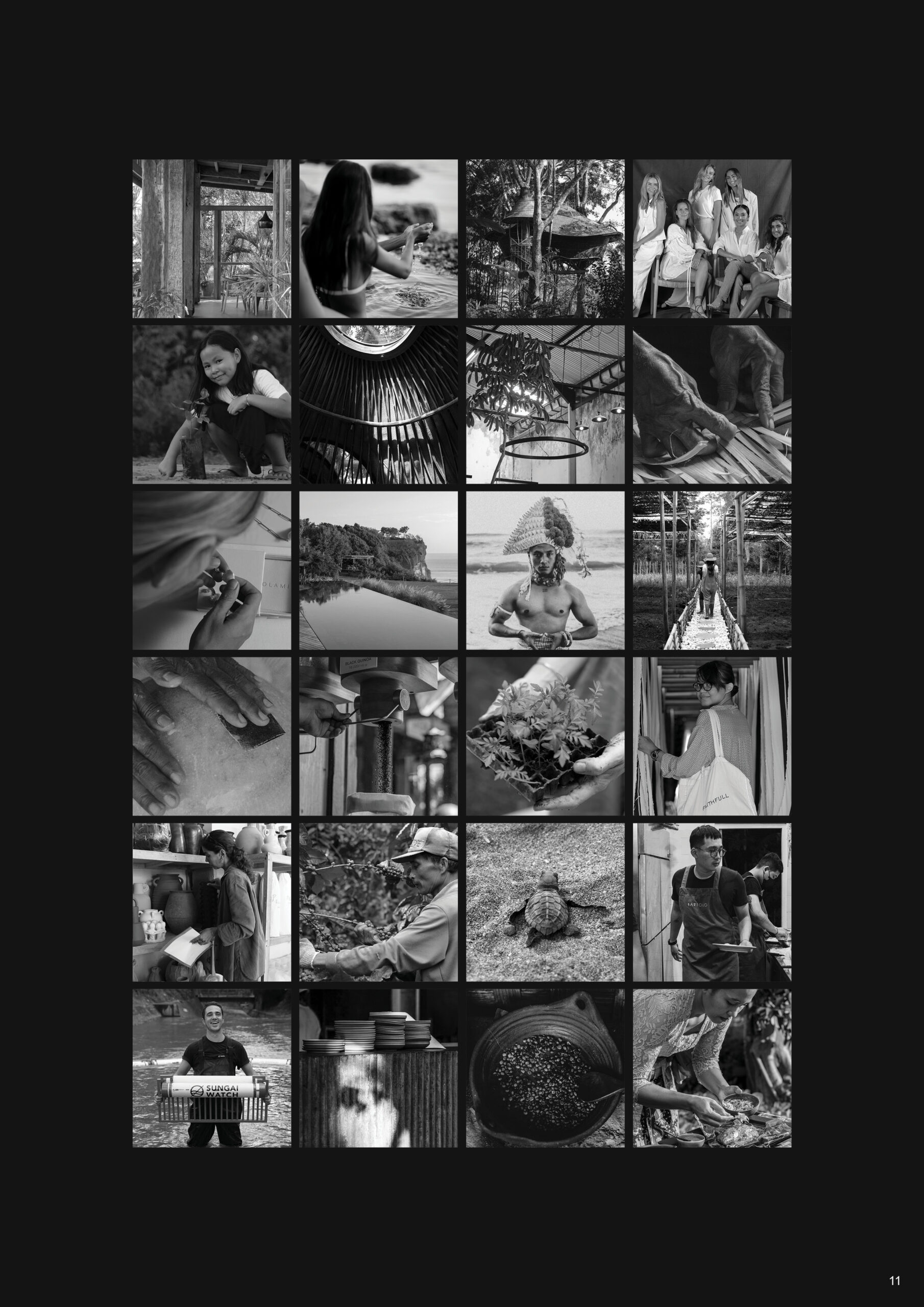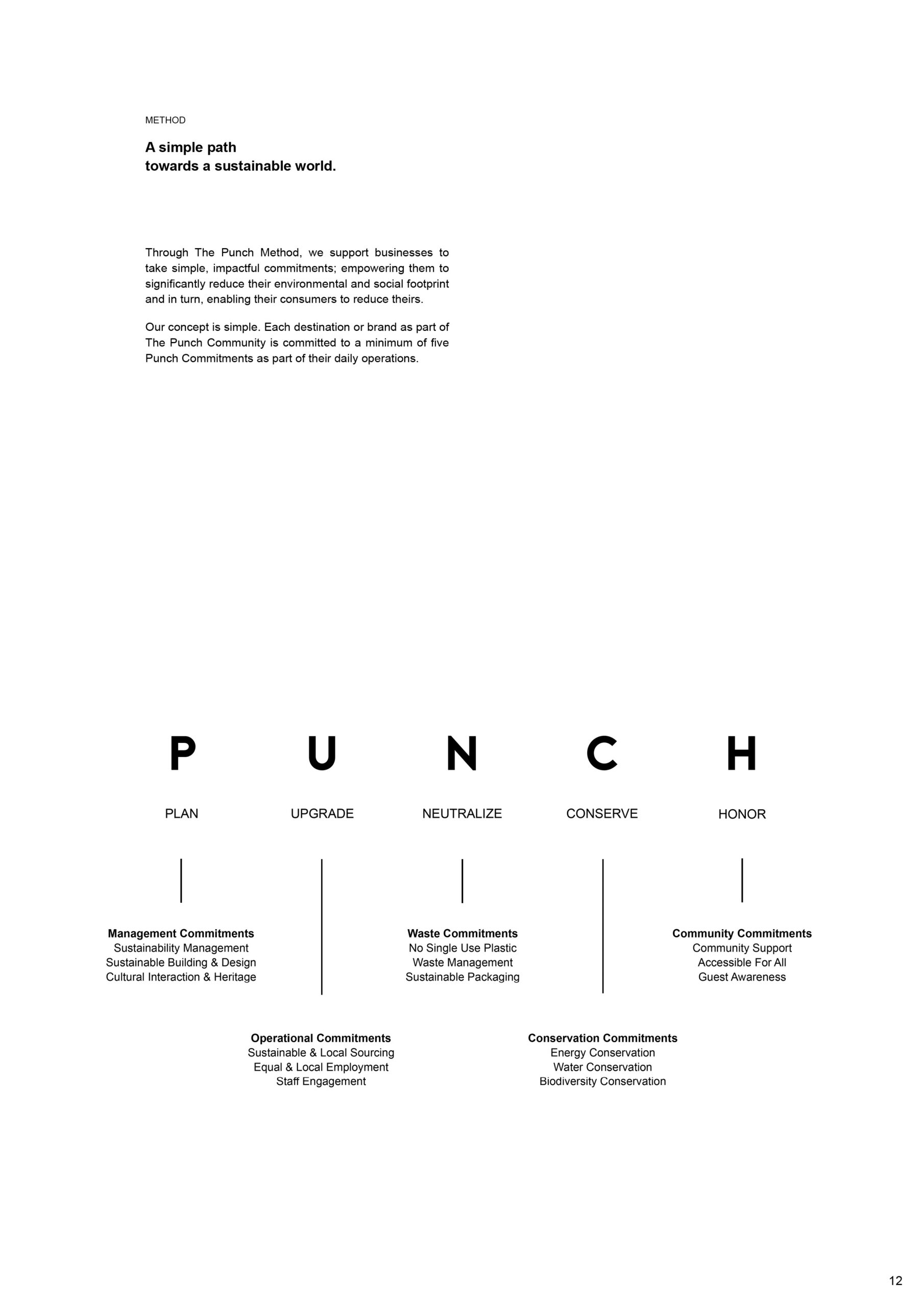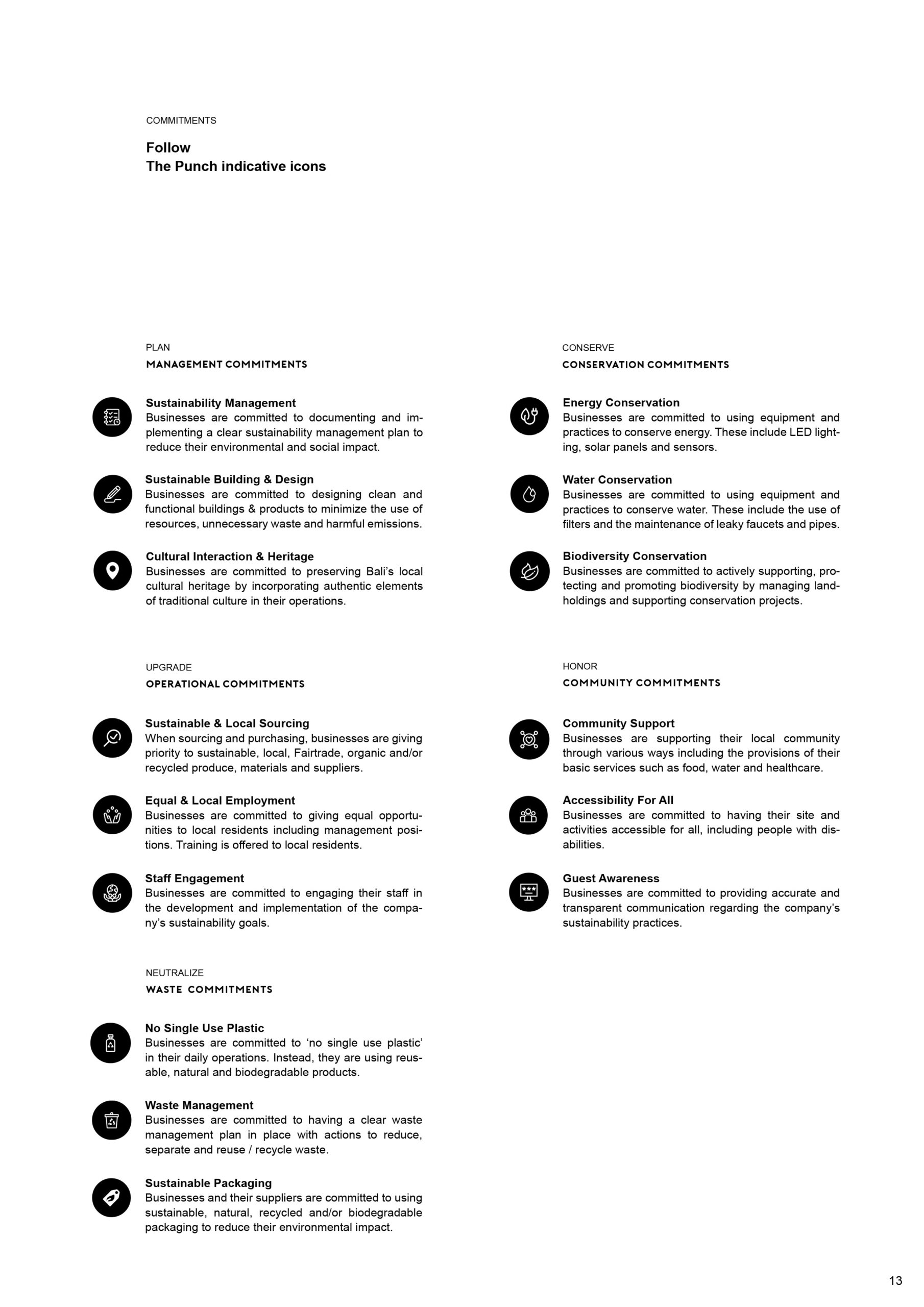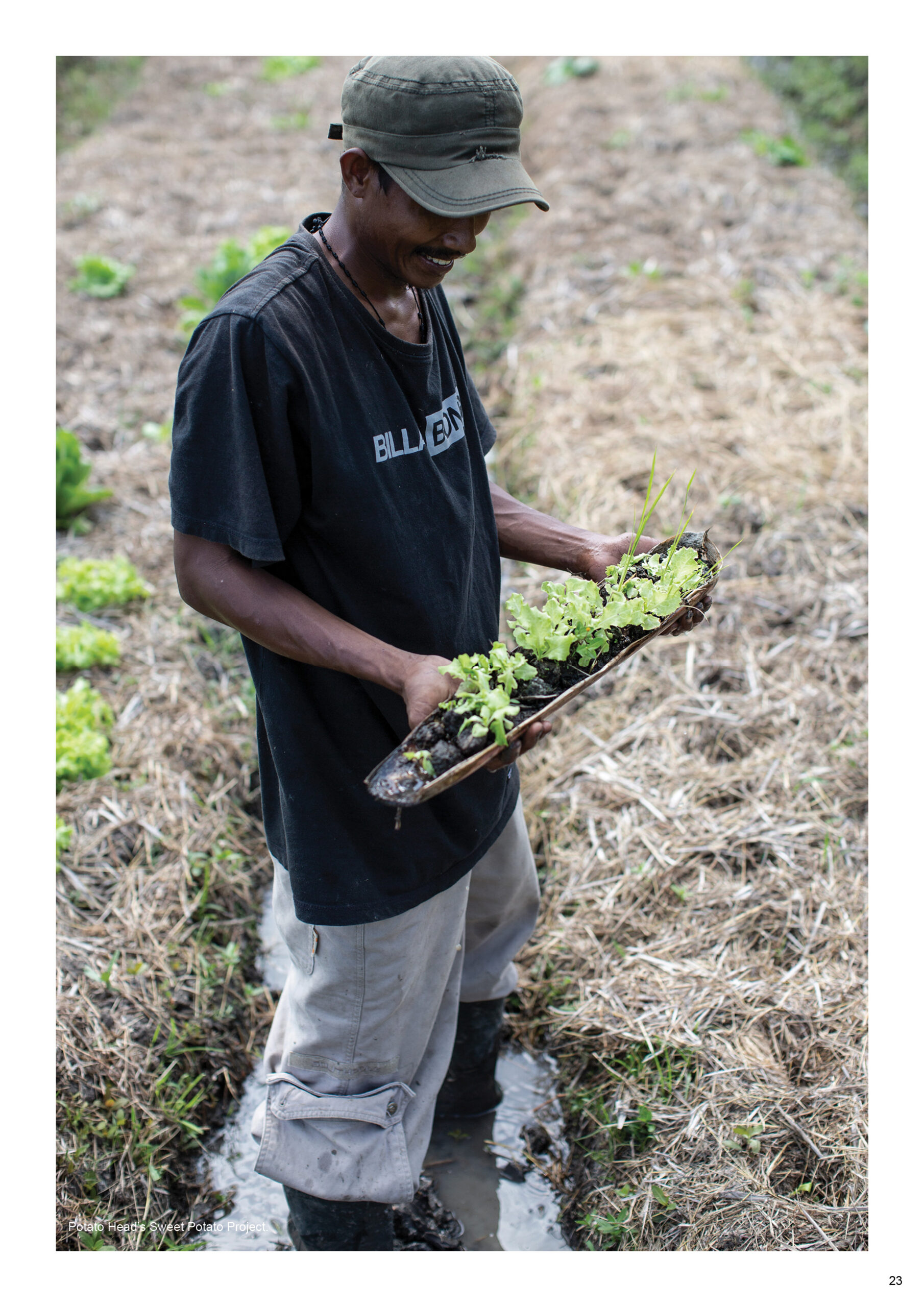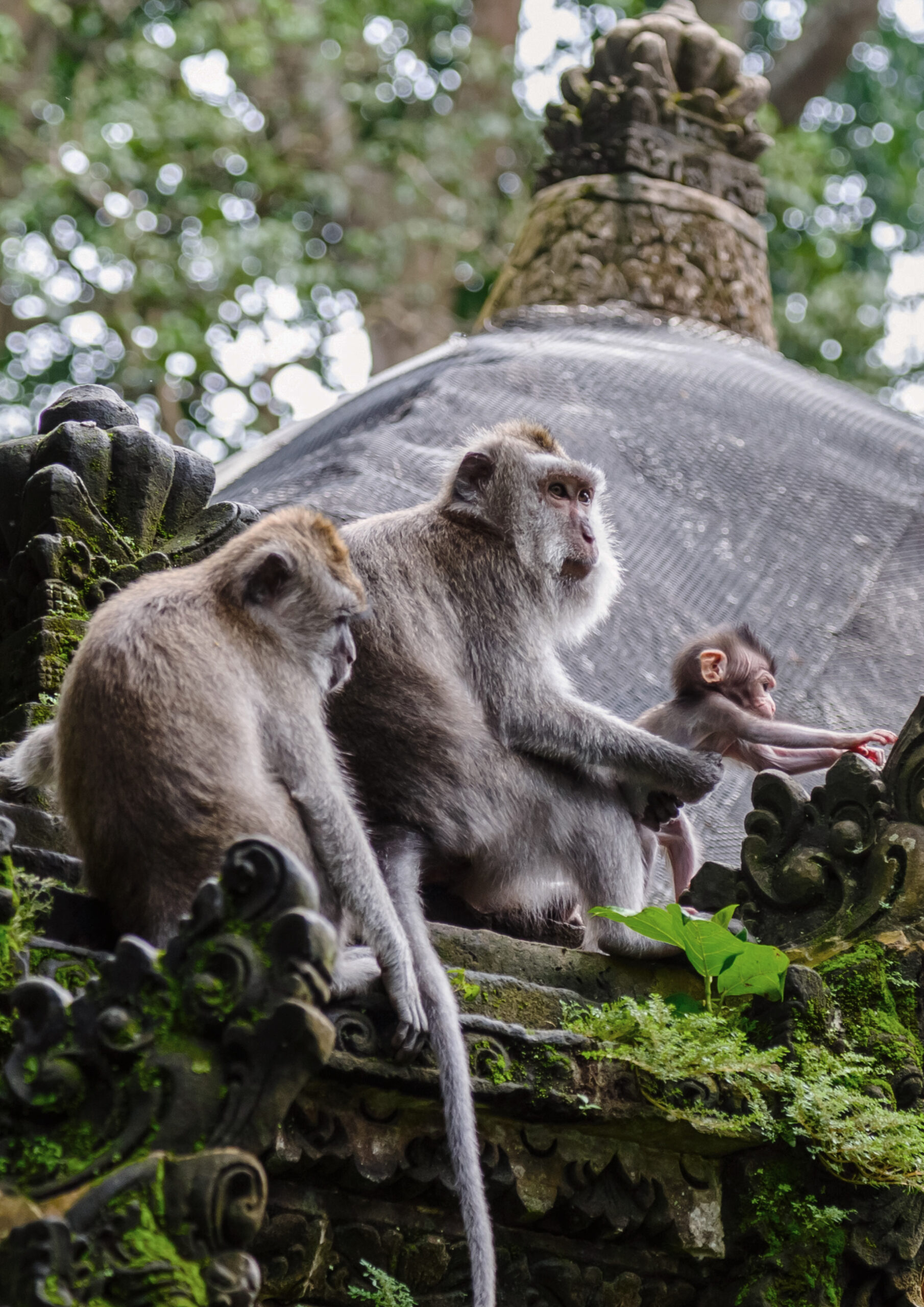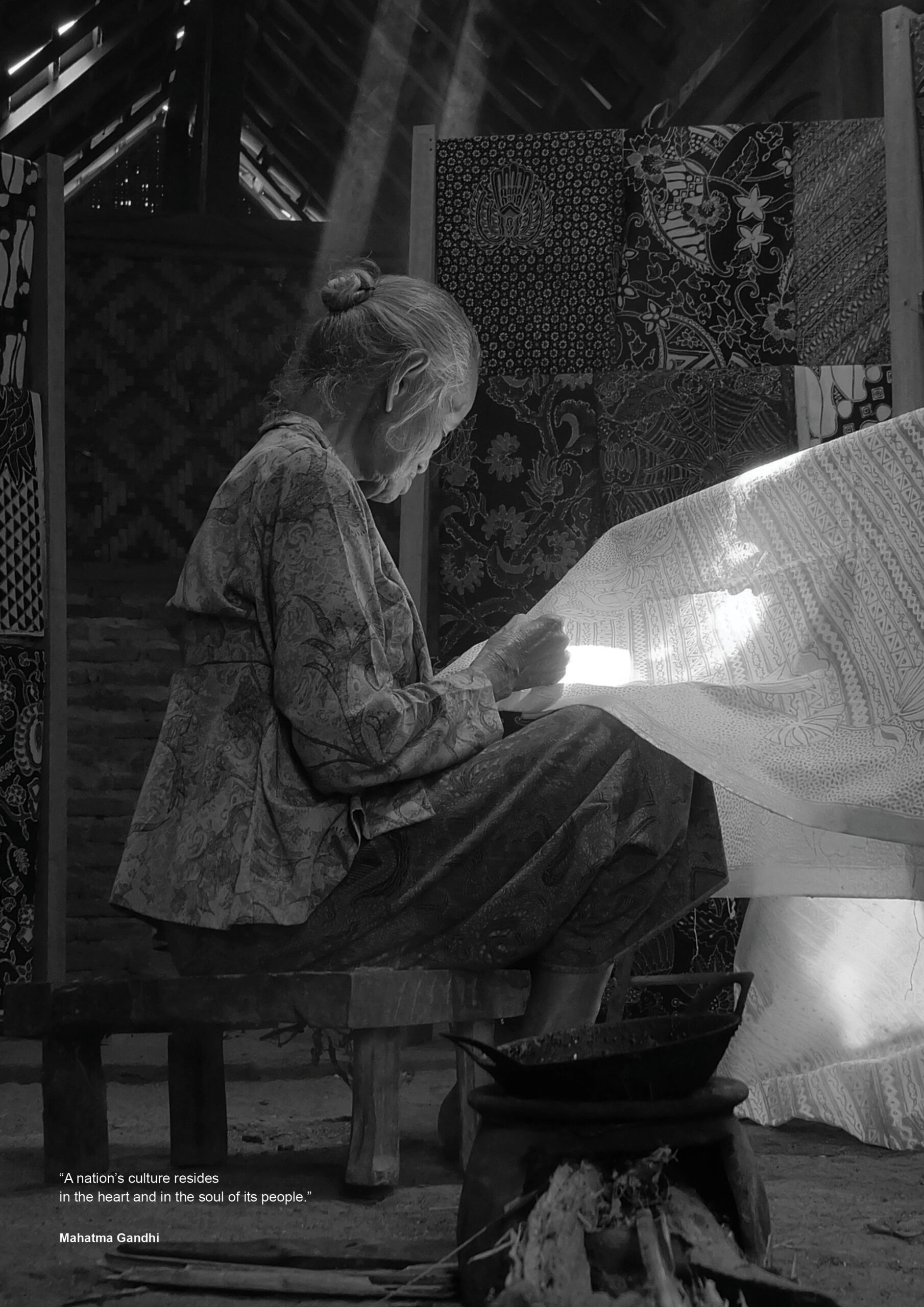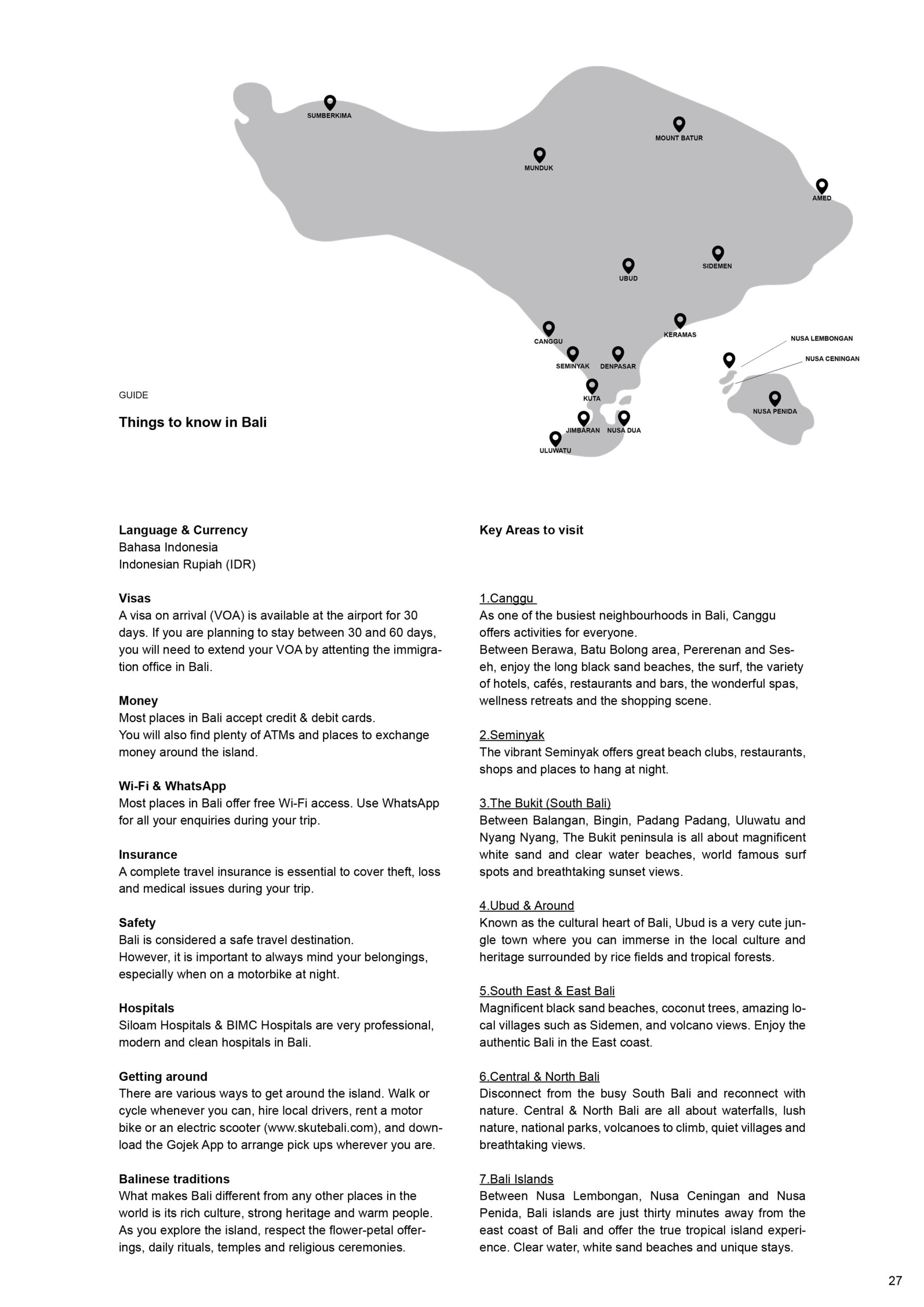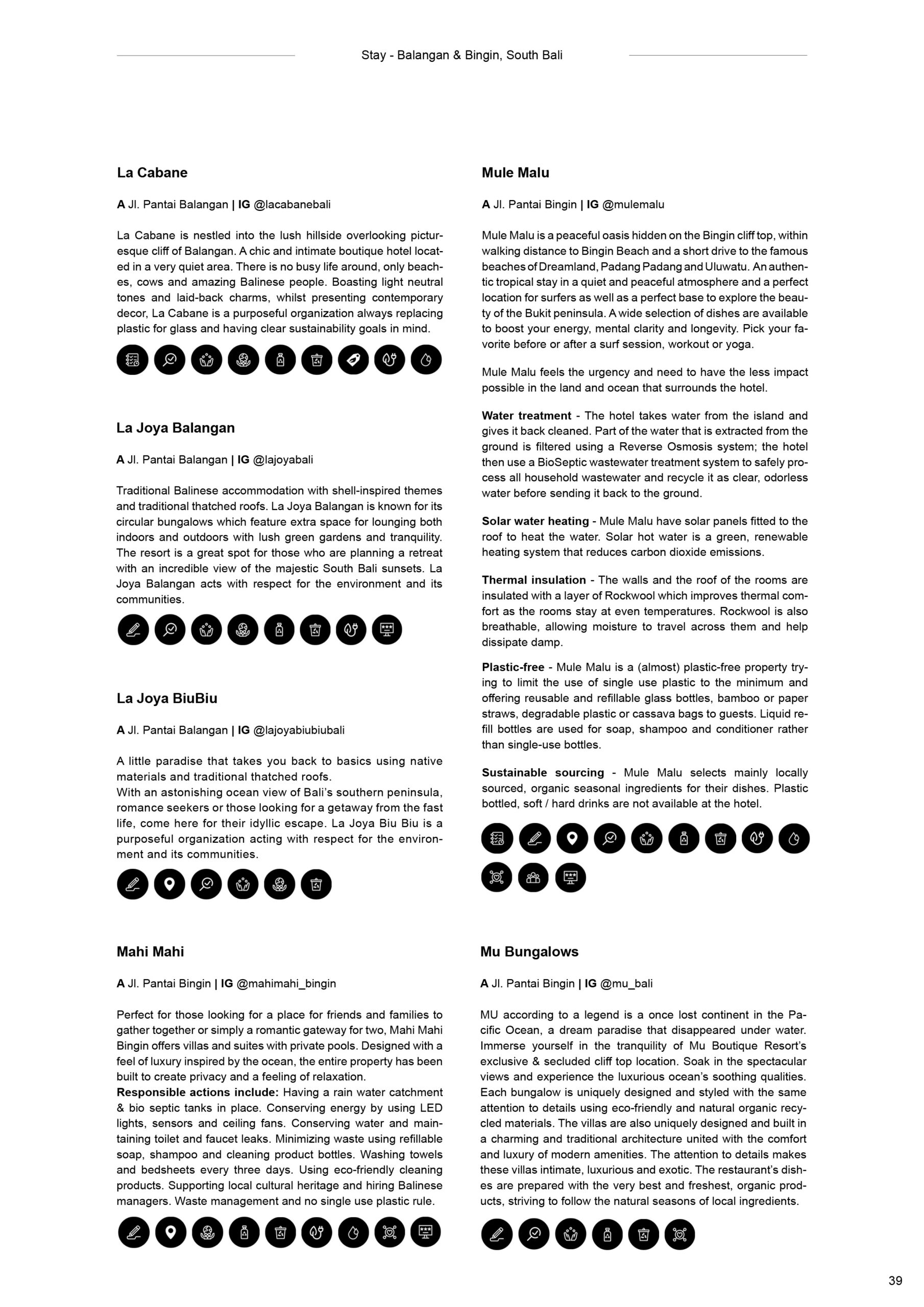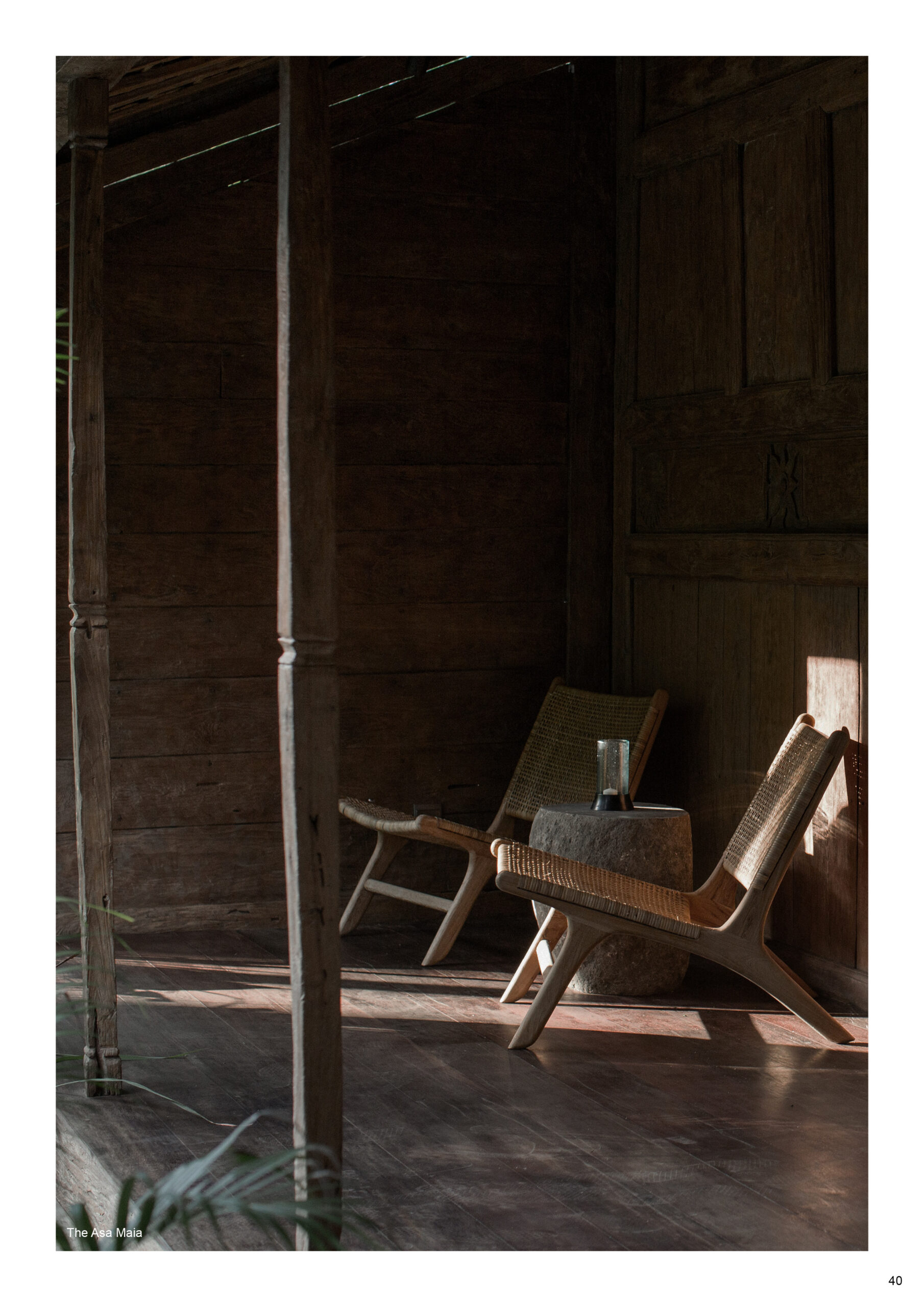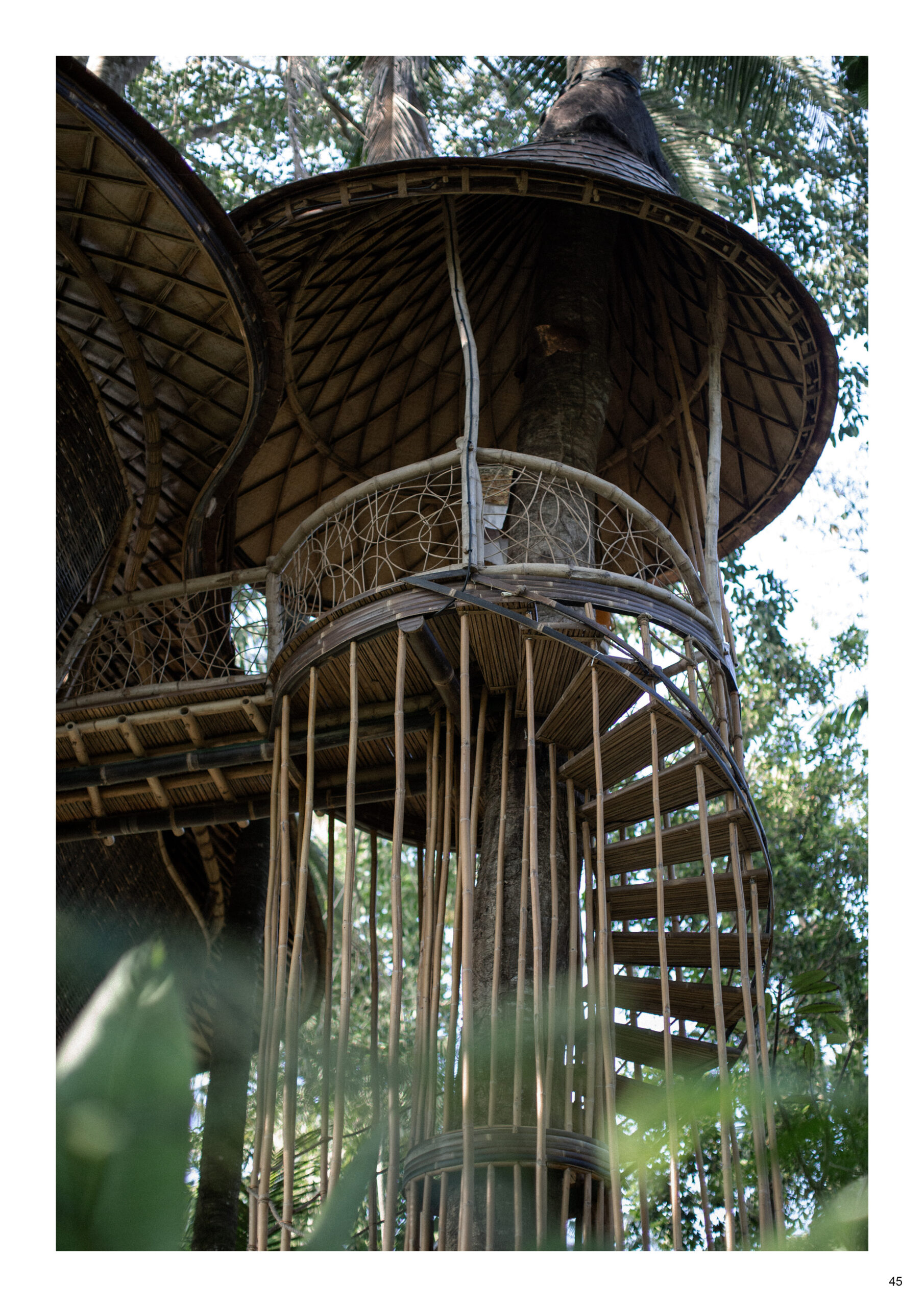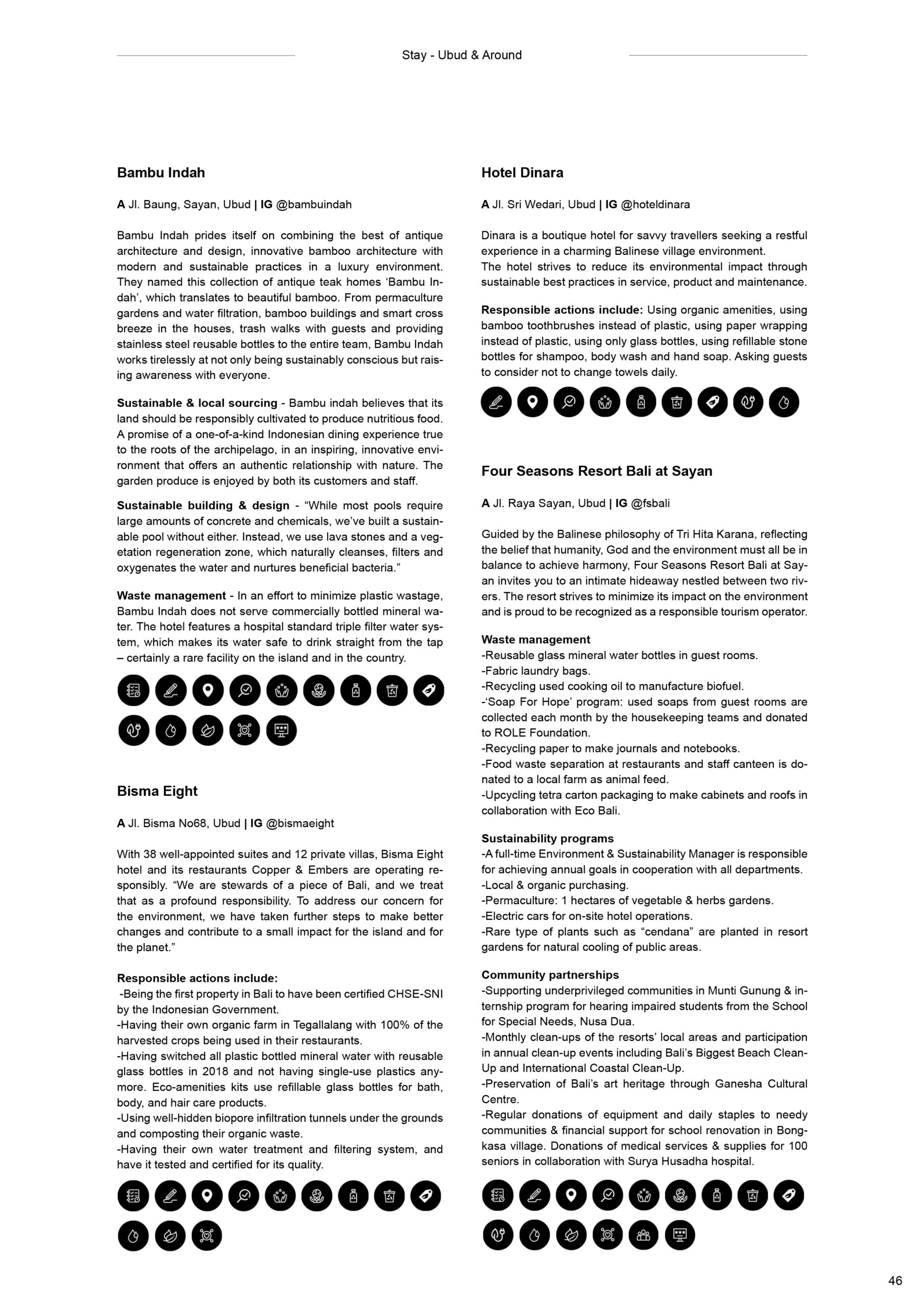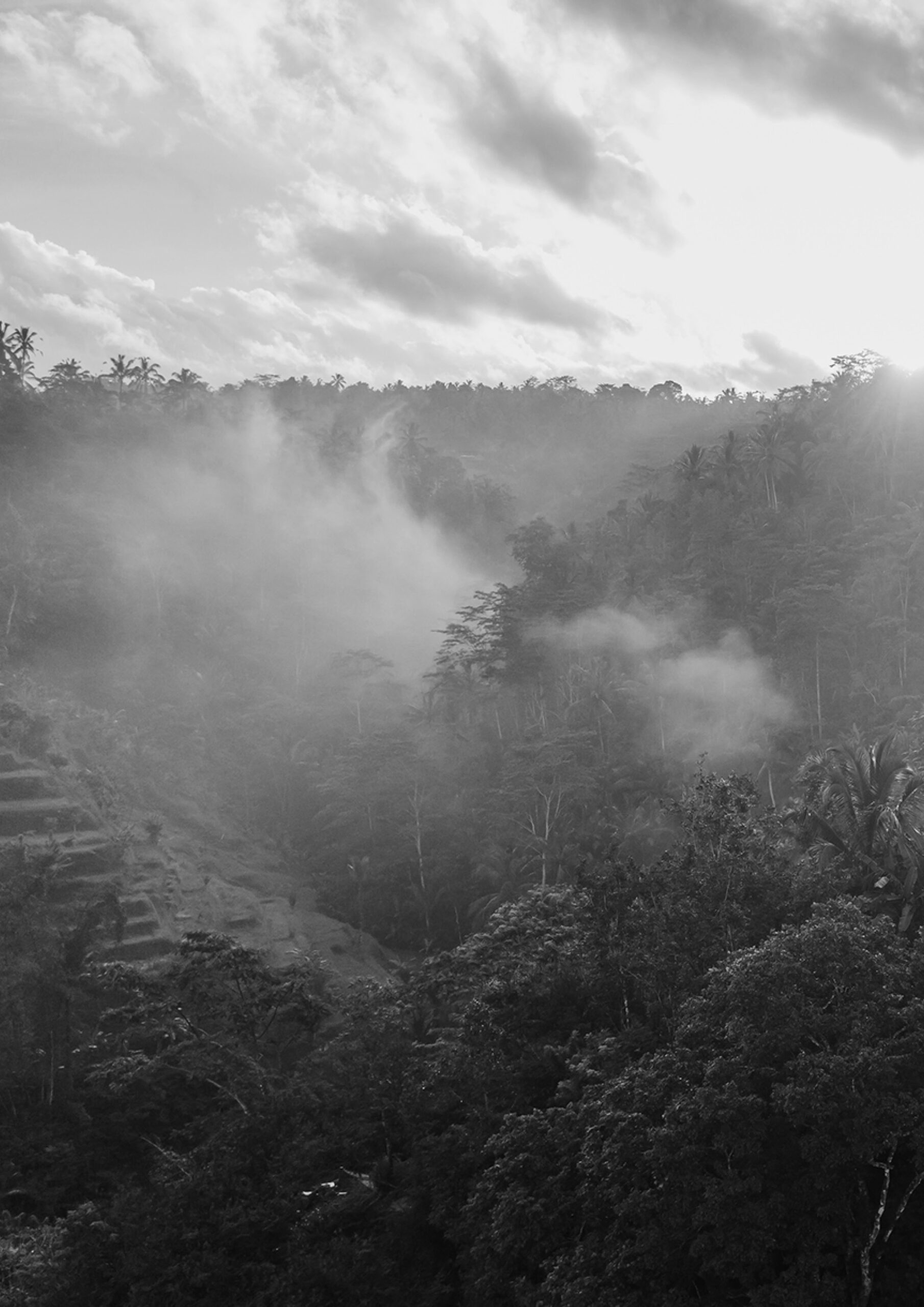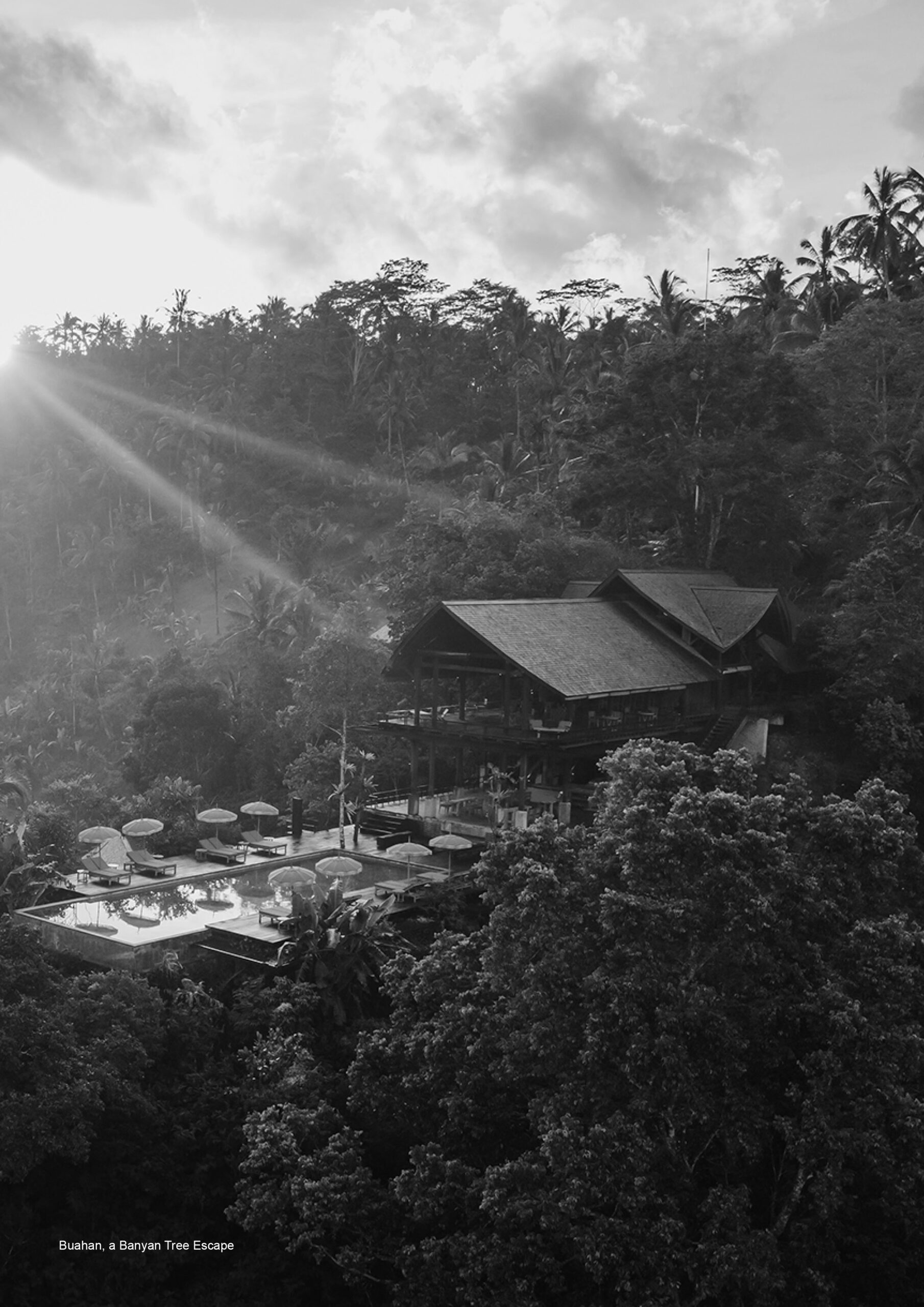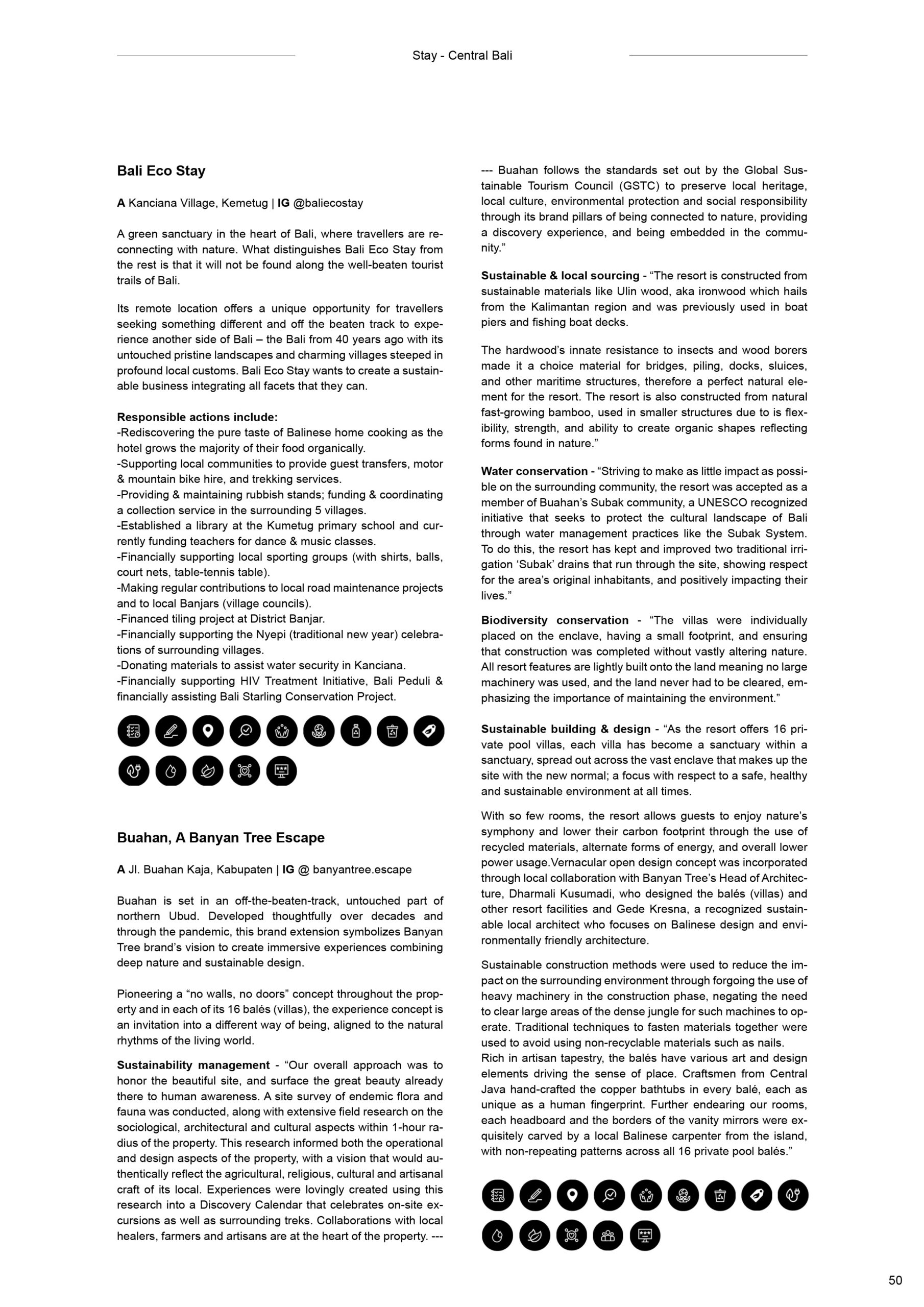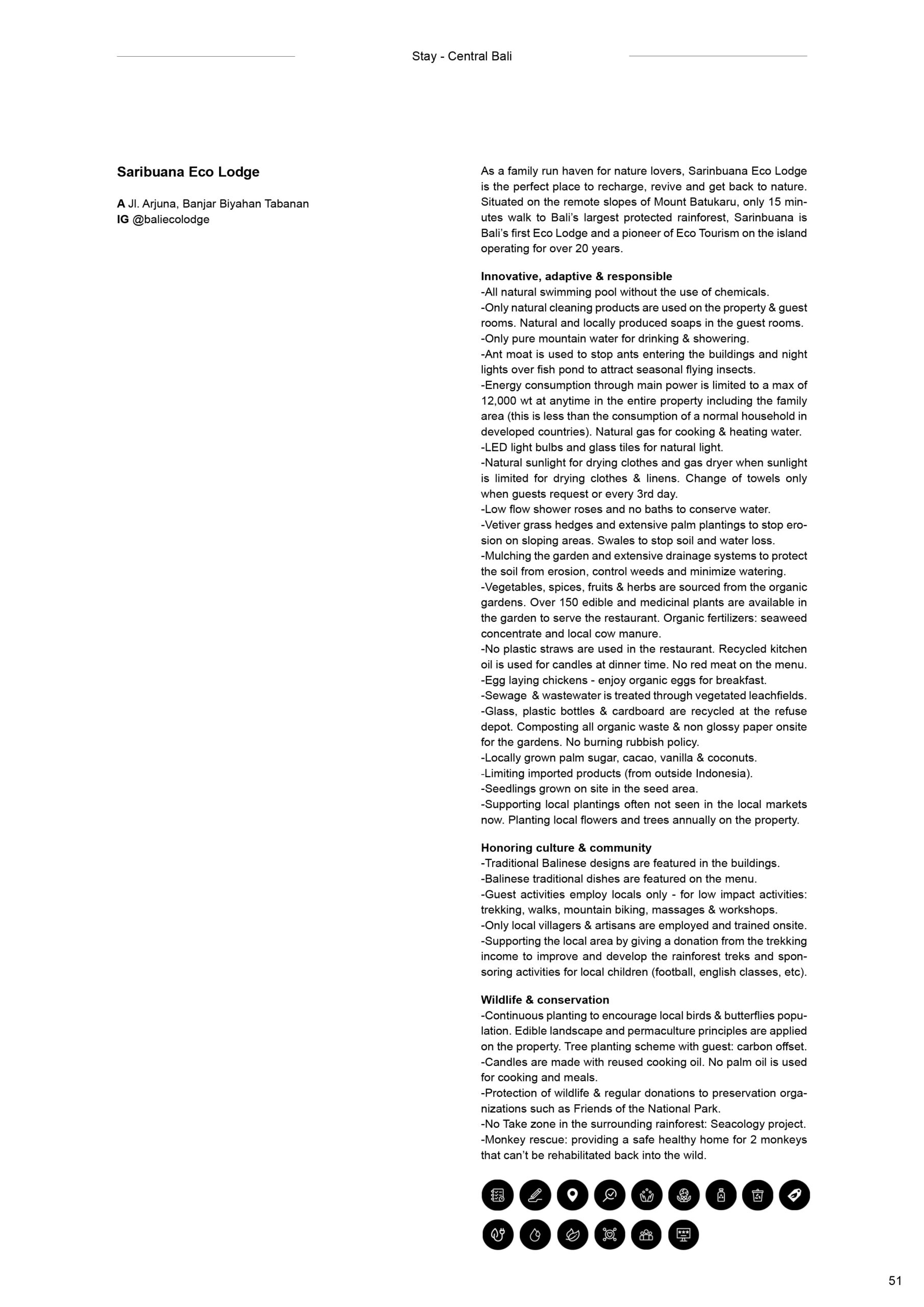 "A Fascinating Publication
for the Future of Tourism."
200+ Businesses Committed to Minimizing their Footprint.
Covering all tourism stakeholders of Bali, Indonesia – from hotels, restaurants and bars, beach clubs to spas and stores, The Punch Guide highlights the sustainable efforts and positive impact of the most relevant places to visit and shop.
Through a unique curation, extraordinary stories, interviews and sustainability insights, The Punch takes you behind the scenes to experience a new kind of travel and celebrate incredible businesses that are achieving sustainability through creativity and innovation in Bali.
Explore
The Punch Community