Best Responsible Hotels in The Bukit: Bingin, Padang Padang & Uluwatu
Between Bingin, Padang Padang, Uluwatu and Nyang Nyang, The Bukit Peninsula is all about magnificent white sand and clear water beaches, world famous surf spots and breathtaking views. 
Discover our unique curation of the best responsible hotels committed to minimizing their environmental / social footprint and driving positive change in the Bukit. The Punch Hotels are selected for the quality of their services, sustainable commitments and values.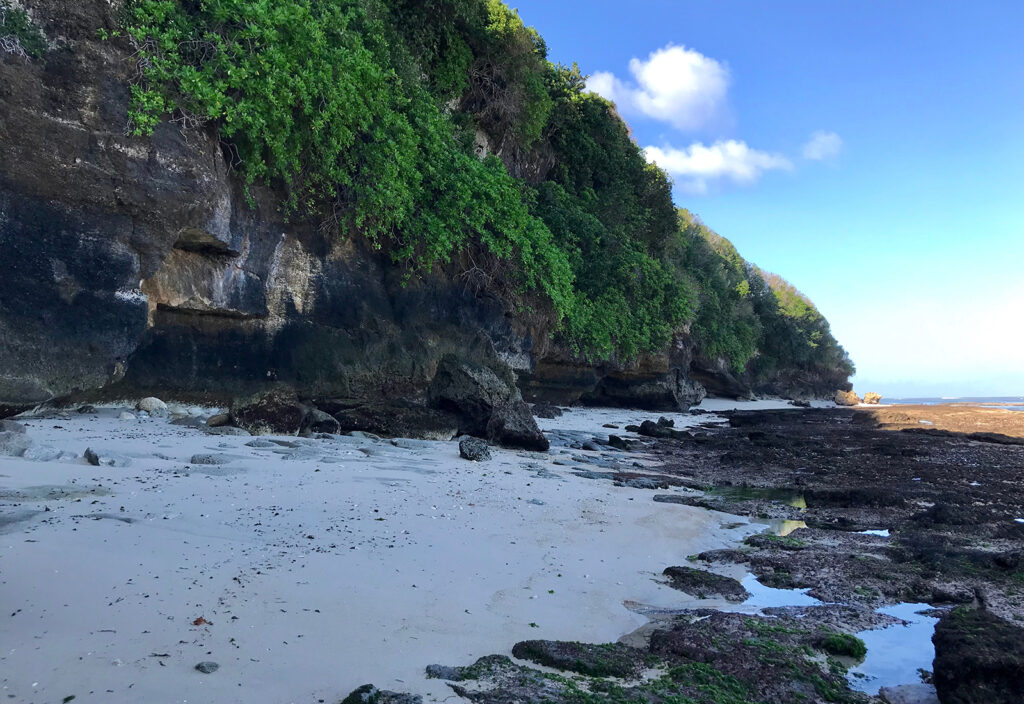 THE PUNCH LIST 2023
Where to Stay in Bali Islands
Where to Stay
in The Bukit
ULUWATU SURF VILLAS – ULUWATU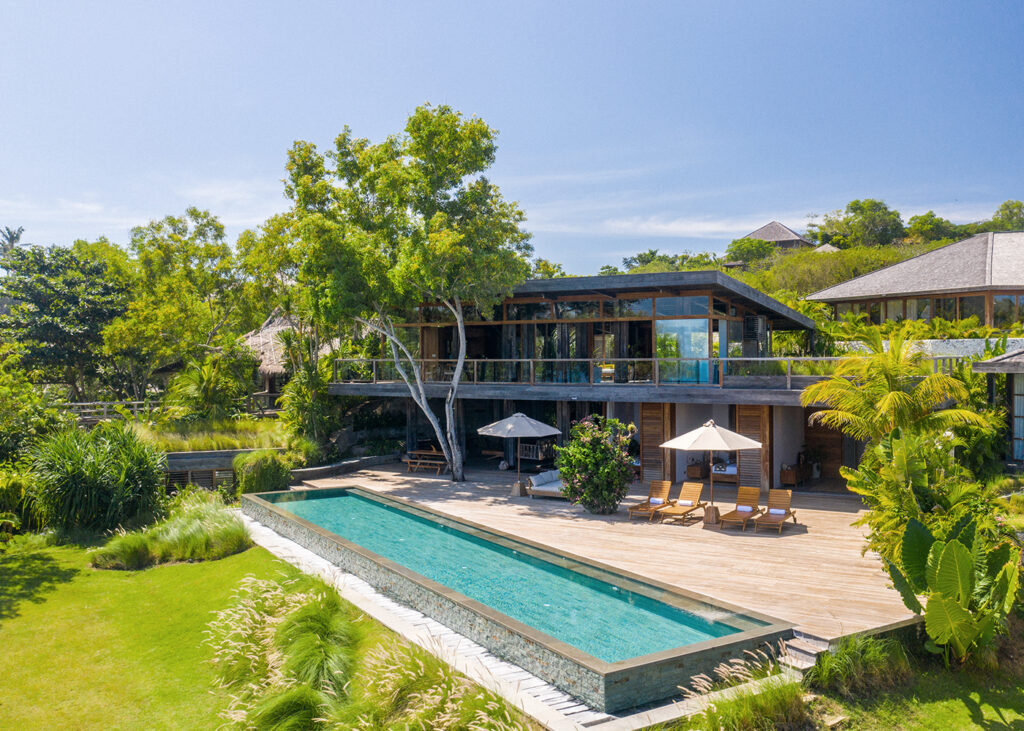 Built with respect for its natural surroundings, Uluwatu Surf Villas clifftop resort is a sacred space to rebalance and get away. With unique dwellings, wholesome cuisine, soulful movement through yoga, and world class surfing, Uluwatu Surf Villas provide an authentic Balinese experience for spirited travellers seeking rustic refinement.
The villas have co-founded the Project Clean Uluwatu, which designed, built and implemented grey water systems, waste-water management and water gardens to keep Uluwatu beaches clean & safe. The property has also reached a milestone in water conservation, surpassing over 1 million liters of underground fresh water storage collected from rain water catchments and reclamation systems. View Sustainable Profile
Jl. Bisma No68, Ubud // info@bisma-eight.com // @bismaeight
THE ASA MAIA – PADANG PADANG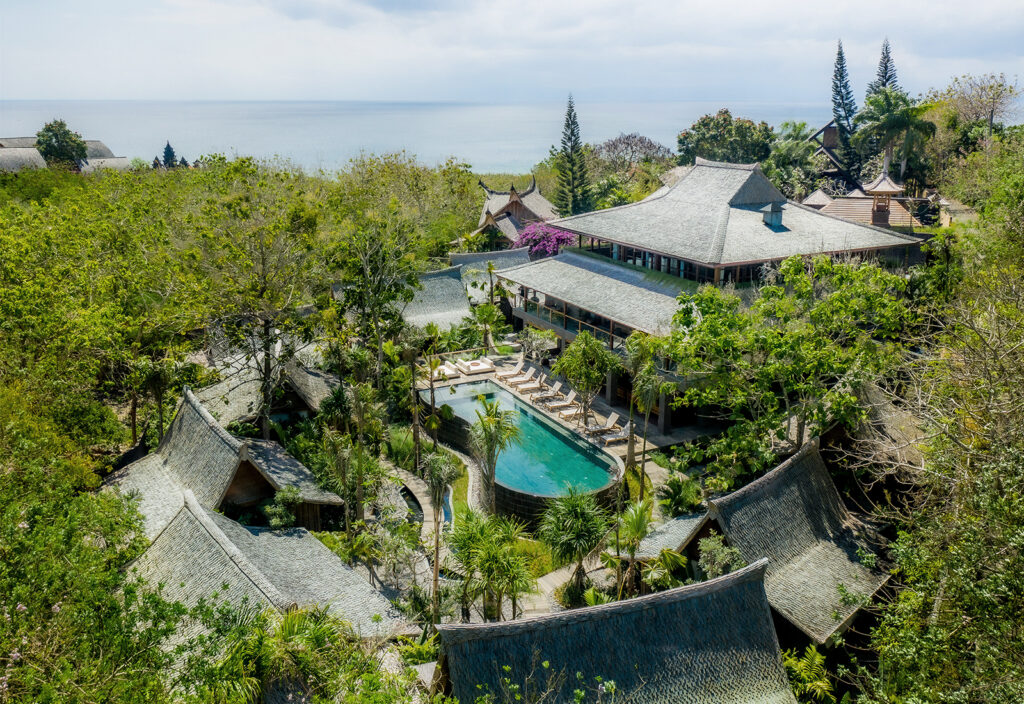 The Asa Maia in an intimate wellness retreat in Bali's starkly picturesque Uluwatu peninsula. Set within lush gardens, the 10 freestanding Indonesian heritage guest suites, spa, restaurant, bar and lounge, as well as the library, yoga shala, gym, Himalayan infrared sauna and thermal pools, surround a beautiful saltwater swimming pool.
About 90% of the woods being used at The Asa Maia are recycled wood. Other responsible actions include: the use of reverse osmosis system to remove water impurities, operating without single-use plastic, managing food waste and celebrating mindful cuisine. View Sustainable Profile
Jl. Bisma No68, Ubud // info@bisma-eight.com // @bismaeight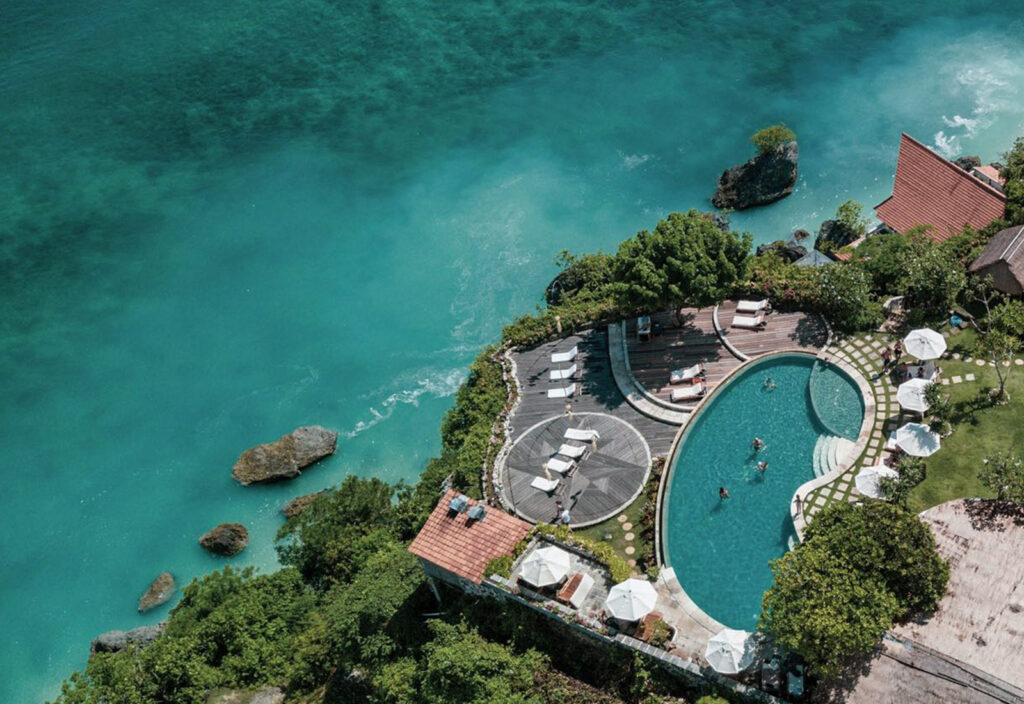 Immerse yourself in the tranquility of Mu Boutique Resort's exclusive & secluded cliff top location. Soak in the spectacular views and experience the luxurious ocean's soothing qualities of Mu. The bungalows are made from eco-friendly and natural organic recycled materials, the restaurant uses exclusively local ingredients. View Sustainable Profile
Jl. Bisma No68, Ubud // info@bisma-eight.com // @bismaeight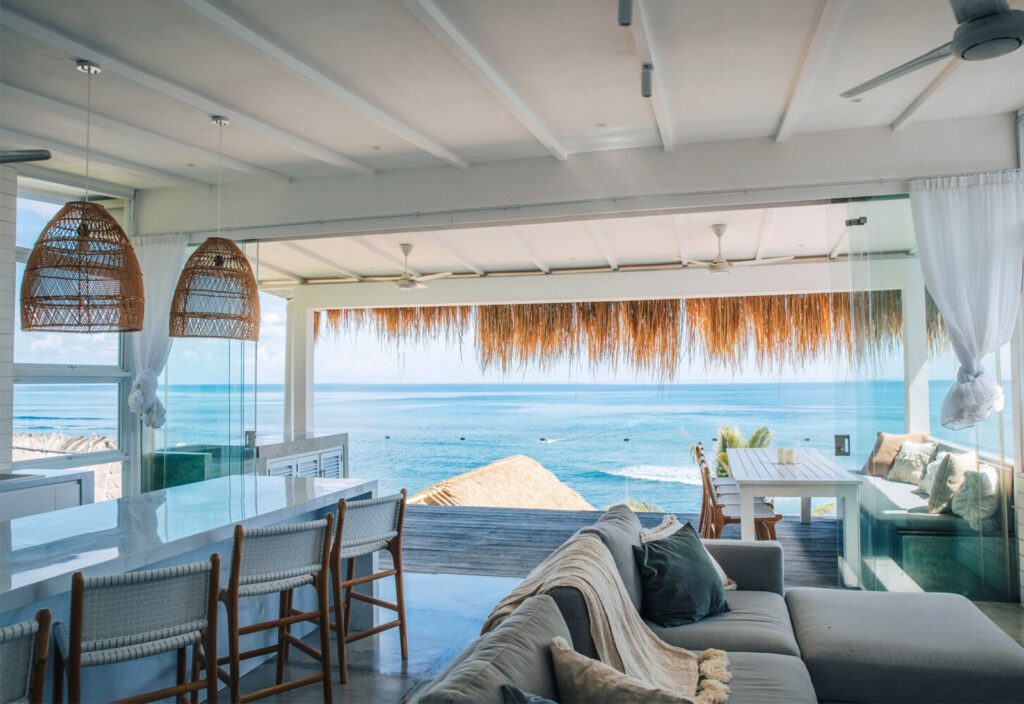 Mahi Mahi offers boutique villas & suites in the heart of Bingin. Perfect for those looking for a place for friends and families to gather together or simply a romantic gateway for two, Mahi Mahi Bingin villas and suites are designed with a feel of luxury inspired by the ocean. Responsible actions include: having a rain water catchment & bio septic tanks in place, conserving energy using LED lights & sensors and  using eco-friendly cleaning products. View Sustainable Profile
Jl. Bisma No68, Ubud // info@bisma-eight.com // @bismaeight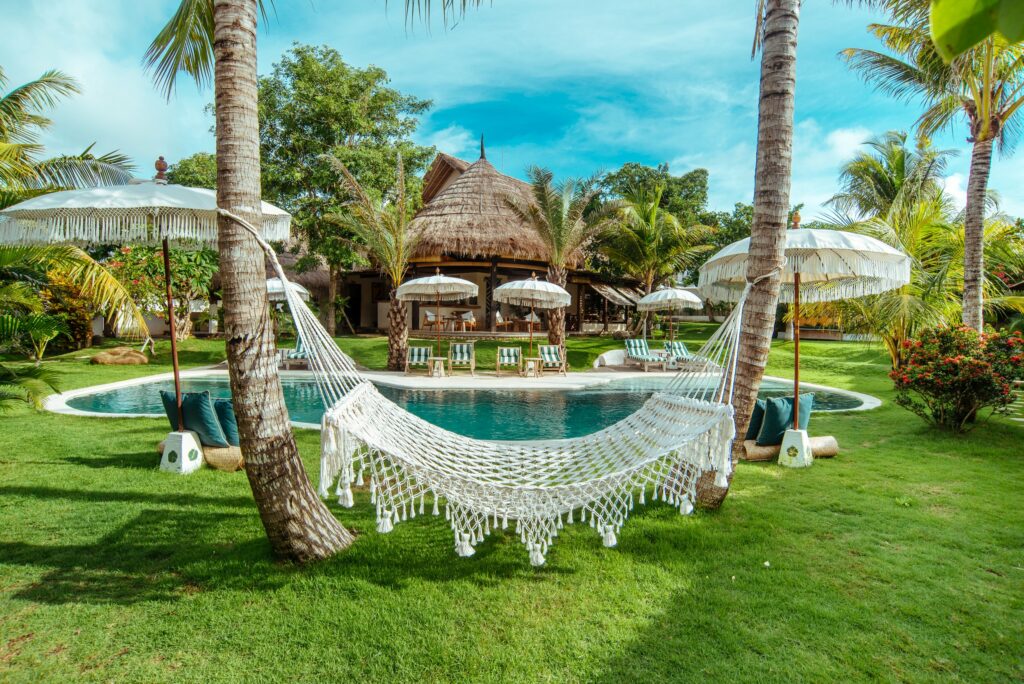 Surrounded by white beaches and world class surf breaks, Mule Malu is a peaceful oasis hidden on the Bingin cliff top, within walking distance to Bingin Beach and a short drive to the famous beaches of Dreamland, Padang Padang and Uluwatu. A central location for surfers as well as a perfect base to explore the beauty of the bukit peninsula. Mule Malu's responsible actions include water conservation, solar water heating, thermal insulation, sustainable sourcing and plastic-free operations. View Sustainable Profile
Jl. Bisma No68, Ubud // info@bisma-eight.com // @bismaeight
COMMITMENT 1
Sustainable Management
By documenting and implementing a clear sustainability plan, 180 Punch Members are demonstrating their commitment to the environment and their communities.
COMMITMENT 2
Sustainable Building & Design
By designing clean and functional buildings & products, 173 Punch Members are minimizing the use of resources, unnecessary waste, and harmful emissions.
COMMITMENT 3
Cultural Interaction & Heritage
By incorporating authentic elements of traditional culture in their operations, 168 Punch Members committed to celebrating and preserving Bali's local cultural heritage.
COMMITMENT 4
Sustainable & Local Sourcing
By giving priority to sustainable, local, Fairtrade, organic and/ or recycled produce, 216 Punch Members are emitting less carbon emissions while celebrating the local economy.
COMMITMENT 5
Equal & Local Employment
By giving equal opportunities to local residents including management positions, 226 Punch Members are promoting diversity and elevating employees engagement.
COMMITMENT 6
Staff Engagement
By engaging their staff in the  implementation of the company's sustainability goals, 184 Punch Members are increasing sustainability knowledge, competence and action.
COMMITMENT 7
No Single Use Plastic
By not using single use plastics, 179 Punch Members are minimizing by millions the amount of plastic ending up in the streets, in the rivers and in the ocean. 
COMMITMENT 8
Waste Management
By having a clear waste management plan in place with actions to reduce, separate and reuse / recycle waste, 210 Punch Members are not only minimizing the amount of waste in Bali; they are also leading the example to their employees and customers.
COMMITMENT 9
Sustainable Packaging
By using sustainable, natural, recycled and/or biodegradable packaging, 185 Punch Members are significantly reducing their environmental impact.
COMMITMENT 10
Energy Conservation
By using equipment and practices to conserve energy, 151 Punch Members are contributing to reduce the demand for carbon-intensive power plants which in turn benefits the environment by reducing carbon dioxide emissions.
COMMITMENT 11
Water Conservation
By using equipment and practices to conserve water, 149 Punch Members are contributing saving and regenerating water leading to the well-being of the environment and communities.
COMMITMENT 12
Biodiversity Conservation
By actively supporting, protecting, and promoting biodiversity, 123 Punch Members are contributing to ecosystem productivity and improving the life support system for our planet. 
COMMITMENT 13
Community Support
By supporting their local community through various ways, 210 Punch Members are offering jobs, providing goods, services, and financial support to their community.
COMMITMENT 14
Accessibility for All
By having their site, activities and operations accessible for all, 83 Punch Members are promoting equality and diversity in Bali. 
COMMITMENT 15
Guest Awareness
By providing accurate and transparent communication regarding the company's sustainable practices and goals, 158 Punch Members are helping guests make better purchase decisions.
THE TEMPLE LODGE – BINGIN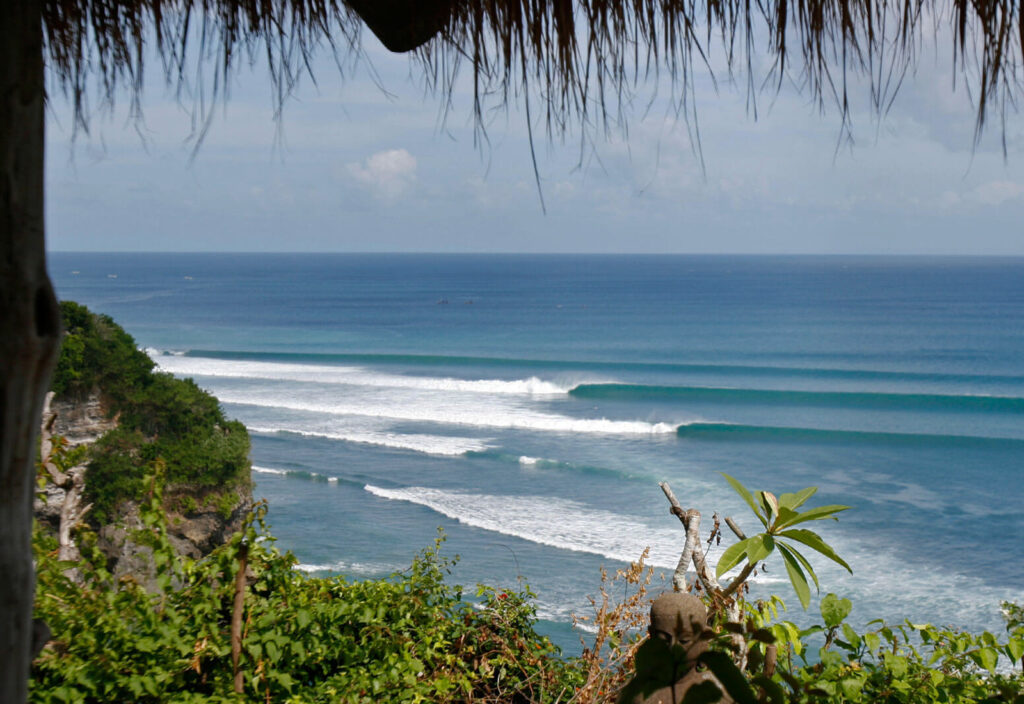 The Temple Lodge is a responsible boutique hotel and restaurant located on the clifftop of Bingin. Responsible actions include having a filtered drinking water system, serving organic homemade food and seasonal Ayurvedic and Macrobiotic recipes. The building is made of natural materials sourced in Indonesia. View Sustainable Profile
Jl. Bisma No68, Ubud // info@bisma-eight.com // @bismaeight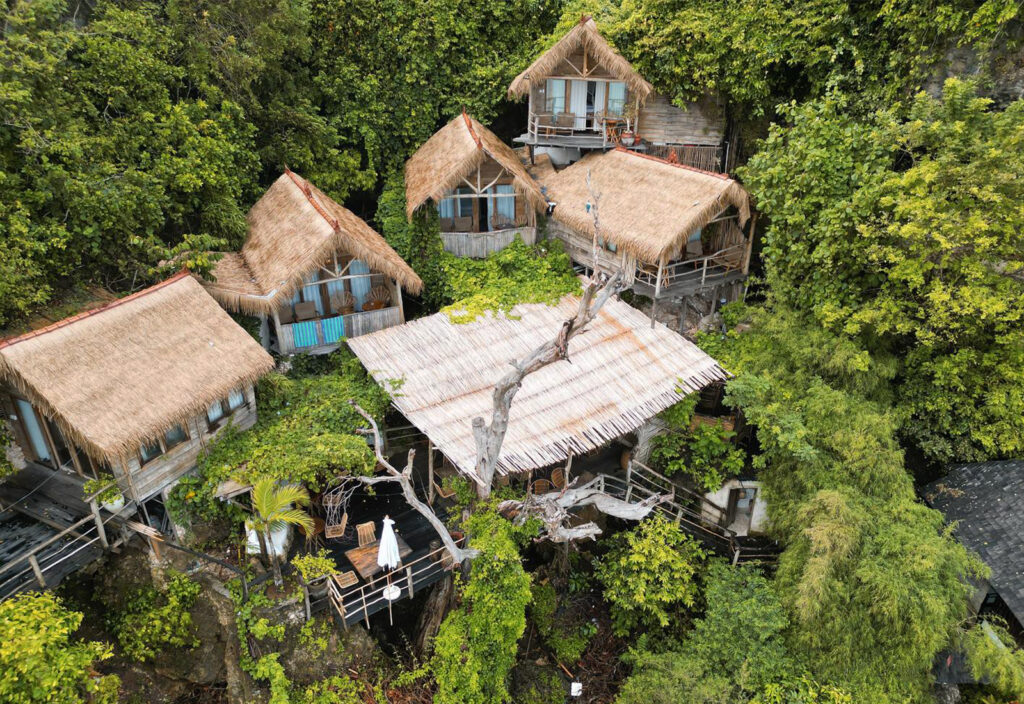 The Korowai is a boutique hotel with five wooden cabins, all with ocean views. The architecture of the cabins are inspired from on the traditional houses of the Korowai tribe. The cabins located in the middle of the cliff jungle have a direct access to a secluded beach. The absolute gem is the honeymoon suite, with an extended sunset deck and private plunge pool.
The Korowai was built using natural materials and around the rocks, instead of demolishing them and using wooden bridges to connect the different areas. The hotel constantly clean the river that flows into the ocean during the rain season and removes plastic in the area. View Sustainable Profile
Jl. Bisma No68, Ubud // info@bisma-eight.com // @bismaeight
Explore The Punch Community