Best Responsible Hotels
in Ubud & Around
Known as the cultural heart of Bali, Ubud is a very cute jungle town where you can immerse in the local culture and heritage surounded by rice fields and tropical forests. 
Discover our unique curation of the best responsible hotels committed to minimizing their environmental / social footprint and driving positive change in Ubud. The Punch Hotels are selected for the quality of their services, sustainable commitments and values.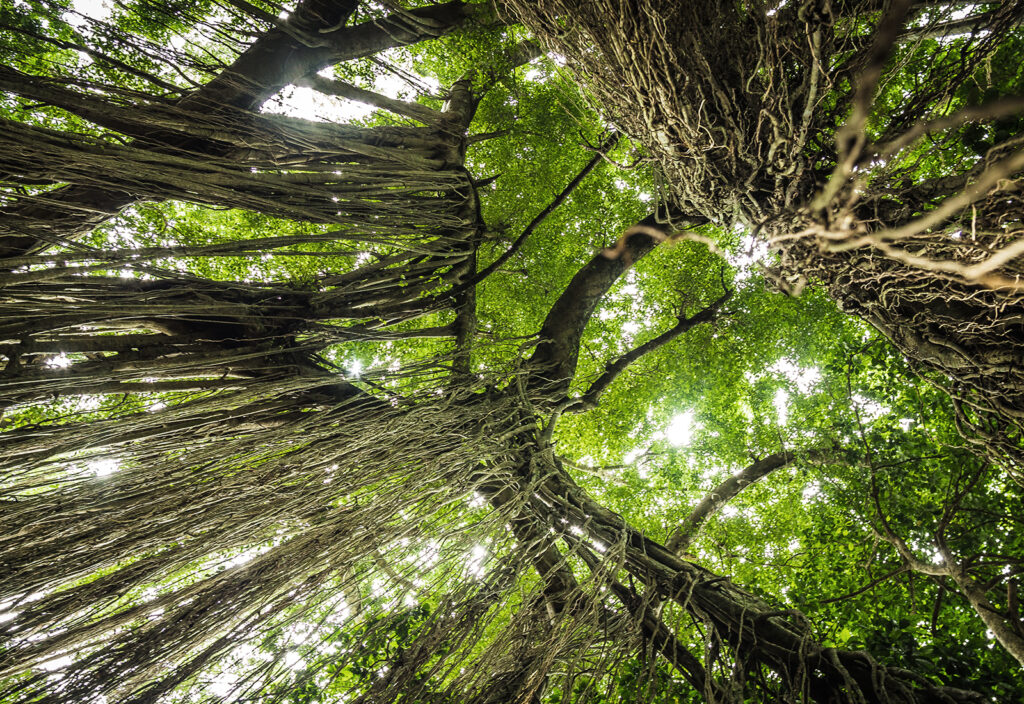 THE PUNCH LIST 2023
Where to Stay in Bali Islands
Where to Stay
in Ubud & Around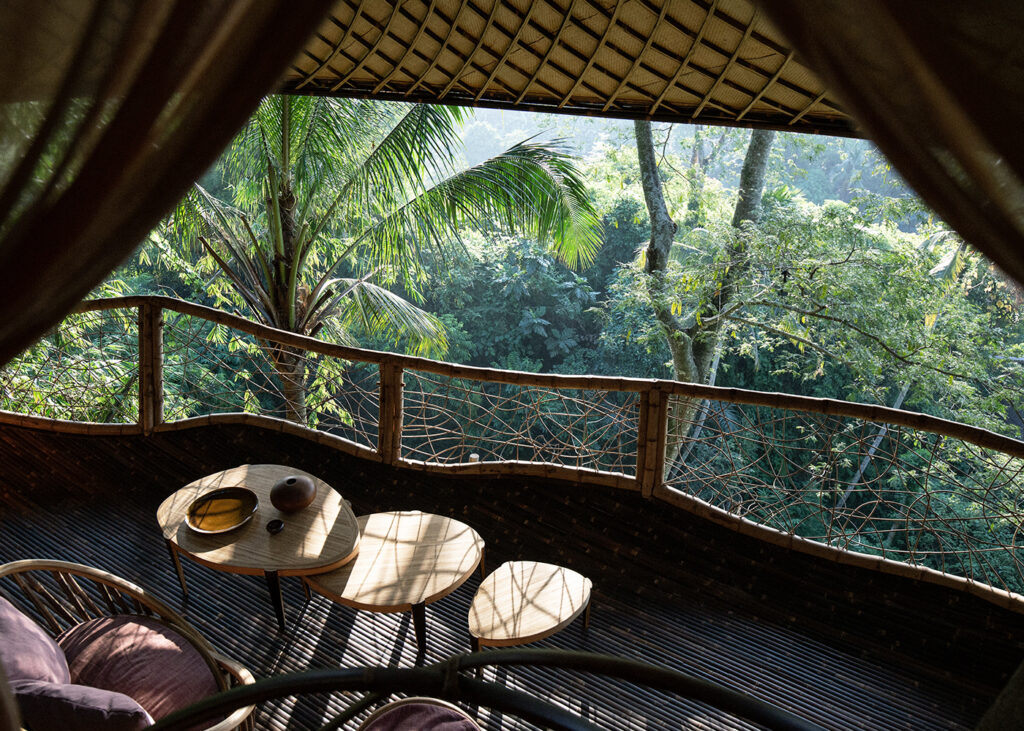 Bambu Indah is a radically distinctive hotel in Ubud combining the best of antique architecture and design, innovative bamboo architecture with modern and sustainable practices in a luxury environment.
From permaculture gardens and water filtration, bamboo buildings and smart cross breeze in the houses, trash walks with guests and staff to stainless steel reusable bottles for the entire team, Bambu Indah works tirelessly at not only being sustainably conscious but raising awareness with everyone around them. View Sustainable Profile
Jl. Baung, Sayan //  reservations@bambuindah.com // @bambuindah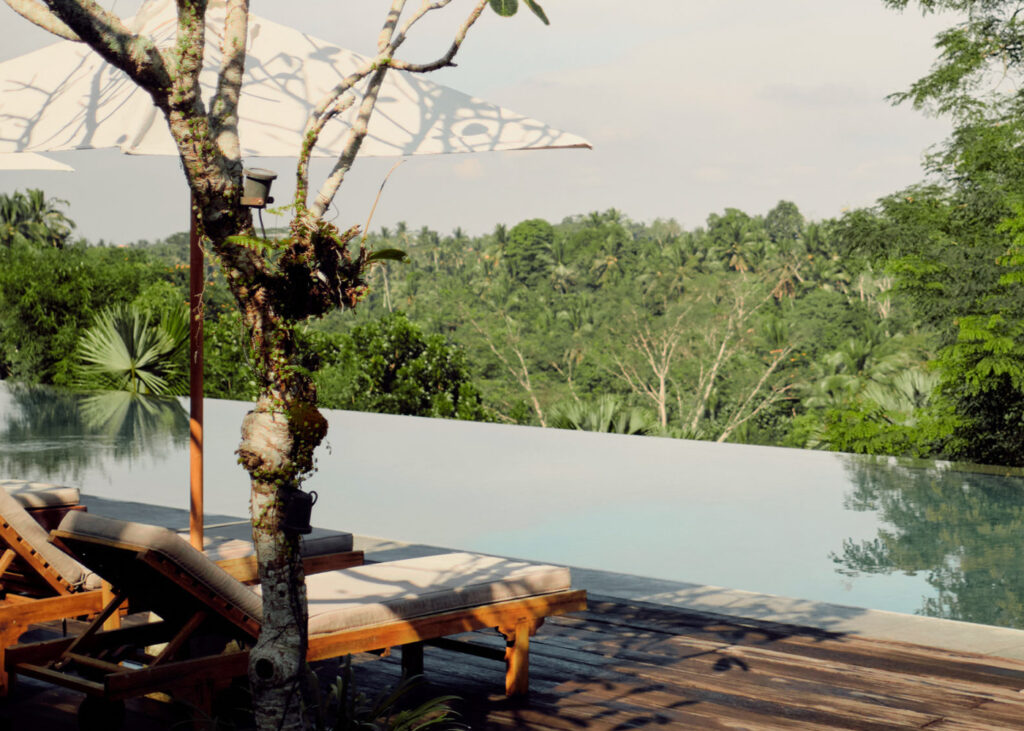 Bisma Eight is an award-winning boutique hotel & villas in Ubud. With 38 well-appointed suites and 12 private villas, Bisma Eight hotel and its restaurants Copper & Embers are using a generous amount of produce coming from their own organic farm in Tegallalang.
To address their concern for the environment, the hotel has taken further steps to make better changes that reflect in the way they think, the way they do, and the way they live every day. Bisma Eight became the first property in Bali to have been certified CHSE-SNI by the Indonesian Government. View Sustainable Profile
Jl. Bisma No68, Ubud // info@bisma-eight.com // @bismaeight
FOUR SEASONS RESORTS BALI AT SAYAN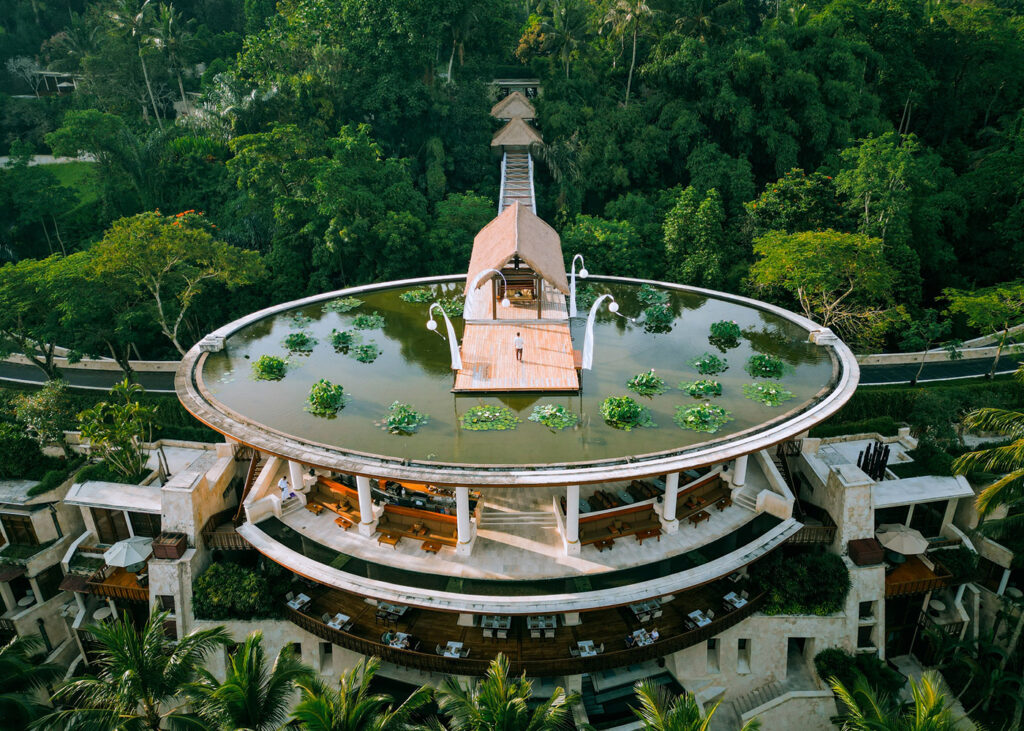 Four Seasons Resorts Bali at Sayan is guided by the Balinese philosophy of Tri Hita Karana. Meaning 'the three causes of happiness', it reflects the belief that humanity, God and the environment must all be in balance to achieve harmony. In the central highlands near Ubud, Four Seasons Sayan invites you to an intimate hideaway nestled between two rivers.
From energy, carbon, and water reduction, waste reduction, sustainable food and beverage, biodiversity and conservation, and supporting local community, Four Seasons strives to minimize its impact on the environment and is proud to be recognised as responsible tourism operators. View Sustainable Profile
Jl. Bisma No68, Ubud // info@bisma-eight.com // @bismaeight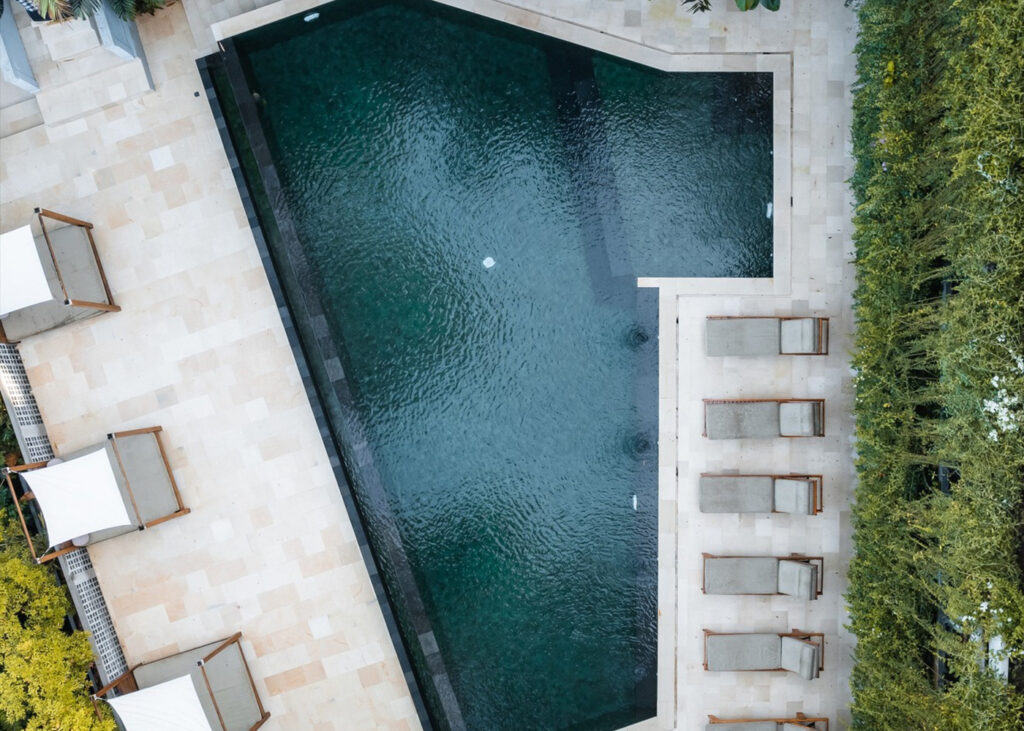 Hotel Dinara is a charming boutique hotel located 1.5km from Ubud Center, for savvy travellers seeking a restful experience in a Balinese village environment. Guest activities at Dinara Ubud focus on Bali's rich cultural heritage and artistic tradition, from purification ritual, Balinese cooking class, yoga, to Balinese offering making.

Hotel Dinara strives to reduce its environmental impact through sustainable best practices in service, product and maintenance. Their key targets include reducing waste, saving energy, cutting down water usage and especially working closely with the local community to protect and support the Balinese cultural heritage. View Sustainable Profile
Jl. Bisma No68, Ubud // info@bisma-eight.com // @bismaeight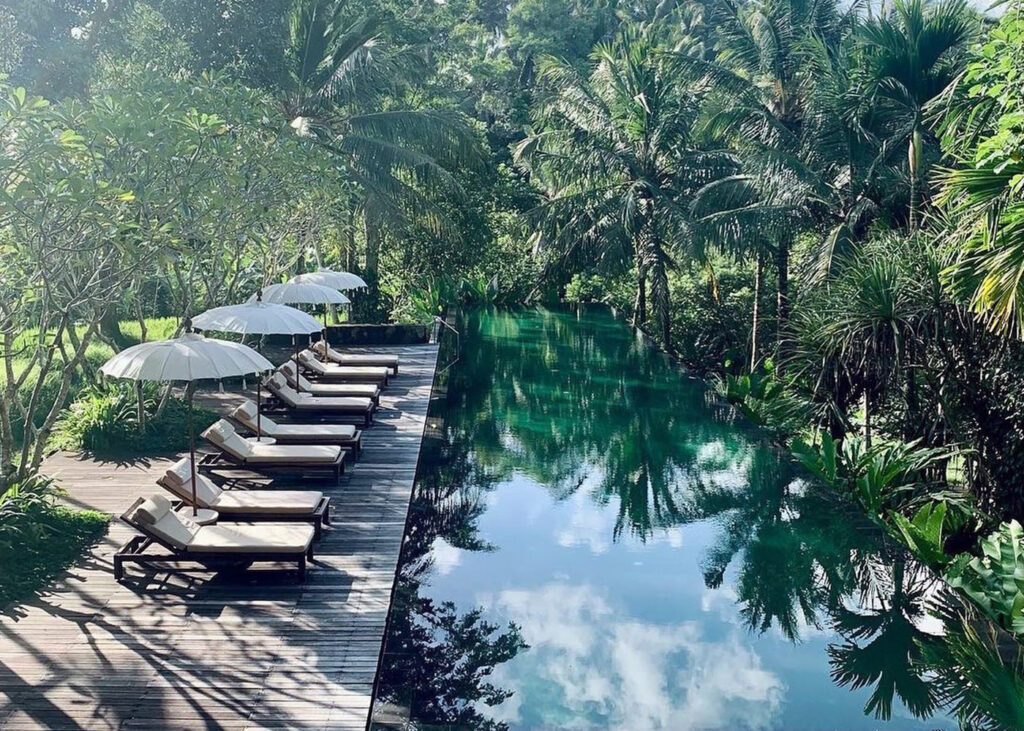 Komaneka Resorts are founded, designed, and run by a young Balinese couple from Ubud. Firstly introduced as an art gallery specializing in high-end Balinese and Indonesian contemporary art, Komaneka is a collection of boutique resorts – each carefully created to fulfil travellers' expectations of an upscale luxury lifestyle, surrounded by Ubud's natural beauty and the dramatic seaside of Keramas.
Komaneka invites you to experience and celebrate Bali's cultural interaction and heritage through a contemporary interpretation of traditional Balinese style and architecture with utmost attention to details. View Sustainable Profile
Jl. Bisma No68, Ubud // info@bisma-eight.com // @bismaeight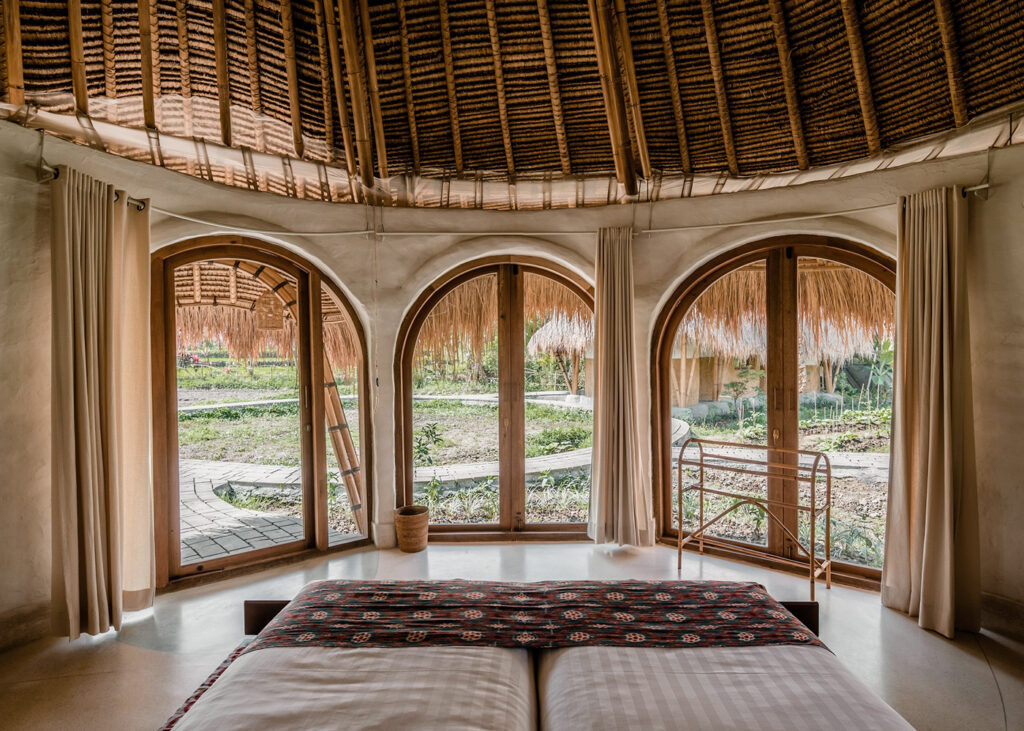 As an eco hotel, run by an award-winning NGO 'Earth Company', Mana Earthly Paradise combines elements of traditional architecture with hints of minimalism and natural modernity. Mana embodies innovation, sustainability, and style. Mana uses natural materials such as natural stones, reclaimed wood, and bamboo that blends seamlessly with the surrounding environment.
Through sustainable practices and innovative eco-technologies, Mana aims to be part of the solution, not the problem. The profit from your stay goes to fund Earth Company's work to support the change-makers across Asia Pacific. View Sustainable Profile
Jl. Bisma No68, Ubud // info@bisma-eight.com // @bismaeight
COMMITMENT 1
Sustainable Management
By documenting and implementing a clear sustainability plan, 180 Punch Members are demonstrating their commitment to the environment and their communities.
COMMITMENT 2
Sustainable Building & Design
By designing clean and functional buildings & products, 173 Punch Members are minimizing the use of resources, unnecessary waste, and harmful emissions.
COMMITMENT 3
Cultural Interaction & Heritage
By incorporating authentic elements of traditional culture in their operations, 168 Punch Members committed to celebrating and preserving Bali's local cultural heritage.
COMMITMENT 4
Sustainable & Local Sourcing
By giving priority to sustainable, local, Fairtrade, organic and/ or recycled produce, 216 Punch Members are emitting less carbon emissions while celebrating the local economy.
COMMITMENT 5
Equal & Local Employment
By giving equal opportunities to local residents including management positions, 226 Punch Members are promoting diversity and elevating employees engagement.
COMMITMENT 6
Staff Engagement
By engaging their staff in the  implementation of the company's sustainability goals, 184 Punch Members are increasing sustainability knowledge, competence and action.
COMMITMENT 7
No Single Use Plastic
By not using single use plastics, 179 Punch Members are minimizing by millions the amount of plastic ending up in the streets, in the rivers and in the ocean. 
COMMITMENT 8
Waste Management
By having a clear waste management plan in place with actions to reduce, separate and reuse / recycle waste, 210 Punch Members are not only minimizing the amount of waste in Bali; they are also leading the example to their employees and customers.
COMMITMENT 9
Sustainable Packaging
By using sustainable, natural, recycled and/or biodegradable packaging, 185 Punch Members are significantly reducing their environmental impact.
COMMITMENT 10
Energy Conservation
By using equipment and practices to conserve energy, 151 Punch Members are contributing to reduce the demand for carbon-intensive power plants which in turn benefits the environment by reducing carbon dioxide emissions.
COMMITMENT 11
Water Conservation
By using equipment and practices to conserve water, 149 Punch Members are contributing saving and regenerating water leading to the well-being of the environment and communities.
COMMITMENT 12
Biodiversity Conservation
By actively supporting, protecting, and promoting biodiversity, 123 Punch Members are contributing to ecosystem productivity and improving the life support system for our planet. 
COMMITMENT 13
Community Support
By supporting their local community through various ways, 210 Punch Members are offering jobs, providing goods, services, and financial support to their community.
COMMITMENT 14
Accessibility for All
By having their site, activities and operations accessible for all, 83 Punch Members are promoting equality and diversity in Bali. 
COMMITMENT 15
Guest Awareness
By providing accurate and transparent communication regarding the company's sustainable practices and goals, 158 Punch Members are helping guests make better purchase decisions.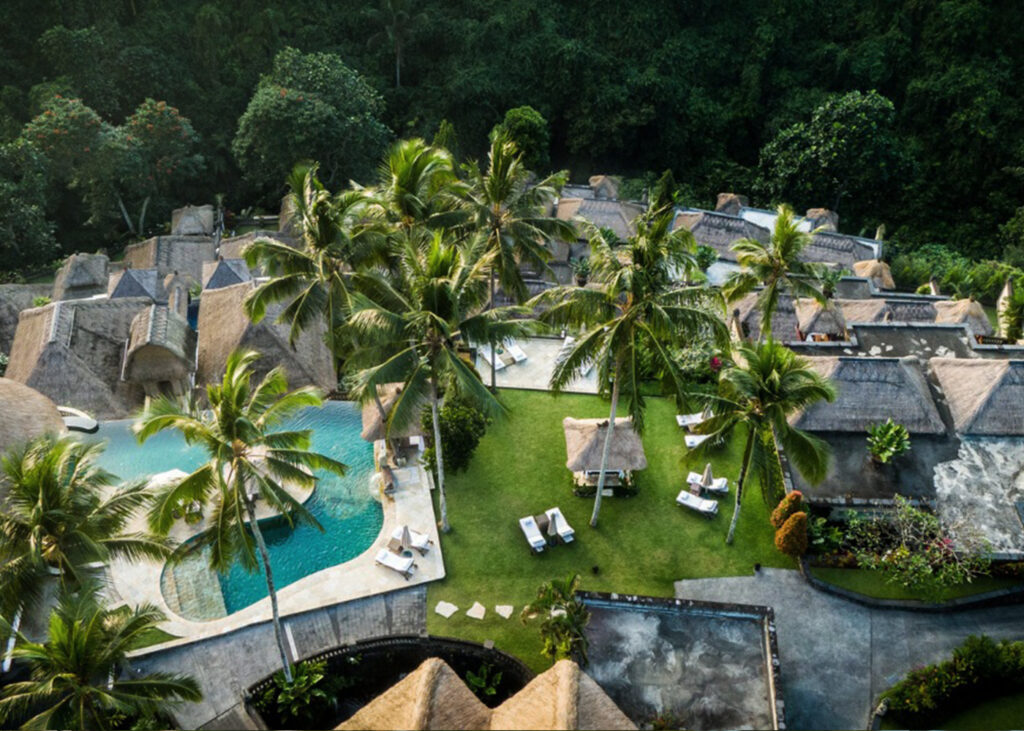 Having been voted the #1 Resort in the World in the 2018 Conde Nast Readers' Choice Awards and crowning a secluded ridge above the Valley of the Kings in Ubud, Viceroy Bali is a boutique retreat for those seeking relaxed luxury.
This independently minded hotel has environmental sustainability at the forefront of its design and continues to develop ways to be a conscious global citizen whilst providing unparalleled levels of service and experience. Solar panels on-site produce 30% of their electricity, air conditioning units energy are used to heat the water in villas, instead of electricity and hot water tanks. View Sustainable Profile
Jl. Bisma No68, Ubud // info@bisma-eight.com // @bismaeight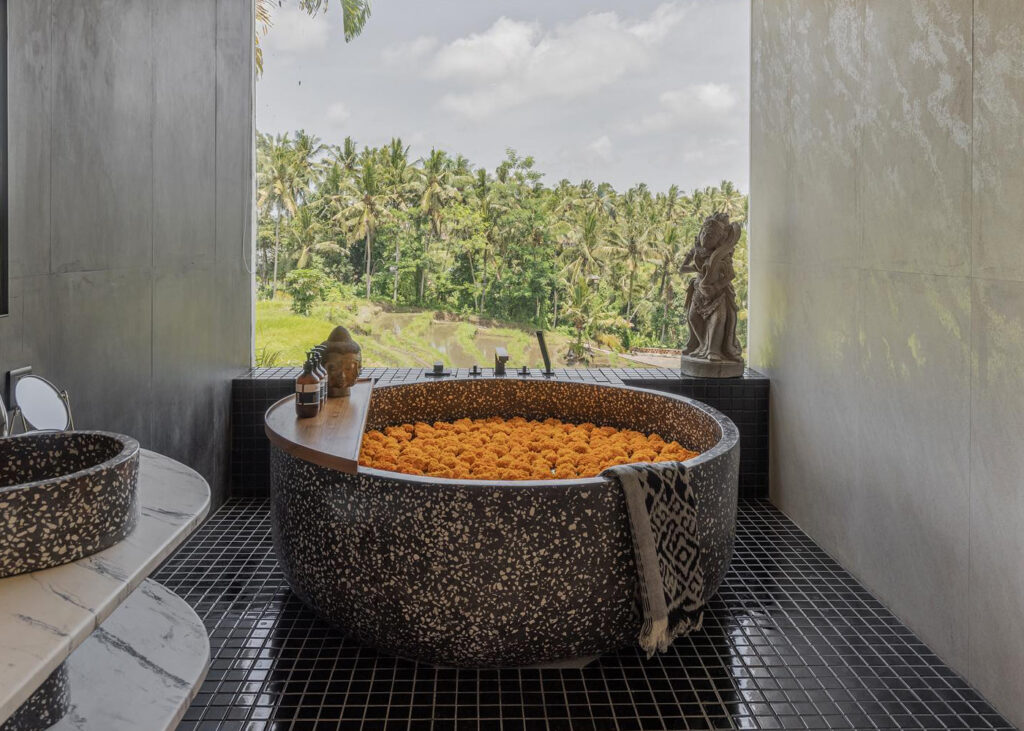 Soulshine Bali is a well-established retreat destination in Ubud. A place to reset, relax, dance, celebrate life, and connect with others. The 33-room resort is where people from all over the world can enjoy the culture and beauty of Bali, share delicious food and drinks, be immersed in great music, and form lifelong friendships. Soulshine bali represents a new way of wellness joy in Ubud – musical, experience-driven, and ultra friendly.
The hotel is committed to prioritise the local man powers. Most of the staff, supply vendors and transportation providers are coming from the surrounding banjar (village) where they are located. They actively join the Banjar's social activities such as plastic exchange programs and continuously support the Bumi Sehat Foundation, an NGO that aids maternity and birth for the locals. View Sustainable Profile
Jl. Bisma No68, Ubud // info@bisma-eight.com // @bismaeight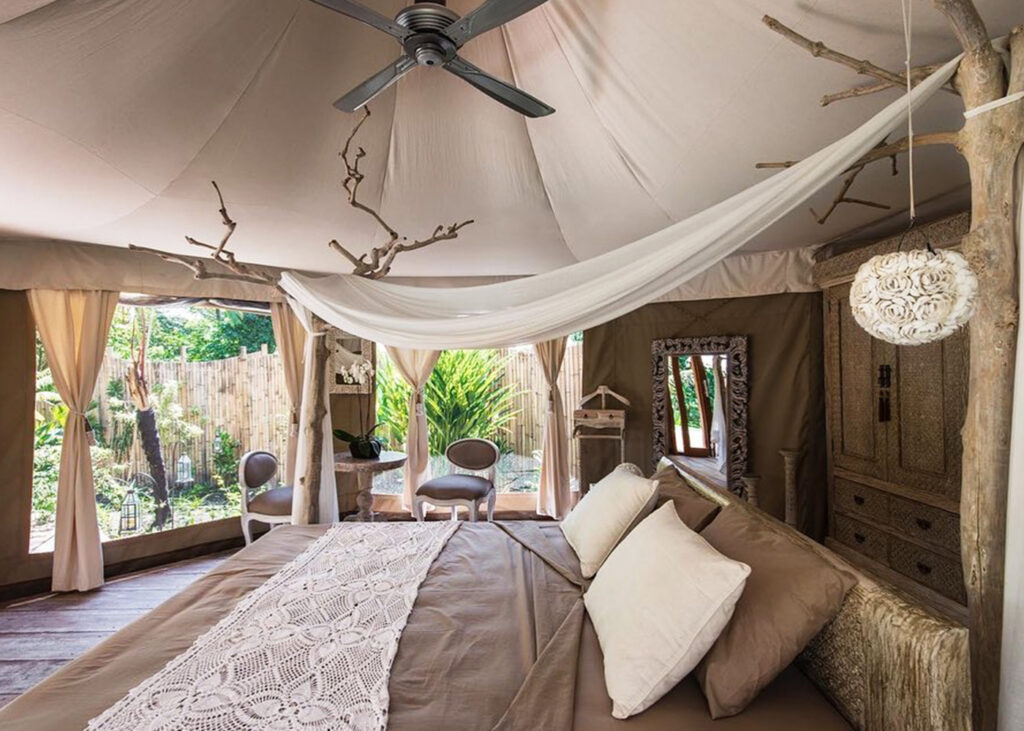 Located 3km from Ubud, Sandat Glamping offers exclusive hospitality to a small number of guests to provide the privacy and tranquility that reigns in the rice fields.
Sandat Glamping structures are perfectly integrated into the environment using eco-friendly but comfortable, luxurious and sophisticated furniture respecting the environment. The central structure of Sandat Glamping and the yoga/meditation Shala are expressions of the most innovative bio-buildings that use bamboo as natural material in design. View Sustainable Profile
Jl. Bisma No68, Ubud // info@bisma-eight.com // @bismaeight
Explore The Punch Community