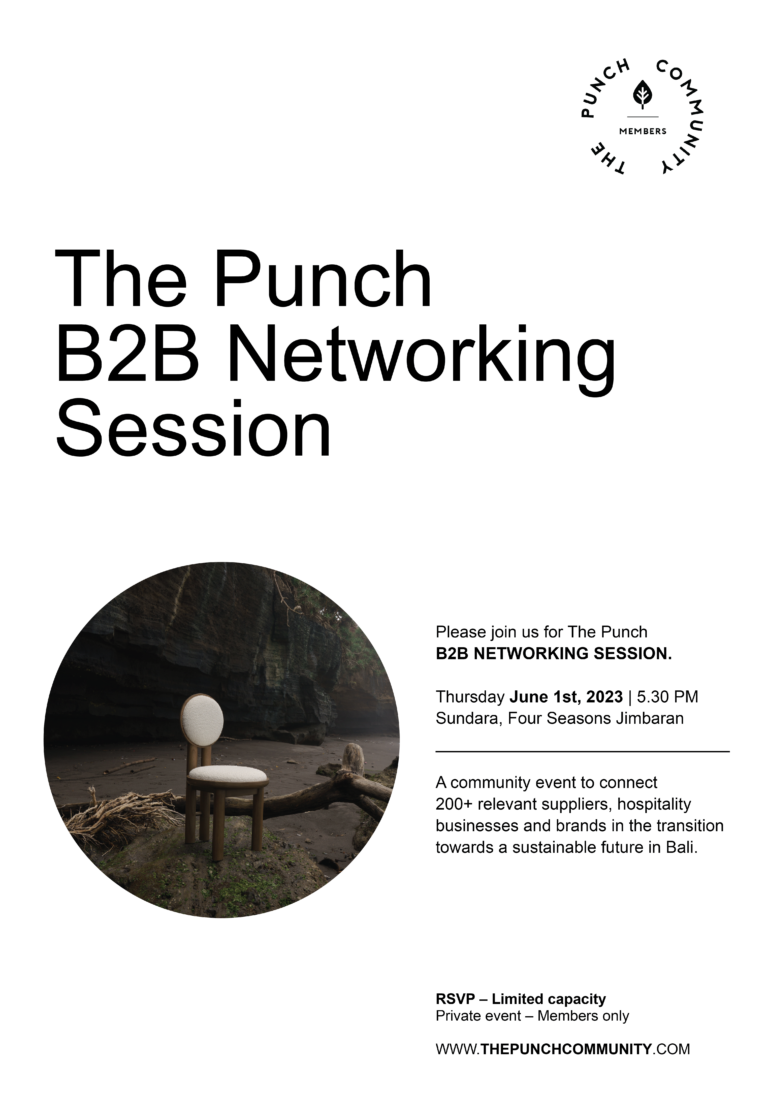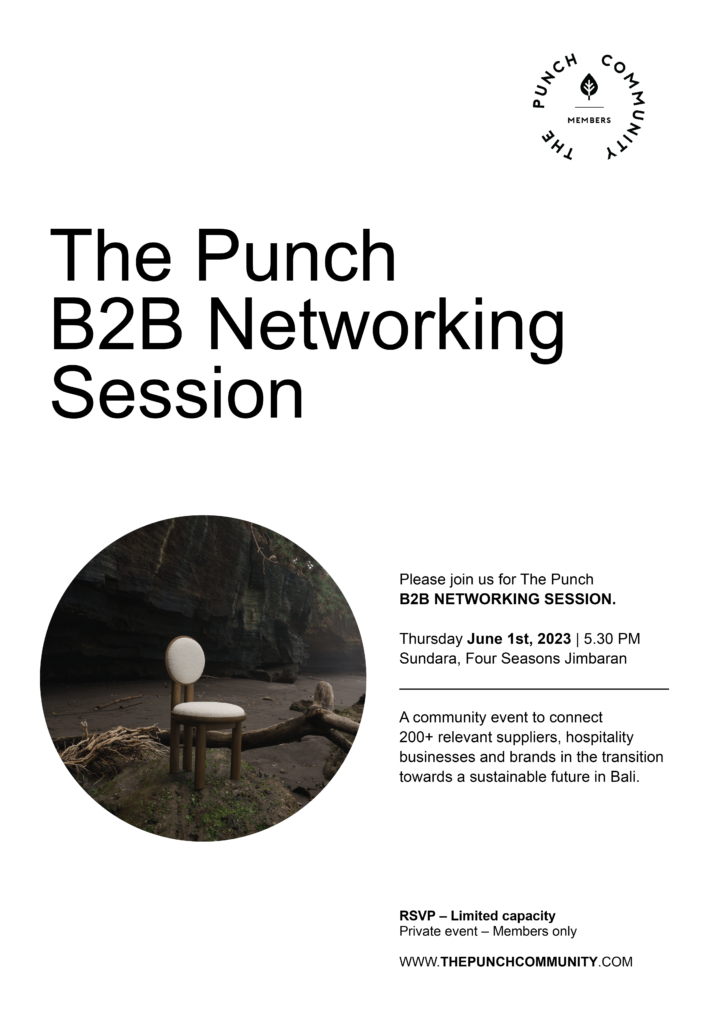 Confirm your presence now!
Thursday June 1st, 2023 at 5.30 // Sundara at Four Seasons Jimbaran. Limited capacity, please confirm your presence as soon as possible. 
THE PUNCH
B2B NETWORKING SESSION
JUNE 1ST, 2023
SUNDARA, FOUR SEASONS

Accelerating the transition towards a sustainable future in Bali.
Through an exhibition, a panel discussion, key impact numbers from The Punch Community and networking sessions, we will celebrate and connect suppliers with hospitality businesses and brands looking for solutions in the transition towards a sustainable future in Bali. 
The main goal of this event is to encourage economic leaders of Bali to work together and minimize the use of resources, reduce unnecessary waste and harmful emissions and empower the local community.

RELEVANT SUSTAINABLE SUPPLIERS
Building & Design, Materials, Furniture & Amenities, Waste Management & Sustainable Packaging, Energy & Water Conservation and Sustainable Mobility. 

To facilitate the connection between hospitality businesses, brands and relevant suppliers, The Punch will introduce its new B2B Online Marketplace.

NETWORK OF INDUSTRY LEADERS
200+ suppliers, hospitality businesses and brands coming  together to exchange sustainable challenges,  achievements, insights, and solutions.

THE PUNCH POSITIVE IMPACT
With the participation of sustainability experts, we will share key numbers of The Punch Community's impact and transformative insights.
EVENT SPONSORS & PARTNERS
PREVIOUS EVENT
Watch The Punch Gala 2023
On April 5th, 2023, The Punch held the first Sustainability Gala of Bali at Studio Eksotika, Potato Head.
THE COMMUNITY
Explore The Punch Members
"Guided by the Balinese philosophy of Tri Hita Karana, Four Seasons Resorts Bali strives to minimize its impact on the environment and is proud to be recognised as a responsible tourism operator. Guests are invited to join sustainability activities such as Zero Waste Cocktail Classes where the resort's bartenders share eco-tips, walking tours of the on-site gardens, self-driving tours with a new Toyota eco-car, Ocean-to-Table fishing adventures and the cultural and artist outreach programme."
Set on the sand and surf of Petitenget Beach, Seminyak, Bali, the property is made-up of Potato Head Beach Club and a hotel Potato Head Suites, composed of 226 guestrooms. More than a place to visit or stay, the Desa is intended to inspire creativity, balance and progress for the future. "We believe that our approach to sustainability has led us to a far better experience for the consumer. We do not want to be the people that deliver a sub-standard sustainable answer."
"We value sustainability in our brand as much as we do in our daily lives. We incorporate sustainability and being organic into our cafe, foods, grocer, kitchen and management to be as environmentally conscious as we can. We source and purchase most of our products from trusted local suppliers to decrease carbon emission and footprints as well as use products that contains recycle materials e.g. Toilet napkins, paper napkins and packaging and also manage our waste."
"Our newly opened Spring Spa and Sanctuary on Nusa Lembongan was built using 100% recycled teak for all structures including floors, walls, and roof. Cross ventilation was factored into designs across to avoid the need for air conditioning and local materials were sourced and used wherever possible. A reverse osmosis system has been installed which has allowed us to generate our own drinkable water supply which is also used in treatments."
"AORA is a solution-oriented company focused on making textiles and furniture using recycled plastic waste. Our mission is to reduce plastic pollution, starting by collecting plastic waste, collected from different locations such as oceans and rivers. Our values are rooted in sustainability, from the manufacturers of the fiber, yarn, and fabrics to our dedication to quality and design. This ensures that all our customers receive a more durable fabric that lasts longer, resulting in less waste.
"Restaurants play a pivotal role in influencing community sustainability decisions and food production processes. Apéritif undertakes a more encompassing approach to management of kitchen and operations, promoting tools and techniques that align with a responsible industry approach. By using the freshest, finest-quality ingredients and products sourced from outstanding local suppliers wherever possible, Apéritif aims to deliver an unprecedented dining experience in Bali."